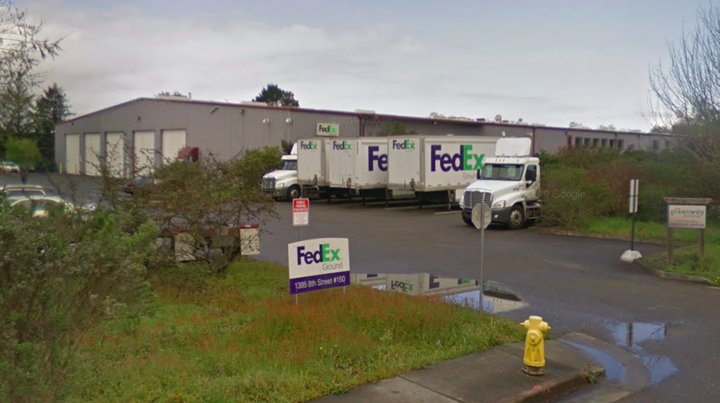 Last week, Bo Escareño came down with a fever of about 101.5 degrees, but he didn't see staying home as an option.
"I have to show up to work because we don't have people who can cover our routes," he told the Outpost by phone earlier today.

Escareño drives a delivery truck for FedEx Ground. His route takes him out State Route 36 through Carlotta, along the Van Duzen River past Bridgeville and Ruth Lake and then south all the way to Garberville.
He's not a FedEx employee, though. Like other FedEx Ground drivers, Escareño is technically employed by a contractor who works for FedEx and then subcontracts with drivers. Escareño said his boss hasn't exactly been sympathetic to employee concerns about COVID-19.
"Any time we bring up concerns he tells us to do the best we can," Escareño said.
He and his fellow drivers haven't been given gloves or masks, and in the Arcata warehouse where the packages are transferred from long-haul trailers to delivery trucks, "nobody's taking safety precautions, like staying six feet apart," Escareño said. "Everybody's always huddled together."
When a coworker showed up to work visibly sick a week or two ago, Escareño didn't see anyone disinfecting or cleaning the surfaces he handled, including packages. "His job is to work on the conveyor belt," Escareño said. "He scans the packages. He's at the front of where packages come off the truck, so we're touching all the ones he [handled]."
When Escareño himself came down sick, he was conflicted. "I have kids at home, a family I need to support," he said. "But I also deal with the elderly." He worried that he might be contagious or the packages he's delivering might be contaminated with coronavirus, which can remain on cardboard for up to 24 hours.
Escareño said that as an independent subcontractor, he has not been given any additional health benefits, such as sick leave.
"If we try to stay home because we are sick, we could potentially lose our job," he said.
Nick Beckett, another FedEx Ground driver based out of the Arcata warehouse, said in a message to the Outpost that he believes his work conditions are jeopardizing the health of the local community.
"I feel like package handlers are actually spreading this virus more than anyone," he wrote. "Many of us package handlers are not happy that we have to do this and go to everyone's home spreading this virus."
FedEx directly employs more than 200,000 people in the U.S. and works with about 5,000 contractors, which the company calls "service providers," according to NBC News. Those contractors, in turn, employ more than 100,000 workers like Escareño and Beckett.
The Outpost reached out to FedEx to pass along the concerns of these local drivers, and in an emailed statement a spokesperson said the company is working diligently to provide supplies such as hand soap, disinfecting wipes and hand sanitizer, and is encouraging team members "to take any signs of illness seriously."
The company has taken steps to support the health and safety of service providers and their employees as well as the customers with whom they interact, the spokesperson said. "For example, to help adhere to social distance guidelines, signatures will no longer be required for most deliveries."
But Escareño said that, aside from the waived signature requirement, these safety measures generally aren't trickling down to service providers like him.
"Everybody is asking for hazard pay," he said. "They're trying to work it out with FedEx. The thing is, [the company doesn't] want to help out with anything. Yesterday we were finally given a spray bottle with rubbing alcohol. They never supplied us with gloves or masks. They're not really concerned about our safety, straight up."

Asked whether it's entirely up to FedEx contractors to ensure that the health and safety of their employees are being protected, the spokesperson didn't provide a direct answer.
"Communication with service providers during the pandemic has been consistent and frequent due to the essential nature of the services we provide to customers and our communities," the statement reads. "FedEx Ground provides a mix of information and resources that service providers can use to communicate with their employees, including printable and video materials, links to the latest updates from the CDC and other leading health experts, and FAQs."
A Google search reveals that this statement was provided verbatim to NBC News, which published a story yesterday showing that FedEx Ground drivers across the country have the same concerns as Escareño and Beckett. They say they've seen little evidence of increased safety precautions.
"When we bring things up to the warehouse manager, she basically turns us away, says you have to go speak to your boss, our contractor," Escareño said. "He just shrugs shoulders and goes about his business. He's not taking things seriously."
Escareńo is taking the COVID-19 pandemic seriously. He bought his own gloves, and he said today his boss finally started providing them to other workers. Escareño hasn't seen anyone else in the warehouse wearing them, though. And nobody's wearing face masks. These drivers deliver packages all over the county.
One last time in our phone conversation, Escareño repeated the basics of his dilemma, as if they're running on a loop in his head.
"I have a family to support, but I worry about the safety of everybody I bring packages to," he said. "I worry I could be spreading it to everybody else."