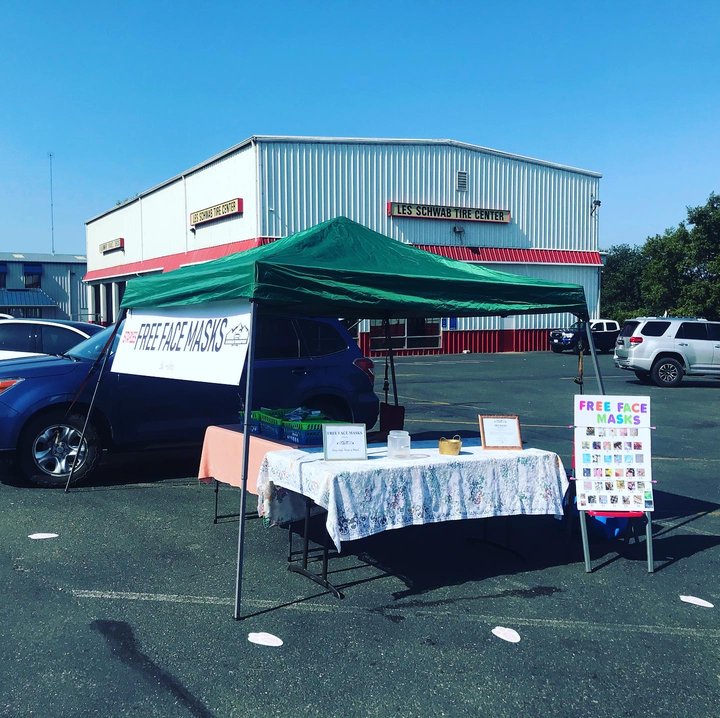 If you're in need of a face mask (and even if you have one, you could always use more, right?) then you might want to head over to Les Schwab Tire Center on Broadway in Eureka, where in the front parking lot you will find a booth stocked with free facial coverings.
The friendly person behind the free masks is Hilary Eisenberg, a medical receptionist for St. Joseph Hospital, who also sews lots of cloth masks.

Reached by phone this afternoon, Eisenberg told the Outpost that she has mostly been donating her masks to local hospitals and health care workers, but she wanted to make some accessable to the rest of the community. So Eisenberg set up a booth at 10:00 a.m. today stocked with 300 of her masks to give out to those in need.
As of about 2:00 p.m Eisenberg said she had about 150 of them left, both in children and adult sizes. Most of the "men's styles" have already been grabbed, she said. But, she added that the "women's styles" could certainly work for anyone. And those will probably run out soon, so you might want to hurry over to Eisenberg's booth which will be open 'til 5:00 p.m. today.
"Mask up, stay safe," Eiseberg said.