Orion Cosce, the card's biggest underdog, got the third-round finish from the crucifix 😤 #DWCS pic.twitter.com/xLxvijmznH

— ESPN MMA (@espnmma) August 19, 2020
Orion Cosce pulls off an impressive comeback win as his celebrity cornerman UFC legend Urijah Faber cheers him on.
Local brothers Louis and Orion Cosce both knocked out their opponents last night at "Dana White's Contender Series" in Las Vegas, earning themselves UFC contracts and praise from UFC President Dana White.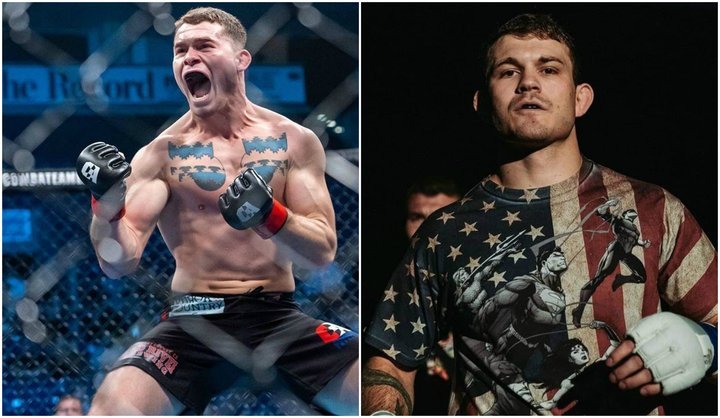 Orion Cosce, who was touted as the biggest underdog on the card, edged out a comeback victory in the final 30 seconds of his fight with a TKO against Matt Dixon.
"Don't count me out," Orion Cosce said during a post-fight interview. "I had to come [into the third round] with the finish. My corner said the same thing. When I'm on top, you're not gonna get away."
After his brother Orion got the finish earlier tonight, Louis Cosce gets one of his own in the very first round 🤯 #DWCS pic.twitter.com/5pyoX4uZCz

— ESPN MMA (@espnmma) August 19, 2020
Younger brother Louis Cosce, meanwhile, was featured in the main event and handily knocked out his opponent Victor Reyna in the first round with a powerful left hook, followed by a flurry of head punches.
"This guy is a bad boy," White said of Louis Cosce. "Just to tell you how badass this guy is, Reyna has never been knocked out. The only problem with Cosce is you haven't got to see much [because he finishes his fights so quickly], but that's a good damn problem to have."
During a dual post-fight interview, both brothers were asked what kind of damage they plan to do to their opponents in the UFC.
"We're gonna be knocking people out," Louis Cosce said.
"Give us anyone," Orion Cosce added. "We just want to fight. That's what we love to do. It's what we're here for."
Both brothers enter the UFC with perfect 7-0 professional records and have defeated all of their opponents by knockout or submission.
"He'll be at 55/70 and I'll be at 70/85. We'll run both divisions. We don't care. We'll fight the other brothers too. Get us anyone."

The Cosce brothers have arrived and they're ready to scrap 👥 #DWCS pic.twitter.com/6Ev1kRXOAH

— ESPN MMA (@espnmma) August 19, 2020
###
PREVIOUSLY: MMA Bros From Weitchpec Invited to Compete in 'Dana White's Contender Series' for Shot at UFC Contracts
(VIDEO) UFC President Dana White Hypes Humboldt's Louis Cosce on Social Media in Anticipation of Tonight's 'Contender Series' Matchups