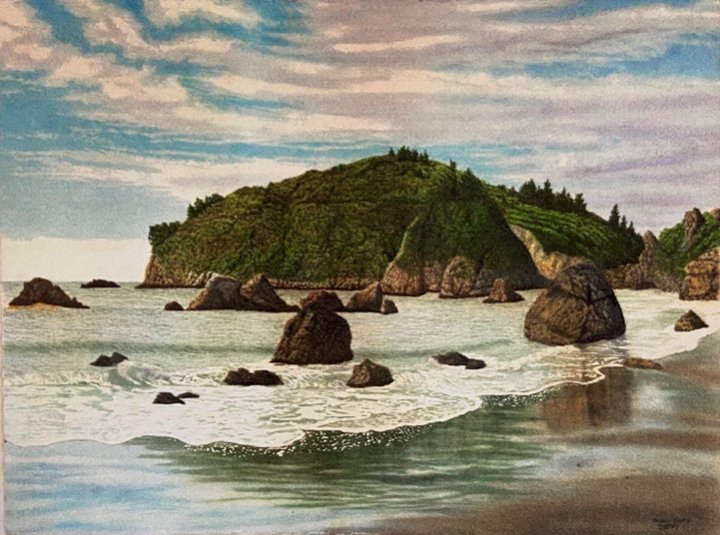 ###
For years now, residents of Trinidad and its environs, including many Native Americans, have voiced their objections to a cell phone tower located atop Trinidad Head. The picturesque promontory is imbued with deep cultural and spiritual significance by the Tsurais of the Yurok people, whose name for the landmark is Tsurewa.
The City of Trinidad leased land for the cell infrastructure to Verizon, which subleased space to both AT&T and Sprint. The lease expired in September 2018 but was extended for a year, and according to Trinidad City Manager Eli Naffah, Verizon is taking advantage of a holdover clause while it builds new towers in the area. The Trinidad City Council chose not to renew the lease amid public outcy.
"We've been asking [Verizon] for monthly updates for when they will remove [the infrastructure]," Naffah said. The company built a new tower on Quarry Road and is adding another in Westhaven, he said. AT&T is also building a tower on Quarry Road and will join Verizon on the one in Westhaven. Sprint already removed its equipment.
Naffah said he's been providing status updates at every Trinidad City Council meeting. Once Verizon has both the Quarry Road and Westhaven towers up and running, the company plans to remove the last of its infrastructure from Trinidad Head. Verizon is "tentatively shooting for the end of the year" as a target date to have that equipment removed, he said.
Earlier today, the Tsurai Ancestral Society issued a press release saying, "[W]e are cautiously optimistic about the upcoming removal of the pad and remaining structure for the cell towers."
Read the full release below:
The Tsurai Ancestral Society would like to thank Friends of Trinidad Head, the Yurok Tribe, and all the community members who voiced their concerns over the years regarding the cell towers on Tsurewa (Trinidad Head).

The Tsurai Ancestral Society and Yurok Tribe hold Tsurewa in the highest regards as one of the most sacred places within the Tsurai Village. Over the years, the Tsurai Ancestral Society has advocated for protections of this important place and with the help of caring citizens, it appears one of those battles is coming to a long sought-after end. While the City of Trinidad has left the Tsurai Ancestral Society out of most planning discussions since the 2018 Memorial Lighthouse removal, we are cautiously optimistic about the upcoming removal of the pad and remaining structure for the cell towers.

The City of Trinidad is better for the active, caring citizens who step up to voice their concerns about environmentally and culturally destructive planning. We appreciate all of you and encourage you to stay active now, more than ever, as the City is developing policies that will affect us all for generations to come. Joining is easier than ever, by attending virtually or by phone. Visit the City's website at http://trinidad.ca.gov/ to obtain dates and meeting packets.

To learn more about the Tsurai Ancestral Society, visit www.tsuraivillage.org