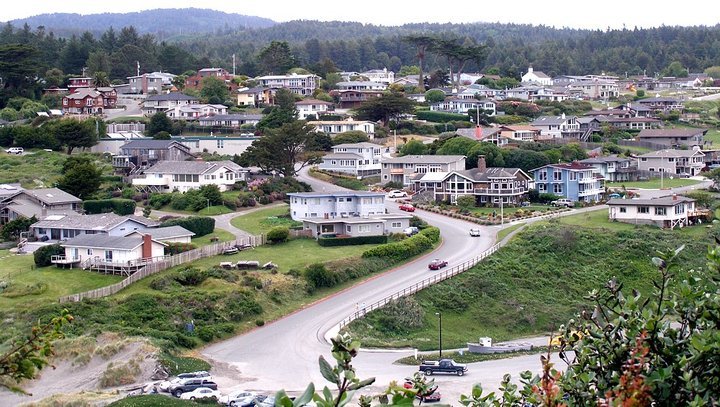 ###
In another indicator of the worsening COVID-19 pandemic here in Humboldt County, the tourist-adored City of Trinidad might be closing its doors to outsiders this evening.
At a special meeting starting at 5:30, the Trinidad City Council will consider passing an urgency ordinance, which would reinstate a moratorium on short-term vacation rentals within city limits. As with the moratorium the city passed back March (and rescinded in June), visiting health care workers and other essential folks would be excluded from the ban.
The urgency ordinance, which cites "a current and immediate threat to the public health, safety or welfare" of the public, must be approved by four of the five council members to pass.
It's not clear exactly when the ordinance would take effect. One paragraph in the document says the measure "shall take effect immediately upon adoption" while, two paragraphs later, it specifies a 90-day period lasting from December 14 to March 14, unless extended by another four-fifths vote.
City Clerk Gabriel Adams said City Attorney Russ Gans drafted the moratorium in response to input from council members at the Nov. 24 council meeting. Members of the community have been voicing concerns about vacation rentals as the pandemic worsens, Adams said. He noted that the council can tweak and add content to the ordinance before voting on it tonight.
Meanwhile, short-term rentals, including hotel stays, remain permitted in the county's unincorporated areas, though they must adhere to the purple tier guidelines under the state's Oct. 20 health order.
If the Northern California region's ICU capacity dips below 15 percent (it was at 30.3 percent as of this morning), then Humboldt and neighboring counties would get hit with the state's Regional Stay-at-Home Order, which states:
[N]o hotel or lodging entity in California can accept or honor out of state reservations for non-essential travel, unless the reservation is for at least the minimum time period required for quarantine and the persons identified in the reservation will quarantine in the hotel or lodging entity until after that time period has expired.

Additionally, hotels and lodging entities in a county under a Regional Stay Home Order cannot accept or honor in-state reservations for non-essential travel.

Hotels or other commercial and residential buildings may offer lodging for essential functions and travel including COVID-19 mitigation and containment measures, treatment measures, accommodation for essential workers, or housing solutions, including measures to protect homeless populations.
Until then, lodging facilities remain open, though there is a statewide travel ban in effect.
For anyone looking to participate in tonight's meeting, the city will publish a link and participant code on the calendar page of its website.