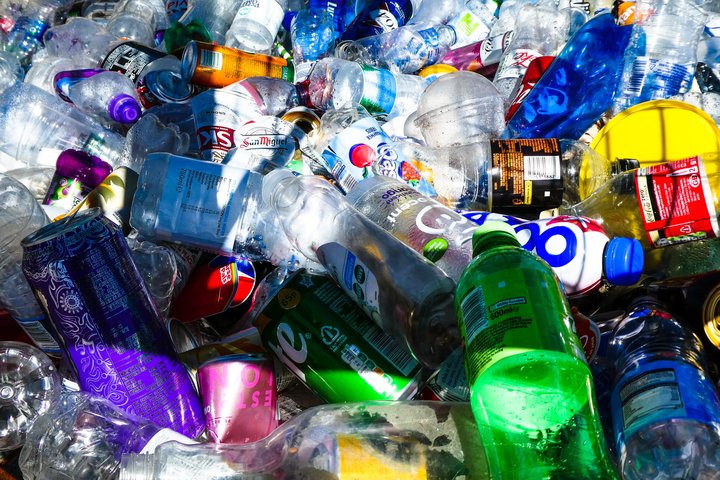 ###
PREVIOUSLY: With the State's Recycling Redemption Program in Shambles, Local Agencies Look to Develop a More Sustainable System
###
In Humboldt County, California's 33-year-old recycling buy-back program has completely fallen apart. A decade ago, the county had close to a dozen CRV [California Redemption Value] recycling centers — places where you could haul your empties and trade them in for cash. By the start of this year only five remained. Now, amid the COVID-19 pandemic and the continuing collapse of scrap material values on the international market, none are left.
The Eureka Recycling Center (operated by the Humboldt Waste Management Authority), Humboldt Sanitation in McKinleyville and Recology Eel River in both Fortuna and Redway have all stopped operating their CRV programs. You can still drop off your recycling; you just won't get money for it. And curbside recycling continues in many parts of the county, with customers paying for the privilege.
With no more redemption centers in the county, local retailers are being told they must either operate their own consumer recycling operations — which would require hauling the collected empties to the nearest state-certified recycling buyback center, in Crescent City — or else they'll have to pay daily fees to the California Department of Resources Recycling and Recovery, aka CalRecycle.
The letters started arriving about a month and a half ago. In late October, liquor stores, convenience stores and grocery stores scattered across Humboldt County received notices in the mail from CalRecycle. Follow-up notices arrived a month later.
"Your store has been identified as a beverage dealer that is located within a convenience zone that does not contain a certified recycling center … ," the notices read. A "convenience zone," the letters explain, is any area within a half-mile radius of a supermarket. "This means that people who shop in your area do not have a convenient location to return their beverage containers for CRV [California Redemption Value]."
Store owners were informed that unless a state-certified recycling center gets up and running in their convenience zone in the next 60 days, they'll be left with two options: either pay consumers the five- or 10-cent refund for all CRV beverage containers they bring in, or start paying CalRecycle $100 per day, billed monthly. (The letters insist that this a "fee," not a fine, but the effect is the same.)
Jeremy Fugate, manager of The Liquor Still in Arcata, was among those who received notices from CalRecycle, as were the two gas station convenience stores up the street. And Fugate said there's simply no way his store could start operating a buy-back program by early January, as the state is demanding.
"We're a business that only has one person employed at any moment," he told the Outpost in a phone interview earlier this week. "We have no man hours, no scale to weigh CRV materials." So instead, The Liquor Still plans to pay the fees.
"I'm definitely going to have to raise the price on a few items in the store by a couple cents apiece," Fugate said. "I'm hoping it's not going to put us out of business." Clearly frustrated by the situation, he said, "It's asinine for CalRecycle to get richer just because we don't have a recycling center nearby. … It's gonna put the hurt on some small businesses."
Aaron Gottschalk, general manager of Wildberries Marketplace in Arcata, said they'll pay the fee, too. "We can't operate a redemption center," he said. "There's no reasoning with CalRecycle, because [during the pandemic] we've all been saying that you're not supposed to introduce personal items [into the store]. We're limiting customers, and you're going to force us to help more people with their recycling? And introduce who knows what pathogens, germs, viruses … the whole thing is just out there. I've written some pointed letters — 'Are you all living on this planet?' — but CalRecycle is powerless. They're bound by the legislature."
Assemblymember Jim Wood agrees. "For me it's frustrating because the system is not working the way it was designed," he said in a recent phone interview. "I look at Humboldt County as really kind of the cradle of recycling, and here we are now and we don't have anything. The economics don't work."

California's refund system has been in place since 1987, and for many years it worked well. Until the past decade or so, most beverage containers were made of glass or aluminum — valuable materials on the commodities market that ensured healthy financial returns for participants. Recycling centers proliferated, and as a result, retailers in rural areas like Humboldt County were granted exemptions from participating in the CRV buy-back program.
The economic model began to fall apart in recent years, largely due to plummeting commodity scrap values on the international market. The stream of materials is now clogged with cheap and mostly worthless plastic; China, which had been a major buyer of America's recycling materials, implemented new restrictions on imports of certain recyclables, including mixed paper and most plastics. Suddenly, recycling centers were operating at a loss, and they began to shut down.
When HWMA's Eureka Recycling Center briefly resumed its CRV buy-back program in September, the pent-up demand was so huge that the line of vehicles quickly backed up onto Broadway, causing traffic safety concerns and forcing the facility to shut down again just two days later. HWMA Executive Director Jill Duffy told the Outpost that if CalRecycle would simply let her agency make appointments, allowing customers to drop off their materials in an orderly fashion, they could resume operations. But the state agency won't allow it.
"All we need is appointments; that's all we're asking for," she said. "But we can't get the bureaucracy to bend a little bit or work with the state legislature."

This lack of flexibility is a big part of the problem, according to Wood, though he believes the whole system is a mess. "This is one of those really, really complicated issues," he said. "I was talking with my staff about this … and even we continue to be somewhat confused and befuddled by the complexity of what's going on."
The CRV system is actually working pretty well in most of the state's major metropolitan areas. There have been multiple legislative attempts to fix the problems in rural areas, but they've all run into a snag somewhere along the line, Wood said. That's partly because legislators from more urban regions have no motive to vote for such bills.
"The bottom line here is that the bill that was passed in 1986 [the California Beverage Container Recycling and Litter Reduction Act] has never really been changed," Wood said. "The guidelines are very, very strict and CalRecycle doesn't believe they have the flexibility to even grant temporary relief. That's hugely frustrating."
Wood recently helped organize and host a forum via Zoom in which local retailers, including employees of the North Coast Co-op, Wildberries, Murphy's Markets and more, spoke with officials from CalRecycle in hopes of finding a solution. But despite a robust airing of grievances, officials with the agency reiterated that the letter of the law is clear: Without any state-certified recycling buyback centers in the region, retailers must offer that service themselves — or pay in excess of $36,000 a year in fees.
The Outpost reached out to CalRecycle for more information, and in response a spokesperson emailed a boilerplate summary of the rules outlined above.
"To the best of my understanding, that's the lack of flexibility in the law. There is no mechanism for relief," Wood said. "That's where I'm frustrated. For crying out loud, if you're in court a judge has discretion over things. But apparently, the way I understand it, there is no discretion here."

Duffy said it's all the more frustrating because the state agency has been seeing increased profits as the system fails rural Californians — and consumers are coming out on the short end. An investigation from Liza Tucker with the nonprofit Consumer Watchdog found that, "For every nickel bottle deposit that California consumers pay in the checkout line, they only get back 2.65 cents."
The CRV program was designed to recover 80 percent of CRV containers, but the amount that actually gets recycled has been steadily declining. According to Duffy, the latest report showed that only 58 percent of the empties were getting redeemed. All the while, "people are continuing to pay their five cents, and the state now has more than half a billion [dollars] in unredeemed money. … They're getting their money, more than ever! It makes your head hurt."
Duffy said she feels bad that the burden is now falling on local retailers. Back in October she told the Board of Supervisors about a pilot program that HWMA was pursuing in collaboration with Humboldt Sanitation and Recology Eel River. The hope was that they could develop a more sustainable system locally, possibly one that incorporated "reverse vending machines" like the ones used in Oregon, where the bottle deposit system reached a 90 percent redemption rate last year.
But two days before HWMA's Nov. 12 board meeting, the state informed Duffy and her staff that the final available slot in CalRecycle's pilot program had just been filled, so there was no reason to even submit their proposal.
"I kinda feel like we got played, honestly," Duffy said.
She's still exploring options with local stakeholders, including grocers, in hopes of developing a regional solution. It will be essential to have multiple locations where people can redeem containers so no one spot is overwhelmed by the demand, she said.
Wood, meanwhile, is hoping that a legislative fix might be possible in 2021. Senator Bob Wieckowski (D-Fremont) has introduced a bill that could transform the state's recycling system, and while it doesn't directly address the problems facing Humboldt County, Wood said, "This will be a pretty comprehensive bill, [and] my hope is we can tuck a rural fix in there."
Wood is also hopeful about CalRecycle's new director, Rachel Wagoner, with whom he has worked on wildfire issues. Appointed by Gov. Gavin Newsom, she's due to be seated next month.
"There has been a lot of work on this over the last two or three years," Wood said, "but ultimately we need the [governor's] administration to engage with us on this — the earlier the better."
Duffy is concerned that with all the news about problems with the CRV system, people will give up on recycling altogether.
"Recycling is not dead!" she said. People can still place their empties into the blue bins for curbside recycling, where available, or bring their containers in for processing at a recycling center. "While there won't be a direct nickel back in their pocket, whatever moneys the processors are able to receive via repayment, those moneys then offset the overall costs," which helps stabilize and potentially lower the annual costs for curbside pickup, she said.
And then there's the original motivation: It's better for the planet.