On Feb. 18, Sheriff's Detective Brandon Head had the unpleasant duty of being at the scene as another investigator unearthed the body of murder victim Jason Todd Garrett.
"Investigator (Jennifer) Taylor had a shovel," Head testified today, "and she began exploring."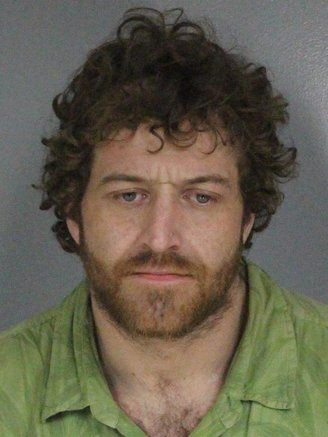 The officers were digging under a water tank at 5700 Crooked Prairie Road near Ettersburg, on property belonging to murder suspect Ryan Anthony Tanner. Eyewitness Christopher Champagne had told law enforcement Garrett was buried there on Feb. 12 after Tanner first cut his throat, then shot him with an assault rifle.
About a foot under the muddy surface, Taylor saw something that at first, just looked like "an object wrapped in clear plastic," Head testified under questioning by Deputy District Attorney Whitney Timm. Then Taylor looked through the plastic and saw hair.
Head said the body was clothed and partially wrapped in the plastic. Champagne testified earlier in the hearing that Tanner forced him to wrap the corpse in a shower curtain.
"There was duct tape in the hole with the body as well," Head recalled.
According to Champagne, he wrapped Garrett's slit throat with cloth and duct tape.
Head also participated in a search of the cabin, owned by Ryan Tanner's father, where Tanner allegedly forced Garrett into a bathtub and shot him in the head with an AK-47. At some point after the killing, the cabin was burned to the ground.
"We sifted through remnants of the cabin," Head said. They focused on the bathroom area, where a burned clawfoot bathtub was still standing.
"After quite a long time sifting," the detective said, they spotted a shell casing about 10 feet from the tub. The casing was associated "with what would be referred to as an assault rifle."
Tanner's father, James Tanner, also owned a larger house on the property. He was not living there at the time. When officers searched the area around the house, they found a gasoline can in the driveway and a white pickup truck in the garage. Ryan Tanner drove a white Chevy pickup.
Head said he spoke with Howard "Trey" Weece, who lives in the Ettersburg area, and Weece said Champagne, not long after the homicide occurred, showed up and presented him and his girlfriend with a knife. After they accepted the gift, Weece told the detective, Champagne said it had been used to stab someone.
They didn't take Champagne seriously, as he was known for making "outlandish statements." But after learning about Garrett's killing, Weece threw the knife out a window and into a creek on his property. Later a woman found the knife, and Weece told her she could keep it.
There was also testimony today about two rifles that may have been involved in the crime. Head said he met with Weece at an attorney's office in Eureka, and Weece showed him a rifle someone had found off China Creek Road in the Ettersburg area. The rifle had passed through many hands, and Weece eventually tracked it down and bought it, specifically to turn it over to law enforcement.
"He said he didn't like the energy in the neighborhood when Ryan Taylor was living out there," Head said.
Also, Fortuna police Cpl. Thomas MacLeod testified today that he retrieved as assault rifle found by a garbage collection company in Fortuna. The facility manager told MacLeod that judging by which shipment the rifle was in, it came from Shelter Cove and was picked up on either Feb. 14 or Feb. 17.
Champagne testified he threw away some trash from Tanner's truck when they were in Shelter Cove.
Tanner was arrested Feb. 18 and remains in custody. He is present in the courtroom, but because of Covid 19 concerns he sits in the jury box and wears a mask and gloves.
Testimony is expected to continue Monday morning, with Head being cross-examined by defense attorney Russ Clanton.
Timm told Judge John Feeney she has "a number of witnesses" to call, but all are law enforcement officers whose testimony should be brief. She expects to wrap up her case by Wednesday.
###