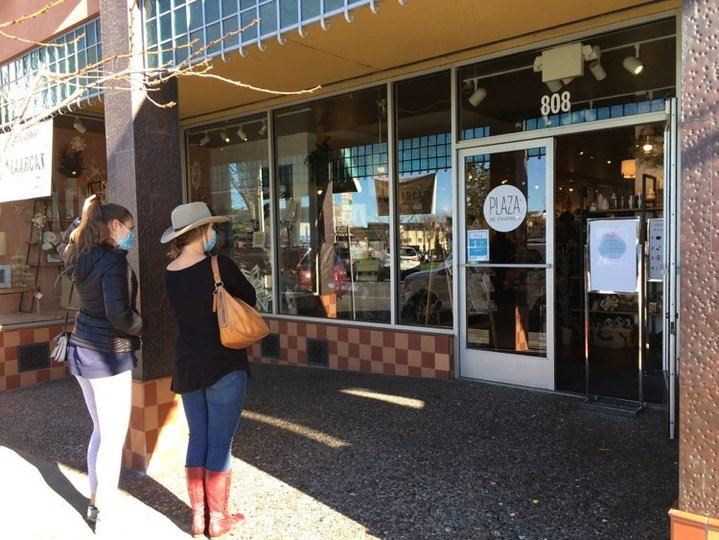 Though the pandemic has been tough on our local economy, with many small businesses taking a hit, some retailers report that the Christmas season has been as good as ever this year, with masked shoppers lining up to spend their dough despite the pandemic.

While calling around to Eureka and Arcata shops, many were too busy to even take LoCO's questions. But a few folks were able to squeeze in some time between customers to fill us in on how sales have been, how they're approaching customer service during COVID and what the general mood has been during the busiest shopping days of the year.

"People have overall been really pleasant," Natalie Walston, owner of Plaza in Arcata told the Outpost over the phone today, adding that customers have been waiting in line outside at times when the store is at capacity. "Our customers have been great about it. They have been patient and understanding that we have to adhere to guidelines."
Humboldt remains in the state's "purple tier" for COVID guidelines, which allow retailers to remain open, but restrict them to operating at 25 percent capacity and with all the usual masking and sanitizing requirements in place.

For Plaza that means 12 shoppers are allowed into the store at a time, Walston said, which makes it impossible to complete as many sales as the store has in past years. Also, when the store is at capacity, some people may decide not to shop there and go elsewhere instead. But even though the store has seen a lower volume of sales this year, Walston said, the numbers have still been good because customers are tending to spend more money.

Walston said that it has been heartening to see so many people supporting their local businesses this year. "People are letting us know that they are shopping local intentionally," she said.

Over in Old Town Eureka, Little Shop of Hers has also been having a successful Christmas shopping season and owner Courtney Jackson says that in some ways this year has actually been a bit easier.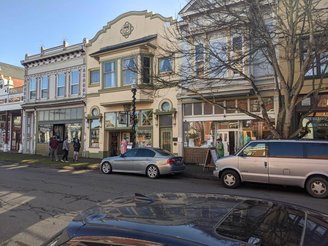 "I think having limits on the number of people who come in has been a good thing," Jackson told the Outpost over the phone this afternoon, occasionally breaking from the conversation to help a customer. "People are so aware of their space. They've been so considerate."

Jackson said she has also seen a reduction in theft this year, something that has been a problem for her during past Christmas seasons. Usually manning her store by herself, Jackson is not always able to watch all the customers when the store is very full.

Like Walston, Jackson reports that although the store has seen fewer customers because of COVID, sales have overall been very good, with fewer people coming in to just look around. "When people come in, they come in with a purpose," she said. "When people come in, they're buying."

For local cannabis dispensary the Humboldt Patient Resource Center (HPRC) the sales trend seems to be the same — though the volume of sales has declined this year, the average amount of each sale has increased.

"We seem to see that people spend a little more, but shop less frequently," HPRC geneal manager Bryan Willkomm told the Outpost. Of course, this trend makes sense, Willkomm said, because people are trying to be conscious of the amount of shopping trips they take during COVID.

It's hard to say yet how much overall sales have been impacted this year, Willkomm said. But the dispensaries have definitely seen fewer new customers this Christmas season than in past years. Usually there is an uptick in tourism-based shopping during the holiday season, Willkomm said, with a lot of people coming to visit their friends or families in the area.

Willkomm agrees that a lot of community members have been motivated to support their local businesses this year. "We're grateful to all those business groups and chambers who have been supportive of 'shop local' campaigns," he said. "Especially as a cannabis business, it's been great to feel like we're being supported by the community."