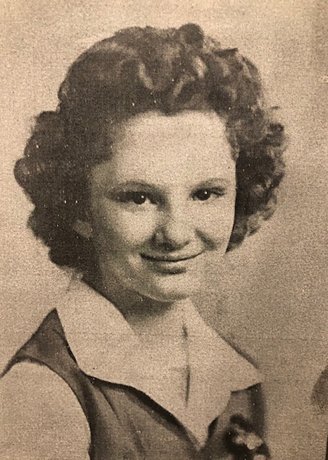 Mary Jane Holly, a long time resident of Rio Dell, passed away December 2, 2020. She had lived in Briceland since 1969. Briceland had been the home of Glen and Amy Strawn, long-time residents and some of the original old-timers. Glen had at one time been married to Mary's mother, Julia. Glen was, in fact, the father of Mary's two oldest sisters Betty and Doris (both predeceased). Mary and her husband Melvin Holly eventually settled in Rio Dell.

Mary was born August 26, 1930 in Stonyford, California. She was the youngest of four sisters. Her mother, our Grandmother Julia, married Bob Grieves after her marriage to Glen was dissolved. Grieves is a well known Scottish surname. And it was so wonderful to have bag pipe music at the memorial service in which Mary's family celebrated her life.
Bob and Julia had two daughters. They named the first one Roberta (predeceased), then Mary was born. When our mother was four years old, Bob and Julia divorced and Mary and Roberta went to live with Bob. Roberta and Mary were both placed in a Catholic Convent shortly afterwards, and they lived there for about two years. Mom and Roberta both had tales to tell about the stern Convent Sisters.
Mom was 13 and living near the naval base in Bremerton, Washington in 1943 – just when the Pacific theater of WW II was in full swing. Service men of all branches of the military were heroes at that time, and the sailors at Bremerton were no exception. A story that she reluctantly told from time to time was when she wanted to go to the base and see sailors. She really wanted to be around the sailors. Her older sister Betty wisely forbade her to go. Mary, as strong-willed as she has always been, insisted on going and would not take no for an answer. Betty, to keep her from leaving the house and going to the base, tied her up in a chair and would not untie her or let her go. Up until just a few years ago, when she could still tell a story, her sons would coax her to talk about this. She would tell the story as though it had happened yesterday, and had fire in her eyes and smoke spewing from her ears when she told it and still held it against her sister Betty even after all those years.
By 1946, at age 16, shortly after the war she was married to Dave Erckenbrack. Dave had been a sailor so she finally got her wish. Lonnie, her oldest son was born in 1947, Carol was born in 1949, and Steve was born in 1952. The marriage between Mary and David didn't last, so by 1955 Mary had married Melvin Holly (who had also been a sailor!). They were living in Hanford California at the time, and later moved to Fresno. And when they lived in Fresno, Leonard was born in 1960 and Vernon was born in 1962. Lonnie enlisted in the USAF in 1967, and Carol flew from the nest in 1968. By 1970 Mary and Melvin had moved to Briceland.
Another story involves her youngest son, Vernon, when they lived in Briceland. Vernon has always loved to hunt. As a young boy, he used to hunt squirrels. And the rule in the family was that if you shoot it or catch it, you have to eat it. Vernon had skinned and cleaned the squirrels, and eventually amassed quite a few of them in the freezer. Mom told him to stop shooting squirrels but he kept at it. But Mom had her own way of solving the problem. Vernon woke up to a nice breakfast of fried squirrel. For lunch he had squirrel. That night —yep, squirrel. For breakfast the next day, another mess of fried squirrel. By now Vernon was begging for something different. After two or three days of this Vernon had learned his lesson.
Mom and Dad and Steve Leonard and Vernon formed lifelong friendships in Briceland. For a short time they moved to Pacifica to be closer to work, and then when they moved back to Humboldt County they moved to Rio Dell and stayed here from that time on.
There is a story told, that one time when Mary had been called in for jury duty, she called her daughter (after a few beers) and told her all about it. She also mentioned the judge's admonition to not discuss the case outside of the court room. Her daughter Carol then ran with it. One thing this family enjoys is a well executed practical joke. So in cahoots with her brother Lonnie and Carol's husband Jim, Carol put her plan action. Mary got a call from Carol's husband posing as "the officer of the court," reminding her of the judge's admonition. Mary and her husband Melvin were astounded. They were convinced that line men working in the area had tapped their phone. Her son Lonnie was supposed to call the next day and let her know that it was a joke but he forgot to call. Mary's daughter then called, three days later, and told her mother. Mary was silent for a few long seconds, obviously processing this. As the realization dawned on her and she finally understood that it was a joke, she began laughing. She laughed for a long time. She enjoyed the joke as much as her kids did!
She was a stay-at-home mother.She always aspired to be a writer and had written several short stories. Mary was an aspiring and an inspiring woman. She had an unquenchable thirst for knowledge. She had enrolled in English classes for years and had always wanted to be a writer. She always saw the good in people. Between she and her husband Melvin (predeceased), they always had something to fill the outstretched hand. Nobody left their home hungry. She always defended her children, and was deeply loved by her grandchildren.
Mary has five children, 19 grandchildren, and 35 great-grandchildren. Mom had always been a very important part of her children's lives, and an active part in the lives of her grandchildren. They meant everything to her. She always saw the good in her children, and her grandchildren. She didn't ignore the bad parts, but she always had love for us. She always supported her children. And that's how she lived out the rest of her life. Being a part of her children's lives, and doing everything she could for them and the grandchildren.
She was a guardian angel to many, friend and family alike. To know her was to love her. She is sorely missed. No one who came to their home left hungry. You could always count on taking home with you some berries or a milk carton of frozen fish or something from the garden. Usually all of the above. Mom was always willing to share with us her recipes. She was a good cook even though we did eat at 8 o'clock at night sometimes. I think she was angry when she spent all day cooking and then finally we sit down to eat and within 15 minutes dinner was devoured.
###
The obituary above was submitted on behalf of Mary Holly's loved ones. The Lost Coast Outpost runs obituaries of Humboldt County residents at no charge. See guidelines here.