Ryan Anthony Tanner must stand trial for murder, kidnapping, arson and a slew of other charges, Judge John Feeney ruled Wednesday.

Feeney, who presided over Tanner's 13-day preliminary hearing, ruled enough evidence was presented to provide "probable cause" that Tanner murdered 26-year-old Jason Todd Garrett on Feb. 12 in a cabin near Ettersburg.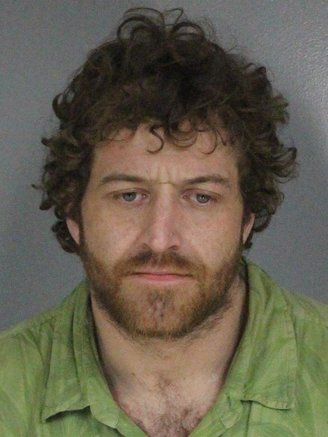 It's also suspected that Tanner, 33, burned down the cabin and set several brush fires in the area in an effort to conceal his crime.
Before the judge made his ruling, defense attorney Russ Clanton argued there was no solid evidence that Tanner killed Garrett. Clanton said law enforcement trusted the initial statement from eyewitness Christopher Champagne, and from then on the investigation focused only on Tanner. Investigators' goal was to make the evidence conform to what Champagne claimed, Clanton said.
"Ryan was an easy target," he said, because of his past history of violence. Tanner allegedly physically abused his girlfriend and others. During the hearing, numerous witnesses said Tanner had threatened them with death.
As for Champagne, who said he saw Tanner kidnap Garrett and then shoot him in the head with an assault rifle, "it would be diplomatic to call Christopher Champagne's testimony bizarre."
Although Champagne provided law enforcement with details that were later confirmed, he also made some astonishing claims. One was that he witnessed Tanner in a shoot-out with law enforcement, killing a half-dozen officers and burning their bodies.
Clanton argued "there is nothing that points to Mr. Tanner committing this homicide other than some collateral contact with other people (witnesses who encountered Tanner around the time of the killing)."
He criticized the law enforcement investigation as "full of gaping holes" and called the testimony of prosecution witnesses "a classic example of self-serving statements."
Deputy District Attorney Whitney Timm, who is prosecuting the case along with Deputy District Attorney Jessica Acosta, said it was clear some of Champagne's testimony was "hallucinatory."
But the cornerstones of Champagne's account were corroborated by other witnesses, Timm argued. There is no dispute, she said, that Garrett and his friend Natalie Pierce were on Crooked Prairie Road in the Ettersburg area, and Pierce was having problems with her vehicle. Champagne said Tanner set fire to the back of Pierce's truck and forced him to light the front on fire.
"That makes sense when considering the conclusions of the arson investigators, " she said. Calfire investigators said most of the damage to the truck was on the passenger side, but there was also major damage to the right front tire. Also, arson investigators confirmed Champagne's statement that the truck's battery was removed before the fire was set. Timm pointed out that Champagne said he wrapped Garrett's neck with duct tape after Tanner slashed him with a knife. Witness Robert Norris saw tape around Garrett's neck, and there were tape strips found on his neck when his body was exhumed on Tanner's property.
It's alleged Tanner shot Garrett with an assault rifle. A shell casing from an assault rifle was found about 10 feet from the bathtub that Garrett was allegedly forced into before he was shot. Also, identical shell casings were found strewn around Tanner's property and in his house.
Champagne told investigators that at some point, a bloody T-shirt was thrown into the cab of Tanner's Toyota 4-Runner. A few months after the killing, sheriff's investigators took trained cadaver dogs to Tanner's property. The dogs "hit on that 4-Runner," Timm noted.
Garrett reportedly was in the bed of that 4-Runner both when he was kidnapped and after he was shot. When law enforcement examined the truck, the bed had been doused with bleach. During the investigation, many witnesses came forward to tell law enforcement what they knew. Tanner eluded police for several days and was finally arrested at a friend's house in Briceland.
Tanner is expected to be arraigned on Jan. 6.

Timm told the judge she expects Clanton to file a motion to dismiss.
###