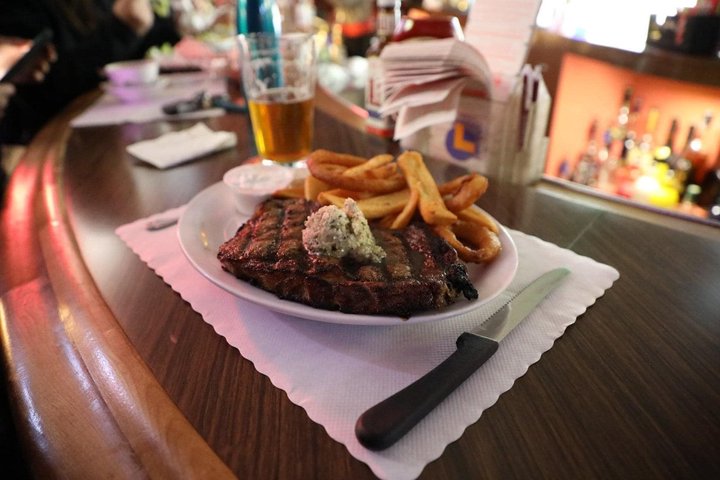 ###
As West Coast clocks struck midnight, tipping Tuesday into Wednesday, Humboldt officially, and quite unexpectedly, became the only place in California where people are allowed to dine at restaurants indoors.
Our neighboring counties in the Northern California region are all in the "purple" tier, indicating widespread COVID-19 transmission under the state's framework, while the other four regions — home to more than 98 percent of California residents — have been placed under regional stay-home orders due to their overwhelmed ICU capacity.
While a few local restaurant owners happily hauled out the flatware, dusted off their menus and welcomed patrons back inside, others reached by the Outpost on Wednesday say they're holding back.
Some said that reopening would present big logistical challenges, requiring them to restock shelves and fridges and rehire laid-off employees — big risks when the restrictions could easily be reinstated tomorrow. Others said that with the county's COVID-19 numbers climbing at the steepest, most alarming rate yet, they don't understand why the state loosened restrictions. They're waiting for conditions to improve, for the return of tourism and consumer confidence.
"I'm going to be more patient," said Nicholas Kohl, owner of Eureka's Oberon Grill. "I need to be very strategic about when and how I reopen."
Oberon has been closed altogether since last month. Kohl said he hoped to adapt to the pandemic by offering meals to-go and trying to "evolve" the business, but he quickly saw that he was expending more effort while losing more money.
Shawn Stoops, owner of The Diver Bar & Grill in Eureka's Henderson Center, said he and his employees have switched entirely to offering food to-go, which requires just two employees working at a time. Given the state's cap of 25 percent indoor capacity under the red tier, the expenses inherent in offering indoor service — with the lights, the heating, the extra staff — just don't pencil out.

"It's not worth it," Stoops said. "This is beyond chasing pennies. It's an immense amount of effort with zero return."
Under the orange and yellow tiers, Humboldt restaurants were allowed to operate with up to 50 percent capacity indoors. "When they started knocking us back to 25, I said let's just do to-go, and we're sticking with it," Stoops said.
He has kept his business afloat with help from the Paycheck Protection Program and other loans. Stoops said he's proud of his staff, and he's trying to operate as efficiently as possible. "But we're not changing the quality of our food," he said. "I'm adamant. You can't start skimping on things because it screws you [in the long run]."
Meredith Maier, co-owner of Six Rivers Brewery in McKinleyville, said she had to lay off some employees shortly before the holidays, and she'd be reticent to hire them back only to potentially lay them off again.
The brewpub's 8,500 square feet of indoor capacity allows Six Rivers to accommodate just 30 people at a time under the current rules, Maier said. That's roughly the same amount of diners they're able to serve outdoors in good weather. She and her colleagues decided to open today, allowing indoor dining with their new protective measures.
"We've moved away from table service," Maier said. "It's all counter service: People come to the bar to order … . Our interactions are minimal." The food is placed in baskets rather than on dishes, and customers are asked to bus their own tables. "Our indoor dining is very well ventilated as we keep all doors and windows open regardless of weather," Maier said.
She, for one, didn't expect to be making such a decision today. When state officials announced Tuesday that Humboldt County was being downgraded to the red tier, "I felt pretty shocked," Maier said, "only considering our daily case counts are the highest they've ever been."
Aimee Hennessy, owner of Richards' Goat Tavern and Tea Room in Arcata, said, "I don't expect Humboldt to stay in the red tier, unfortunately."
Sure enough, during Wednesday's media availability Q-and-A, Humboldt County Health Officer Dr. Ian Hoffman addressed this very issue, saying, "I would strongly caution anyone with a restaurant right now who is planning to reopen that they should be concerned that this could be reversed."
Hennessy was already leaning in that direction.
"We closed in early December, turned off as many appliances as we could to save on utility bills, and we don't plan to reopen until it makes financial sense to do so — which means people have to feel more confident about it being safe to go out, regardless of tiers," she said.
Other local restaurant owners couldn't wait to reopen for indoor dining. The AA Bar and Grill in Eureka even bent the rules a bit, reopening Tuesday evening instead of waiting for Wednesday. A jubilant Facebook post went up shortly after 5 p.m. Tuesday, announcing, "Christmas came a little late this year- We're open inside! Yup, come enjoy some INDOOR dining again
. We'll have the kick ass steaks ready!!"
"I'll be honest with you, I should have waited to today," said owner Mike Munson, who also own The Jam in Arcata. But he reasoned that the governor's orders may as well take effect on the day they're announced. "I don't see why we needed to wait a day."
The AA has been offering outdoor seating, but Munson estimated that opening the doors last night led to a 60 percent uptick in business. The transition was relatively easy since the AA's menu hasn't changed and it operates with a small staff.
"The Jam is a lot more challenging," Munson said. "We literally were calling people back last night that we had to lay off, calling 'em back and getting geared up for today."

He's fully prepared for the rule-change to be reversed, he said, but even if it's short-lived he's happy for the increased business.
Ted Vivatson, owner of Eel River Brewing Company in Fortuna, struck a more defiant tone when reached by phone Wednesday.
"This is the first time in the history of our country that the government has arbitrarily and capriciously shut certain segments of the economy," he said. "It's a scary thing. … There is no data that supports what the state's doing right now. It's based on hospitals' business model."
For the record, government officials in the U.S. have issued similar restrictions in the past. For example, during the catastrophic "Spanish flu" of 1918, municipal health officials closed schools, shuttered movie theaters and pool halls and banned all public gatherings. San Francisco passed a law requiring people to wear gauze face masks. "[L]ooking back more than a century later," reporter Dave Roos observes on history.com, "there's evidence that the earliest and most well-organized responses slowed the spread of the disease — at least temporarily — while cities that dragged their feet or let down their guard paid a heavier price."
Regardless, Vivatson said that a lot of people just prefer to eat inside, including patrons who are elderly and frail. And he pointed to the financial toll of the pandemic.
"It's dire out there for a lot of segments of the business world," he said. "I got a lot of friends in the bar and restaurant industry throughout state. I would say about 20 percent are not gonna reopen. They've lost everything."
Vivatson said he remains skeptical of the state's justifications for the restrictions.
"Everybody wants to do the right thing for the community. I just want to see what it's based on," he said regarding Gov. Gavin Newsom's regulations.
Vivatson went on to thank his employees "for their strength and fortitude, hanging in there," and he expressed gratitude for the community, which has offered support in a variety of unexpected ways, he said.
Stoops expressed thanks, too.
"I'm grateful for my staff," he said. "They're rolling with it; we're all rolling with this."
He said he's got some ideas for the new year, including offering growlers of beer for sale. The Diver has been working with the City of Eureka to build a parklet out in front of the business, and Stoops said he intends to get back on social media to let the public know the business is still here.
"That's one of the things I love about Humboldt, the way people have stepped up here," he said, "from giving tips to staff to just showing kindness, offering kind words like 'hang in there,' people showing gratitude, just being grateful we're open."
Given the range of challenges posed by the pandemic, Stoops said he's aware that he could go out of business, but he's doing everything that's within his control so he tries not to worry about it.
"I've got a huge investment in this thing, with real money," he said. "Failure's not an option. We'll get through this. We're gonna get beat up with it. We'll have more debt. But I've put too much into this to give up without fighting to the damn end with it."

Stoops, like several other restaurant owners we spoke with for this story, said he's especially grateful to the community for supporting local businesses.