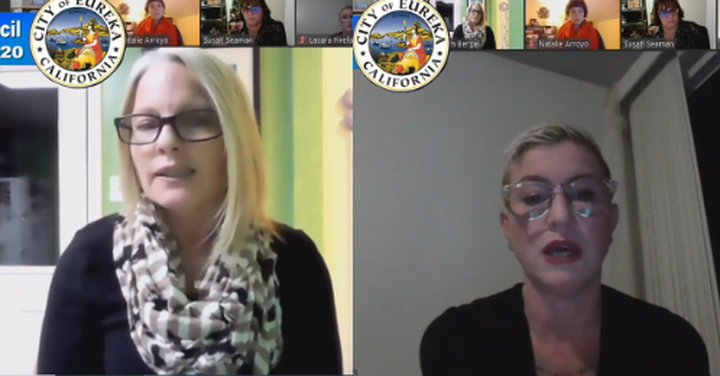 ###
After the Eureka City Council and the Humboldt Area Center for Harm Reduction (HACHR) failed to come to agreement on the nonprofit's controversial syringe exchange program (SEP) after two meetings last week, the council will now hold yet another special meeting Thursday, during which they will consider temporarily banning such programs while city government rewrites the rules governing them.

Last week, the council voted down a proposed settlement agreement between HACHR and the City in a 2-3 vote, with Councilmembers Leslie Castellano and Natalie Arroyo voting in favor of the agreement and Councimembers Kim Bergel, Austin Allison and Heidi Messner voting against it.
The proposal would have required that HACHR transition to a mobile-only syringe exchange by June 1, build a fence around its Third Street facility and hire a monitor to regulate activity at the facility. In good faith, HACHR agreed to build the fence and hire the monitor as soon as possible.

But Councilmembers Allison, Messner and Bergel were concerned that this agreement would not hold HACHR accountable for its actions. Bergel — who represents Eureka's Fifth Ward, in which HACHR's Third Street facility is located — was particularly worried about the interim period before June 1, when HACHR would still provide syringe services at its facility. After an hour or so of often tense deliberations, none of the council members changed their vote, and the proposal died.
After the council voted down the proposed agreement on Tuesday, Bergel, City Manager Miles Slattery and HACHR Executive Director Lasara Firefox Allen held a meeting, during which Bergel requested that for the next six months — until HACHR can transition to a mobile exchange — it reduce its syringe exchange hours and hire a security guard to regulate the syringe exchange at the facility.

HACHR declined Bergel's proposal.

"Myself and the board find these additional requests to be reckless and untenable," Allen read from a prepared statement during a follow-up city council meeting Thursday. "Reducing current SSP [Syringe Services Programs] hours of operation would have a profound negative impact. The COVID-19 pandemic and the protocols associated with it are having numerous and substantial effects on our population."

The HACHR board also felt that hiring a uniformed security guard would have a "chilling effect" on the program's participants, Allen said, many of whom have a "history of trauma at the hands of uniformed authority figures."

But Bergel felt that these were reasonable requests — that they would only be temporary and would, hopefully, appease HACHR's neighbors by helping to regulate some of the activity in and around the HACHR facility. With HACHR not agreeing to these additional requests, Bergel felt that the best option moving forward would be to start over and give the city an opportunity to craft a new ordinance. Bergel's hope is that with that new ordinance, the council will put out a request for proposals for a syringe exchange program, for which HACHR can apply.

Crafting and adopting a new ordinance will take time, however, and require a California Environmental Quality Act review. So, for the interim, Bergel suggested that the council repeal and replace the city's resolution supporting SEPs.

Allen said that this action would have a devastating impact on the population that uses the SEP, and that they feel that Bergel's request is based on emotions rather than scientific data.

"She is willing to sacrifice countless lives to this idea that she has that HACHR isn't doing a good enough job," Allen told the Outpost in a recent phone interview. "A lack of syringe services in Eureka over the next six months — it's impossible to know what the impact of that will be in lives and in dollars."

To be clear, if the council does rescind the SEP resolution, the syringe exchange service operated by the Humboldt County Department of Health and Human Services (DHHS) the will still be able to operate in Eureka, because the City of Eureka does not have authority over county regulations.

But Allen said that the county DHHS is operating at limited capacity because of the pandemic, adding that because of COVID, the county has a greater need for syringe exchange services. Allen added that the CDPH recently sent out a vulnerability assessment that shows an increased risk for HIV and Hepatitis C infection, and drug overdose rates in California.

"If anything, we should be increasing our SSP hours, in order to address the needs of our participant population," they said.

City Manger Miles Slattery agrees that with the pandemic, the timing of this is not ideal. But if the council does repeal the resolution, it would only be temporary and the city is prepared to provide as much additional support as possible through its UPLIFT and CAPE programs to help ensure that people have access to the county's syringe services. "We'll provide rides," Slattery told the Outpost. "We'll do whatever it takes."

It seems worth mentioning that last Tuesday's meeting — when the council initially voted down the settlement agreement — was intended to be the final meeting for outgoing councilmembers Allison and Messner and new councilmembers Kati Moulton and Scott Bauer will be sworn in on Dec. 15.

If the council does vote to repeal the resolution on Thursday, HACHR would still remain open for all of its other harm reduction services, including HIV and Hepatitis C testing and overdose prevention. And with its state authorization, HACHR would still be permitted to provide syringe exchange in surrounding communities, like Arcata.

And while Slattery said that it is unfortunate that the council rejected the agreement he and Allen spent a great deal of time on, he understands the issues that some council members have with HACHR and that they would want to take their time crafting new regulations for syringe exchange programs in the city.

"We can assure you that we understand the importance of HACHR but we also want to be responsible," Slattery told the Outpost. "HACHR has had a track record with not following through. There's new management and a new board, but a lot of history and we've taken a lot of heat for this."

The Eureka City Council will hold a special meeting via Zoom on Thursday Dec. 10 at 7:30 p.m.

If you would like to comment during the meeting, you can email your request to cityclerk@ci.eureka.ca.gov or call 707-441-4175 prior to the meeting. You can also email your written comments to the city clerk and they will not be read during the meeting, but will be entered into the record.

The public comment period will be limited to two hours total and two minutes per speaker, to give the council adequate time to deliberate. The city encourages you to email your requests and comments by 4:30 p.m. on Thursday, in case there is not time for you to speak during the meeting.

###
PREVIOUSLY: