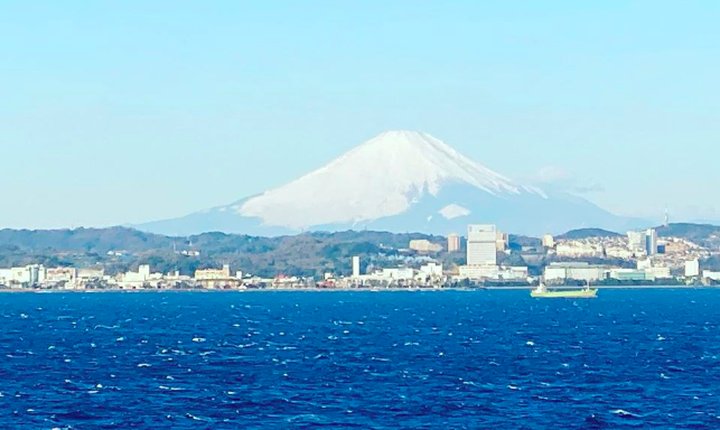 PREVIOUSLY: Former Humboldt Resident Quarantined on Cruise Ship; 20 61 Fellow Passengers Have Tested Positive for Coronavirus
# # #
After a full week of quarantine aboard the Diamond Princess cruise ship, Sarah Arana sat on balcony of her cabin and watched the moon descend over the hills of Japan's Kangawa Prefecture.
Sixty-five more passengers had tested positive for COVID-19, the deadly strain of coronavirus that has infected more than 40,000 people and killed more than 1,000 (mostly in China). That brought the total number of confirmed cases among people aboard the Diamond Princess to 135, a dramatic increase since the Outpost talked to Arana on Thursday. According to NPR, the cruise ship represents "the largest cluster of Wuhan coronavirus cases outside mainland China."
And yet Arana remained calm, even philosophical.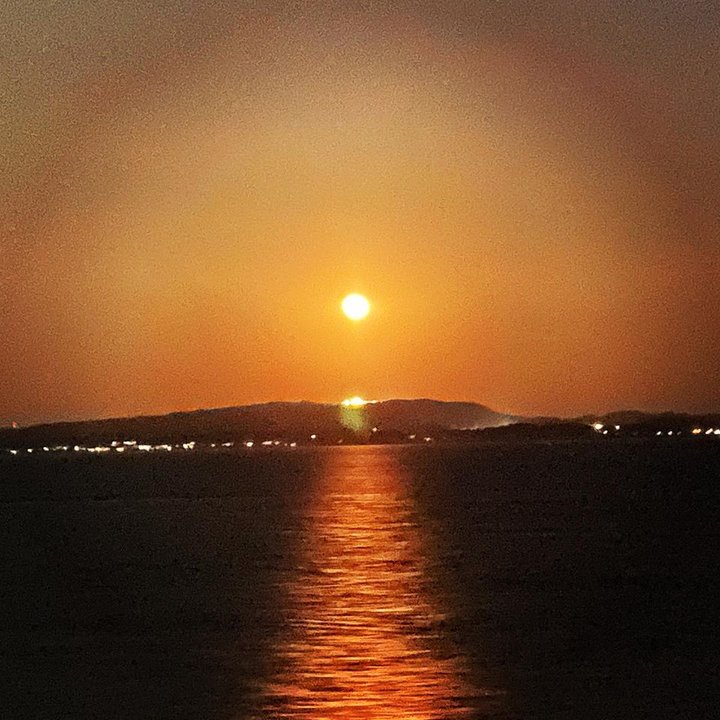 "This is the glorious view off of my balcony tonight as we set sail once again out into the wild wide open of the sea," she wrote on Facebook. (The Diamond Princess has been steaming in and out of the Port of Yokohama during the quarantine and evacuating those who test positive for the respiratory virus.)
"The moon is full and shining her light on us, the air is crisp and salty and the sound of the water crashing down below soothes me," Arana continued. "I stole some precious moments out here tonight, sipping hot tea and remembering that everything is temporary. Life is fleeting. I never want to forget what an incredibly unexpected journey this was and how many people showed up to bear witness."
The hashtags she appended to her post are remarkable, considering the ordeal she's been through. They included #gratitude, #faithinhumanity and #bekind.
The outbreak on the Diamond Princess has made international headlines, and Arana, a social worker who lived in Humboldt County for about 16 years, has provided vivid firsthand accounts, giving interviews to Australian television, the New York Times and others.
On Wednesday (Japan is 17 hours ahead of California), Arana even spoke with an Australian class of elementary school students.
"Their teacher sent me questions ahead of time and they got a virtual tour of my cabin as they were 'dying of curiosity' their teacher said," Arana wrote on Facebook. "They were so cute and thoughtful, I loved having them over."
Not all of the roughly 3,700 people onboard the Diamond Princess have remained so calm. Some fellow passengers have told reporters that they worry the virus could be spread through the ship's ventilation system or via the food handlers who continue to provide meals for the people onboard.
An official from the Centers for Disease Control and Prevention sent American passengers a message on Sunday saying the center "has no current evidence to suggest that the virus spreads between rooms on a ship through the air-handling system."
Arana told the Outpost today via Facebook messenger that she attends the Burning Man festival every year and always volunteers for the crisis intervention team, managing a crew of doctors, nurses and EMTs offering emergency medical services. She's been trained for mass critical incidents and has a master's degree in social work from Humboldt State University, all of which has helped prepare her for this experience.
Upon learning of the additional 65 new cases of coronavirus, Arana sought to soothe her friends and family. "DO NOT PANIC," she posted to Facebook. "I am not panicking, this too was expected. Remember when I said a couple of days ago that the numbers could increase greatly before subsiding? That is what is happening."
She expects the numbers to keep going up, but she's not worried. "We are united and will continue to work together," she wrote. "I am providing phone support to those who need it. I can hear the swarm of helicopters overhead as ambulances line up beside the ship for passenger removal."
Now roughly halfway through the 14-day quarantine mandated by the Japanese Health Ministry, Arana tells the Outpost she doesn't have any symptoms of the virus. And she remains upbeat.
"This is a very unique, once-in-a-life event, and to get to experience it from the inside has been remarkable," she said.