UPDATE, 9:30 p.m.: Later on Friday (still Thursday evening here), Arana posted the following message to friends on Facebook:
We have been informed that another 41 tests have come back positive. They are getting ready to cut our WiFi. Do not panic. I am not panicking. I will come back when I can. I love you all
That brings the total number of passengers on the ship to test positive for coronavirus to 61.
# # #
Original post: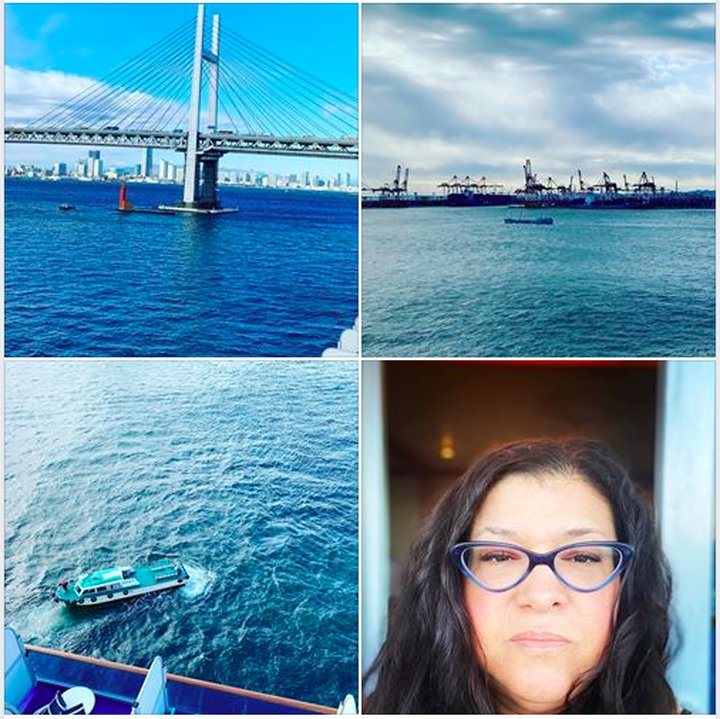 Sarah Arana, an HSU alum and former resident of Ferndale and Arcata, is among the roughly 3,700 passengers onboard the Diamond Princess, a luxury cruise liner anchored in Japan's Yokohama harbor under mandatory quarantine amid an outbreak of coronavirus.
Twenty of her fellow passengers have tested positive for the deadly infection, with dozens more awaiting test results. Japanese health officials have ordered the ship to be quarantined for two weeks, meaning Arana and her fellow passengers must stay confined in their cabins until Feb. 18th.
"That's what's hard," Arana told the Outpost in a phone interview earlier today. "We have to stay in our cabins. We're not allowed to leave. They bring food to our rooms but they can't touch us. The crew is fully [equipped] with masks, gloves — it's all very strict protocol."
The cruise, which was scheduled to last two weeks and end on Feb. 4, departed from the Port of Yokohama on Jan. 20. Five days in, on Jan. 25, an 80-year-old Hong Kong man was among a group of passengers who disembarked in that city.
It wasn't until six days later — after the ship had visited the ports of Cai Lan and Halong Bay, Vietnam and Taipei, Taiwan — that passengers were told that the elderly Hong Kong man had tested positive for the coronavirus strain that has infected more than 28,000 people, killing 565 as of Thursday afternoon.
Passengers were notified shortly before arriving in Okinawa, Japan, Arana said. "Japanese authorities were testing everyone's temperatures, and we all had to go through immigration," she said. "It created a lot of frustration. Those authorities knew someone had tested positive. It took hours to get almost 4,000 people through immigration."
The health screening wasn't extensive, according to Arana. "They literally just held something to our heads. But here's the problem: We're just now learning that there's an incubation period. People can carry it and display no symptoms," she said.
In Okinawa, many passengers grew upset that they weren't being allowed to go on the excursions they'd booked, though Arana said people who made it through immigration were allowed to take taxis into the city.
Thirteen people left the ship on Saturday and did not return, the New York Times reported earlier today. This has sparked a health scare in Okinawa, though no health issues have been detected there yet.
Shortly after the ship departed Okinawa, it suddenly picked up speed. "I think they really knew this was a bigger problem than anybody had initially realized," Arana said. "The captain made the announcement that they would be checking everybody before getting off the ship."
They weren't told until later that their two-week vacation would capped with two full weeks of confinement in their cabins. But Arana has kept a positive attitude, even as her fellow passengers continued to test positive for coronavirus. When a concerned friend reached out on Facebook to see if she was on the ship quarantined off the coast of Tokyo she replied:
Yes! Two more weeks at sea for me!! I always wanted to be a sailor so I am seizing this rare opportunity to spend an entire month out here gazing at the ocean under the stars.
Arana has been keeping friends and family updated with posts such as this one:
"I'm fortunate; I'm in a cabin with a balcony," Arana told the Outpost. This allows her to get fresh air and even converse with neighbors in adjacent cabins. Most of the passengers don't have that luxury, and Arana said she worries because a majority of them are seniors and a few are children, making them more vulnerable to the virus.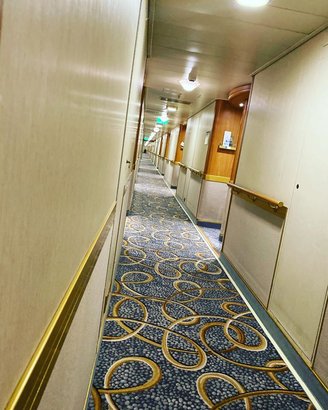 A total of 273 passengers — those considered most vulnerable — were tested for coronavirus. The first 10 passengers to test positive were announced on Wednesday, and another 10 were announced on Thursday, according to the New York Times. Just 102 of the passengers' tests have been completed, leaving about 171 still awaiting results. Three Americans were among those who've tested positive and were removed from the ship for treatment.

"Just today they distributed masks and announced that they will allow people to go up [on deck] and get fresh air," Arana said. "Japanese quarantine officials are on the ship. They advised us that nobody can be within one meter of each other. They can't congregate. And anybody who does not comply will have to go back to their cabins and stay there."

On Thursday, Arana and other Americans onboard received an email from the U.S. embassy in Tokyo saying, in part, "The U.S. Embassy and the Department of State have no higher priority than the welfare and safety of U.S. citizens abroad." The email offered an update on the quarantine and gave advice for anyone who needs medical attention or is running low on medication.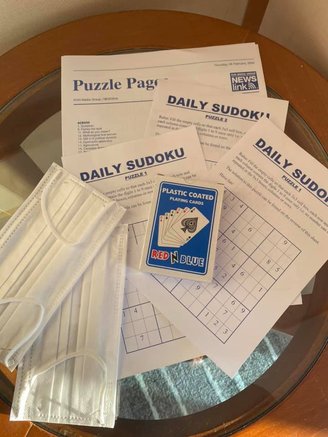 For her part, Arana is staying occupied. Yesterday the crew delivered some puzzles and cards to her door along with a pair of surgical masks. She's been reading, drawing and dancing to stay active. She has music and a flatscreen TV so she can watch the news. She even signed up for an online herbal class.
Arana earned her master's in social work at Humboldt State University, an education she credits with helping her maintain a positive attitude. She also raised her son during the 11 years she lived in Ferndale. She now lives in Los Angeles.
"I will tell you … some people are complaining [about the quarantine], but most people will never get this kind of opportunity," Arana said. "We were eating lobster, escargot, filet mignon — it was very luxury."
She appreciates the efforts of the crew. "Now they're having to scramble to get room service to us. It's a logistical nightmare. There are cabins on 15 decks. The food is not the quality that it was before, but it's adequate. They bring us food three times a day." There's more than enough of it to last, she said.
But while she commended the Diamond Princess crew and Japanese health officials for their efforts, she noted that another cruise ship with thousands of passengers has also been quarantined after visiting Hong Kong.
"I think it's gonna get worse," she said.