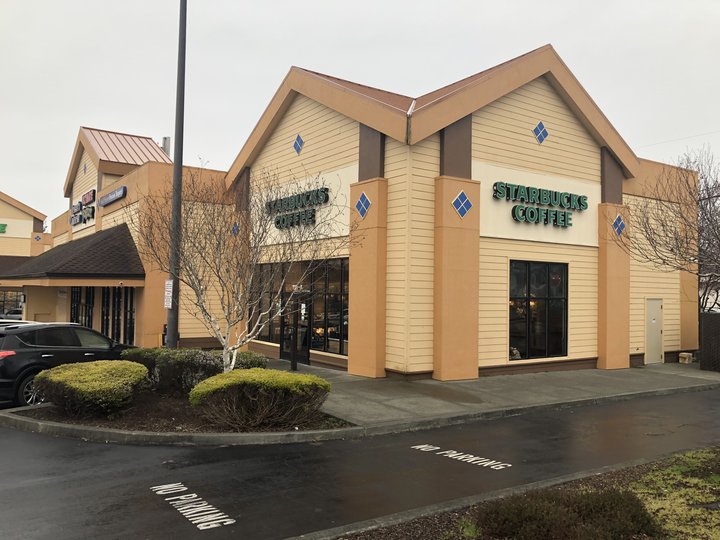 A sign taped to the front door of the Myrtle Avenue Starbucks delivers bad news for local fans of the ubiquitous Seattle-based coffee chain: "On February 14th 2020 at 7 p.m., your Starbucks Myrtle and West location … will be permanently closing."
The sign doesn't give much more information. In fact, a Google search of the verbiage reveals it to be boilerplate corporate messaging used in store closures across the country:
We would like to thank you for being part of our store community; you are the heart of who we are at Starbucks. It has been a great pleasure to connect with you every day. We are thankful to have played a role in your daily routine and that you have shared these moments of your life with us.
The Outpost left messages for Store Manager Jucille Barnes and reached out to the company's corporate headquarters for more information. We'll update this post when and if we hear back.
This location was the very first Starbucks to open in Humboldt County, way back in October of 2001, and the arrival of the java mega-chain caused some anxiety at the time. Locals even protested in the parking lot when the store opened, calling Starbucks a "predatory company."
But most local coffeehouse owners didn't seem to mind. In 2008, Mosgo's then-manager Ron Alexander told this reporter (then working at the Times-Standard), "The rising tide lifts all ships." He credited Starbucks and Peet's with "raising the bar for coffee excellence." Jitter Bean co-owner Kris Roberts said, "Starbucks is a fabulous organization, and we're thankful for them."
Both of those locally owned businesses have survived in the Starbucks era, along with such local favorites at Ramone's and Old Town Coffee & Chocolates. And Starbucks lovers still have plenty of local options, with three other locations in Eureka (counting the ones inside Safeway and Target), plus stores in McKinleyville and Fortuna.
As for coffee fiends in Myrtletown, there's a Dutch Bros., a Jitter Bean and Kool Beanz Coffee and Ice Cream within a mile of the soon-to-be-closed Starbucks. Perhaps you can share some moments of your life with them.