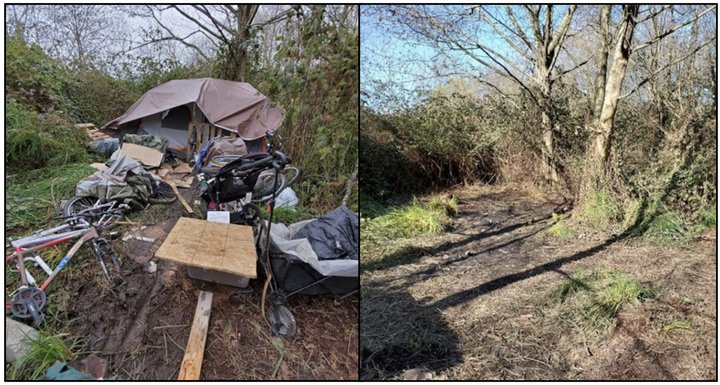 Eureka Police Department press release:

In January 2020, the Eureka Police Department's Community Safety Enhancement Team (CSET) became aware of large encampment cut deep within the greenbelt near the Foot of Hilfiker which was causing environmental damage. The encampment consisted of various shelters, walkways, large amounts of trash, five gallon buckets filled with human waste, and a 55 gallon drum filled with a flammable substance.

CSET immediately began a strategic process of removing the illegal encampment. CSET worked with various community partners to offer housing, employment, substance abuse treatment, mental health services, and transportation services back home to those living within the encampment. As part of the process, those living at the encampment began collecting and removing their own trash.

On February 11, 2020, CSET partnered with the Humboldt County Sheriff's Work Alternative Program (SWAP) and conducted a clean-up and removal of the encampment. Since January 2020, more than 4,500 pounds of trash has been removed from this illegal encampment.

Along with these ongoing clean-up efforts, EPD and our community partners will continue to develop and implement strategies which ultimately improve upon or eliminate these issues through a thoughtful balance of accountability and outreach.