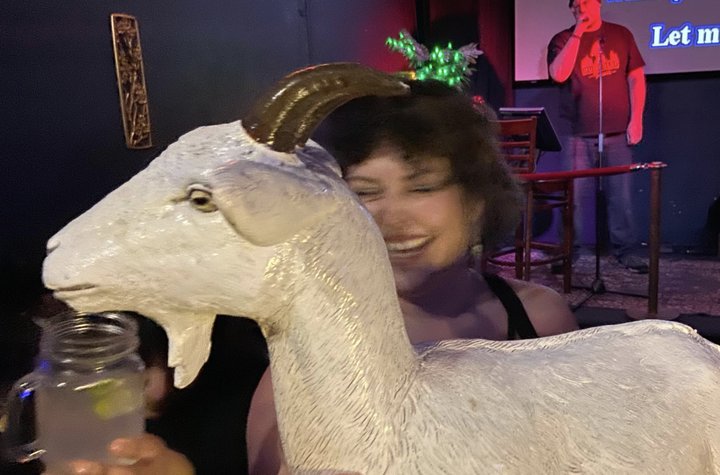 PREVIOUSLY: MISSING: Someone Stole Richards' Goat's Goat
# # #
'Twas way back in June of 2018 when we were all horrified to learn that a brazen kidnapping had occurred in our fair community. The kitschy, bolted-down goat statue that had long-gazed out onto Samoa Boulevard from the eave above Richards' Goat Tavern and Tea Room in Arcata had been snatched by someone with access to a ladder, power tools and frightening boldness levels. Those were bleak times. A reasonable assumption could've been made that the goat was gone for good, lost to history.

Do you believe in miracles? This afternoon the Outpost was gobsmacked to social media-scroll to photos of the burgled billy sipping cocktails and singing karaoke in its old digs. No way! The goat is home!
How did this blessed reunion come to pass? Richards' Goat owner Aimee Hennessy says that staff discovered the goat in a box by the front door Sunday night. Huh. OK! We'll take it!
Welcome back, goat statue. What did you see in your time away? We may never know. What's important is you have returned to your hip, boozy pasture. Long may you bleat. (Or not. You're a statue.)
[More photos of goat's triumphant return below]