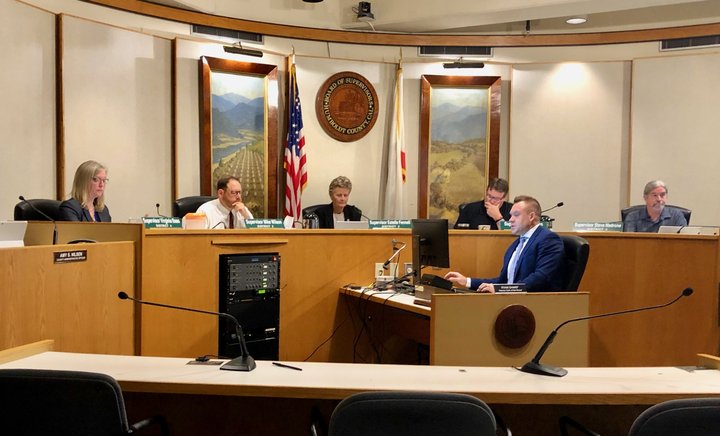 Following complaints from local residents, the county may soon ban target shooting on the Samoa Peninsula and, while they're at it, establish safety zones that prohibit gunfire within 150 yards of any inhabited structure in the county. (This would apply only to the county's unincorporated areas, but each of the county's seven cities already prohibits discharging firearms within city limits.)
The Humboldt County Board of Supervisors on Tuesday unanimously directed staff to come up with language to that effect, which, if approved at a future meeting, will be added to the county's existing gun regulations. The board also asked staff to develop language that would allow individual supervisors to create an ad hoc committee when and if constituents become concerned about gunfire in their vicinity.
Considering the contentiousness of the gun debate in our country, the discussion at today's meeting was remarkably calm and orderly. The matter was brought to the board by Fourth District Supervisor Virginia Bass and Third District Supervisor Mike Wilson. Both have heard from constituents who live and/or recreate along the peninsula.
As we reported last month, residents of Samoa, in particular, have said they fear for their safety due to an informal, if perfectly legal, shooting range southeast of town. The range and town alike are controlled by Dan Johnson, owner of local construction firm Danco and a partner (with Sun Valley Group President and CEO Lane DeVries) in the Samoa-Pacific Group, a limited liability corporation that purchased Samoa in 2001.
But concerns aren't limited to Samoa. Residents of Fairhaven, Manila and other peninsula communities say they've heard gunfire from their homes and in the nearby dunes, which are popular recreation areas.
"We're not talking today about hunting, which has its own set of regulations," Wilson said. "We're talking about unregulated target shooting. I also want to be very clear: We have some places where target shooting is quite regulated." Specifically he commended the Redwood Gun Club, a long-established shooting range just north of the peninsula.
While Humboldt County has a history of being pretty freewheeling when it comes to shooting firearms, some restrictions have been added in recent years due to concerns from local residents. Target shooting is no longer allowed in county parks, at the Mad River estuary or anywhere within half a mile of any state highway, including at the long-popular Eel River bar near Fernbridge.
Bass said that after people saw her name on this particular agenda item, "I had a few people call and say, 'What's this about? Your sons and family all hunt!' Yeah, they do. I have no problems with target shooting, but there are right places to do it."
First District Supervisor Rex Bohn said the people who cause problems with target shooting represent less than five percent of those who enjoy the practice, "but the 95 percent will have to pay the consequences." Legal options for people to sight their guns in "the great outdoors" are few, Bohn said.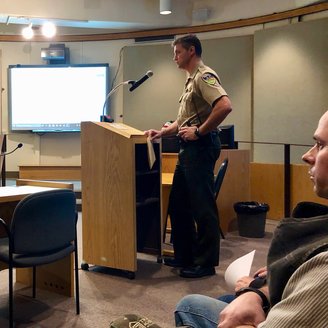 The supervisors invited Sheriff Billy Honsal up to address the enforcement side of the issue.
Honsal said he's spoken with local NRA groups who consider restrictions "a very, very touchy subject," adding, "We don't want to restrict someone's use of firearms as long as they're doing it responsibly."
One of the options presented in the staff report was to copy a restriction spelled out in Fish and Game Code Section 3004(a), which says hunters can't discharge "any firearm or other deadly weapon within 150 yards of any occupied dwelling house, residence, or other building or any barn or other outbuilding used in connection therewith." The staff report suggested applying this rule to target shooters as well, which Honsal called a reasonable idea.
He cautioned, however, that without video evidence or an eyewitness, it can be difficult to enforce such rules.
During the public comment period, several members of a local community group called the Peninsula Community Collaborative (PCC) described how the issue came to their attention and recounted some of the concerns expressed by residents.
Manila resident Carol Vander Meer, for example, said she's come across people in the nearby dunes sighting their rifles, which caused "very much a feeling of being unsafe. That makes me uncomfortable," she said. "Having something that not only addresses residential areas but [also] recreation areas just makes sense to me."
Emily Sinkhorn, a staff member of the Redwood Community Action Agency, which has helped the PCC organize, said the latter group has conducted hundreds of interviews with peninsula residents and heard from many who were adversely affected by target shooting. She thanked Bass and Wilson for their attention to those concerns and encouraged the board to ban target shooting on the peninsula.
Brian Hunter, who identified himself as a fifth generation county resident, was the only person to speak against the enforcement proposal. "I understand people don't feel safe," he said. "[But] before you do something that will impact all of us, really consider what you're going to implement." He said gun education could help alleviate some of the community fears and suggested that the county government could maybe open some shooting ranges around the county.
Ultimately he asked the board not to restrict gun rights any further. "Our state is totally anti-Second Amendment rights," Hunter said. "I'd hate to see our county go the same way, too."
When the matter came back to the board, Bass said Hunter was right about there being limited options for target shooting locally. She also suggested that she could maybe have a talk with a certain "Samoa-specific" property owner (Johnson, presumably) who has expressed a willingness to consider putting a stop to the shooting on Danco property.
"I'd be willing to ask him," Bass said.
Wilson pushed back on that idea a bit, suggesting that such private conversations may re-enforce the perception of "good ol' boy" politics in the county. "These personal relationships are meaningful, but they can't supersede the processes we're going through," he said. "I want to make sure we're talking about protecting everybody."
Bass said she took mild offense at the "good ol' boy" characterization and explained that she was merely hoping to solve the immediate problem while the county worked on a more comprehensive solution.
Wilson wound up making a motion to have staff come up with language that would:
prohibit target shooting within 150 yards of any occupied structure
ban target shooting on the Samoa Peninsula entirely, and
allow supervisors to form an ad hoc committee when constituents feel the need to address concerns about target shooting in their district.
Staff will bring those proposals back to the board for approval at a later date.