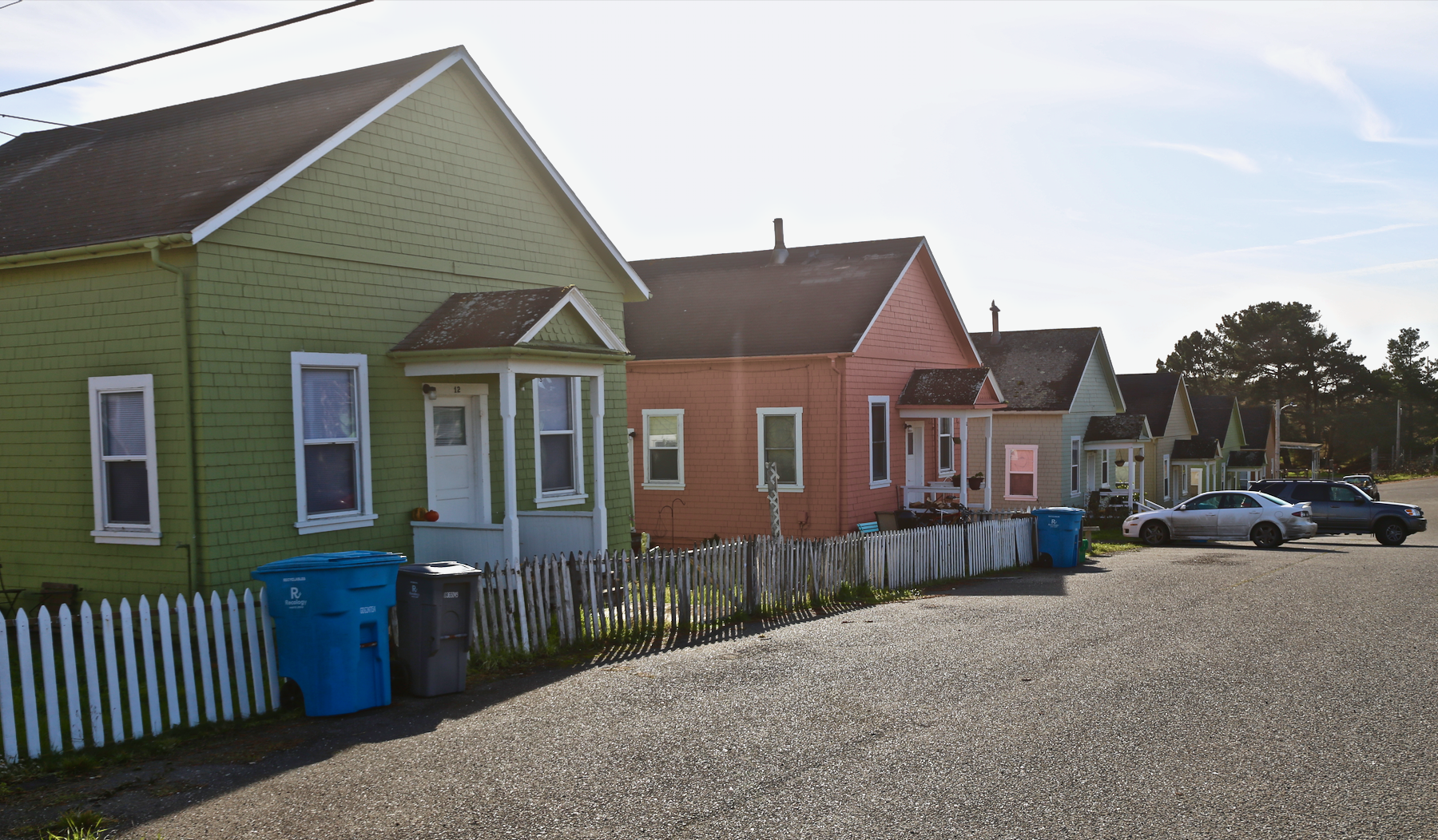 Like everyone else who lives in Samoa, Jared Cooper had been hearing the gunshots for months. Years, even. Sometimes once a week. Often more frequently. The reports — loud pops rolling into town from the southeast — arrived at unpredictable intervals, their staccato rhythm echoing off houses for hours at a time.

The noise didn't bother Cooper as much as it did some of his neighbors. Growing up in Arizona he'd shot plenty of guns, so they don't scare him. Still, his attitude changed the day he heard a bullet whiz over his head.
He's confident that's what he heard. "I know what a ricochet sounds like, and this wasn't a ricochet," he said. "It was very distinctive. It sounded hot going over my head."
He was on a walk at the time, not far from the collection of mostly small, generally run-down homes — former lumber company housing — that comprise the unincorporated town of Samoa (population about 250).
The bullet that whizzed over his head likely came from an informal shooting range in the overgrown industrial wasteland south of town. For years now this outdoor gallery — little more than a stretch of concrete and an earthen berm — has been attracting gun enthusiasts who are friends with the town's landlord.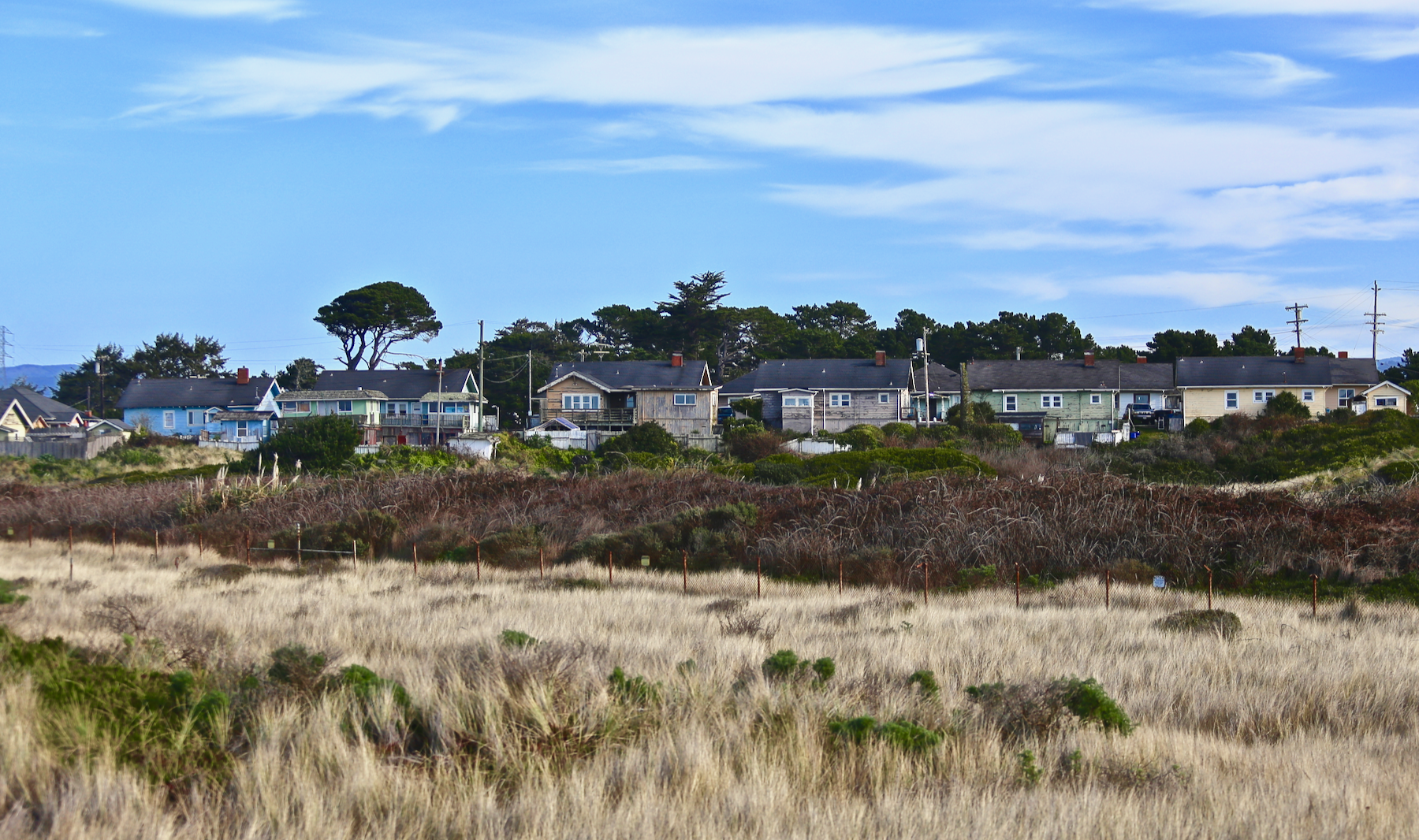 "One neighbor told me he'd heard a bullet go by; I kind of disbelieved him until it happened to me," Cooper said.
"Jared Cooper" is not his real name. We've changed it because he and others quoted in this story say they're afraid of being evicted if they complain. The shooting range, like the whole town of Samoa, is controlled by Dan Johnson, owner of local construction firm Danco and a partner (with Sun Valley Group President and CEO Lane DeVries) in the Samoa-Pacific Group, a limited liability corporation that purchased the entire town back in 2001. (An extensive redevelopment plan is now underway.)
"There's quite a few people that are disturbed by it," Cooper said. The rat-tat-tat shooting is sometimes punctuated by loud kabooms as bullets strike explosive targets, such as Tannerite. (Videos of such explosions are popular on YouTube.)
"One guy at the end of my street moved," Cooper said. He was a combat veteran and the sound of gunfire triggered his post-traumatic stress disorder, Cooper recalled. "He literally just said, 'Forget it. I'm done with Samoa.'"
Another resident, who asked not to be identified, sent the Outpost some video footage to demonstrate what the gunfire sound like in various parts of town:
After years of frustration and only partially fruitful negotiations with Johnson, residents of Samoa and adjacent communities have begun to advocate for a ban on target shooting on the peninsula, unless it's being done at the long-established Redwood Gun Club, a licensed shooting range in Manila.
Thanks to a grant from from the St. Joseph Health Community Partnership Fund, along with staff support from the Redwood Community Action Agency (RCAA), a group of local residents called the Peninsula Community Collaborative (PCC) has spent the last three-plus years working to improve the feeling of safety on the peninsula.
For example, they've done some preparing for natural disasters; they've worked to improve the physical appearance of the peninsula; and they've addressed "hot spots" where people feel unsafe walking or riding their bikes, among other immediate safety concerns.
In door-to-door surveys, community meetings and interviews, residents have repeatedly voiced concerns about the target shooting. "One resident said she is afraid to jog near her home, while others are scared to let their children play outside," the RCAA said in a recent press release. "One disabled couple is terrified to be outside, while another resident moved away due to the extreme stress from regular gunfire nearby."
The Outpost recently reached Johnson by phone and asked if he could address the situation.
"There is no situation," he said. "There's a shooting range out there that's been reviewed by law enforcement."
Johnson said his shooting range meets all the legal criteria of the county's "safe shooting standards," including adequate distance from residential structures and that earthen berm for a backstop.
In July of 2018 the Board of Supervisors responded to complaints about errant gunfire on the Eel River bar by passing an ordinance establishing certain standards for target shooting in the county's unincorporated regions. The ordinance also banned shooting in an area west of the Hammond Trail in McKinleyville and within half a mile of all state highways, including Avenue of the Giants, Route 255, Hwy. 36 and the entire length of 299 to the Trinity County line.
The county's ordinance says it's not intended to interfere with lawful hunting or "target shooting on private property," and the town of Samoa is currently comprised of a single parcel of land, owned by the Samoa- Pacific Group and managed by Danco Property Management.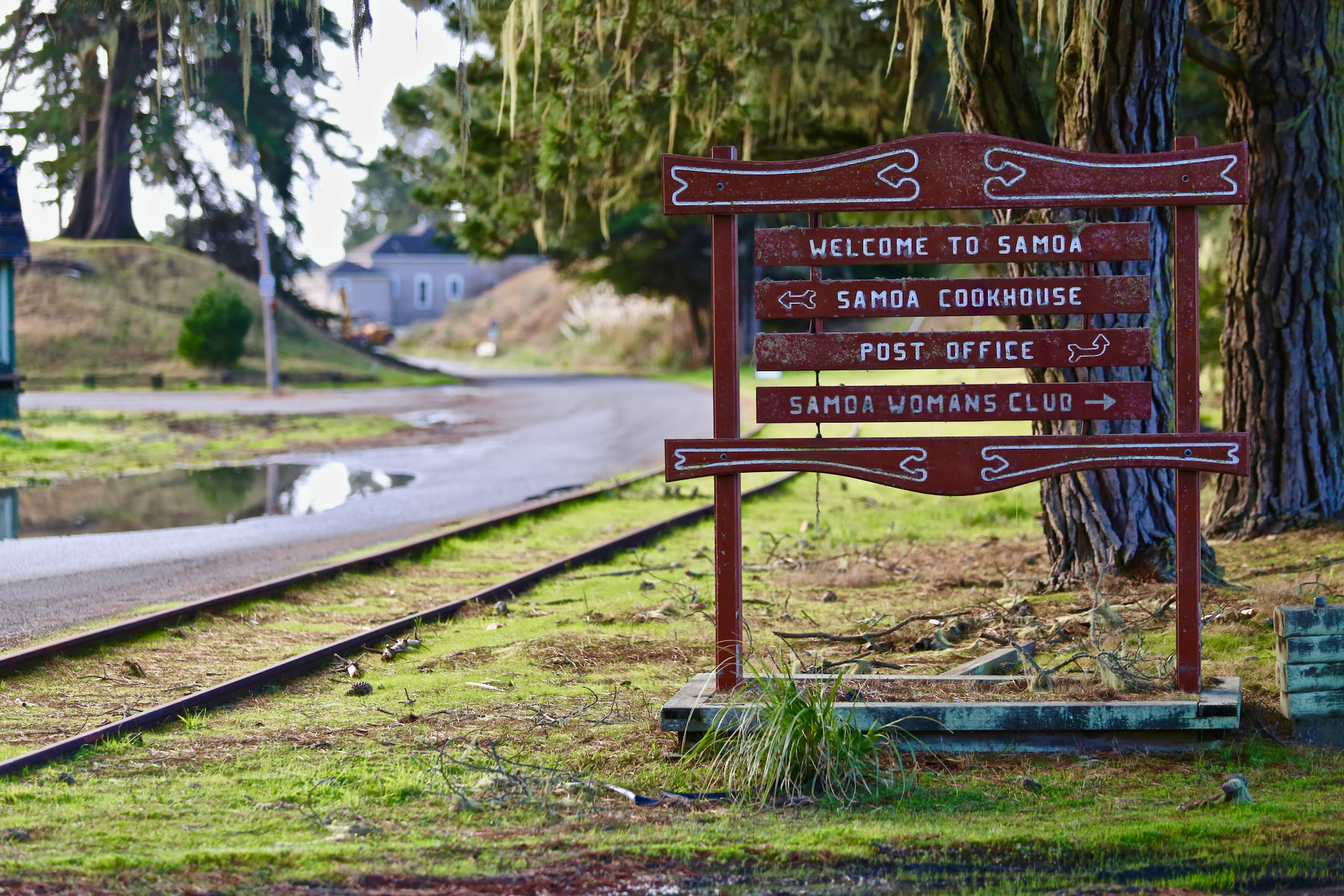 Johnson acknowledged that there's been what he called "an ongoing drama" for the past year and a half regarding the target shooting. He heard about residents' complaints through Humboldt County Supervisor Virginia Bass, whose district includes Samoa.
"A resolution was made that [the shooting range] would only be used on Sundays," Johnson said, adding that he was surprised to hear people still had concerns. "I thought it was all done and gone."
Asked if the Sundays-only agreement had been formalized in any way, Johnson said, "There's nothing to formalize. It's on private property, and it's being done within the law. Law enforcement has been out there multiple times."
Sheriff Billy Honsal said he's had discussions with Supervisor Bass and Third District Supervisor Mike Wilson, whose district includes the northern stretch of the peninsula, regarding complaints about shooting in close proximity to residential areas. "They suggested a modification to the [county's shooting] ordinance," Honsal said. "However, at this time the Board has not provided a direction for county staff to revisit the ordinance for modification."
In a text to the Outpost, Bass said, "Supervisor Wilson and myself have talked with the sheriff regarding the potential for a shooting ordinance. The situation isn't happening just in the Samoa area as there are situations throughout the peninsula in the beachy areas. I believe Manila is having some similar concerns."
While Johnson's shooting range meets county legal requirements, Bass said "it really is not an optimal situation. … Having the shooting happen so near inhabited areas is disconcerting."
Charlie Shelton, another Samoa resident (whose name we've changed), agrees. He and his wife are both hard of hearing but can still hear the gunfire from inside their house, and it has woken up their baby from naps, he said.
Shelton tried sending a letter to various agencies in hopes of getting some help, and he once walked down to the range to confront one of the shooters.
"I told him, "Yeah, I understand that you may feel like you're within your legal rights, but you're still an asshole."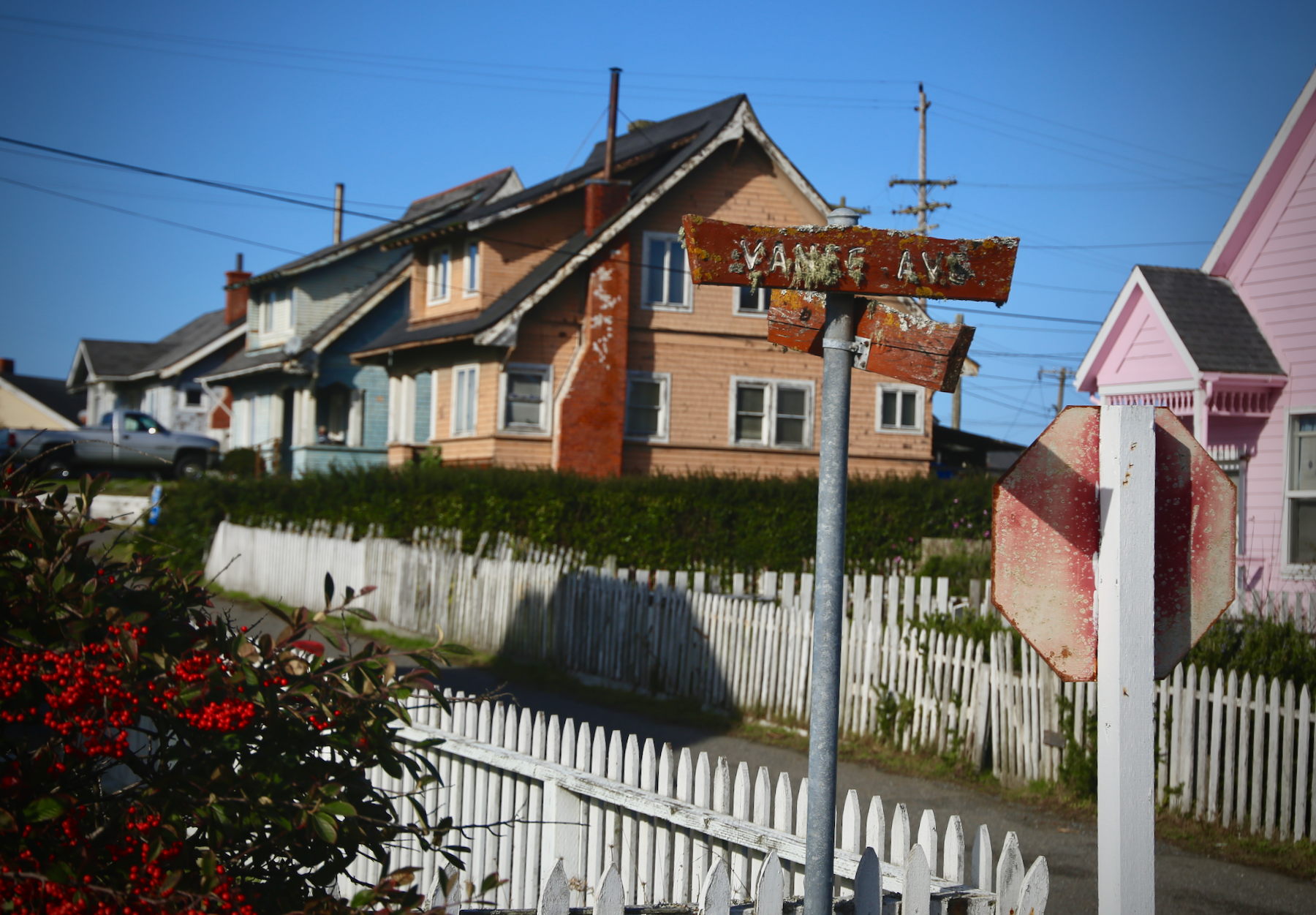 County records obtained by the Outpost show that while Bass has endeavored to play the role of mediator and peacekeeper, Johnson has been reluctant to commit to any formal arrangement.
Last July, Bass sent Johnson an email saying, "The peninsula group was very receptive of your suggestion to limit shooting to Sundays at specific time frame." She cc'd RCAA staffers Emily Sinkhorn and Natalie Arroyo, who work directly with the PCC.

Johnson wrote back within hours, saying that both the Sheriff's Office and state Fish & Wildlife Department have signed off on the range, though he added, "In the spirit of cooperation we will work to create a plan that works for all … ."
That plan failed to materialize, despite follow-up efforts from Bass and Sinkhorn. Two weeks later, for example, Sinkhorn sent Johnson an email asking, "Can you confirm that the shooting range will now just be active on Sundays? If so what time? 10am - 2pm?"
Johnson replied, "I am waiting for you to make a proposal around usage times and days and we will respond."
On July 23, Sinkhorn sent Johnson a formal proposal from the PCC, which thanked him for his willingness to discuss the matter and made the following suggestion:
The PCC would like to propose the shooting range only be operational on Saturdays between 12 p.m. – 4 p.m. and be limited to shooting only, not explosive devices which can cause an even greater disturbance. … Thank you for your time and consideration of this matter. The PCC is open to your ideas and we hope to hear from you soon.
They didn't hear from him soon. Sinkhorn sent a follow-up email two weeks later. Again, no answer.
More than two months later, on October 19, Johnson finally reached out to Sinkhorn, apparently at Bass's request:
Emily Virginia asked me to confirm with you we will only be shooting on Wednesday ,Saturdays ,and Sundays 12 to 5

THANKS

Dan Johnson
President
DANCO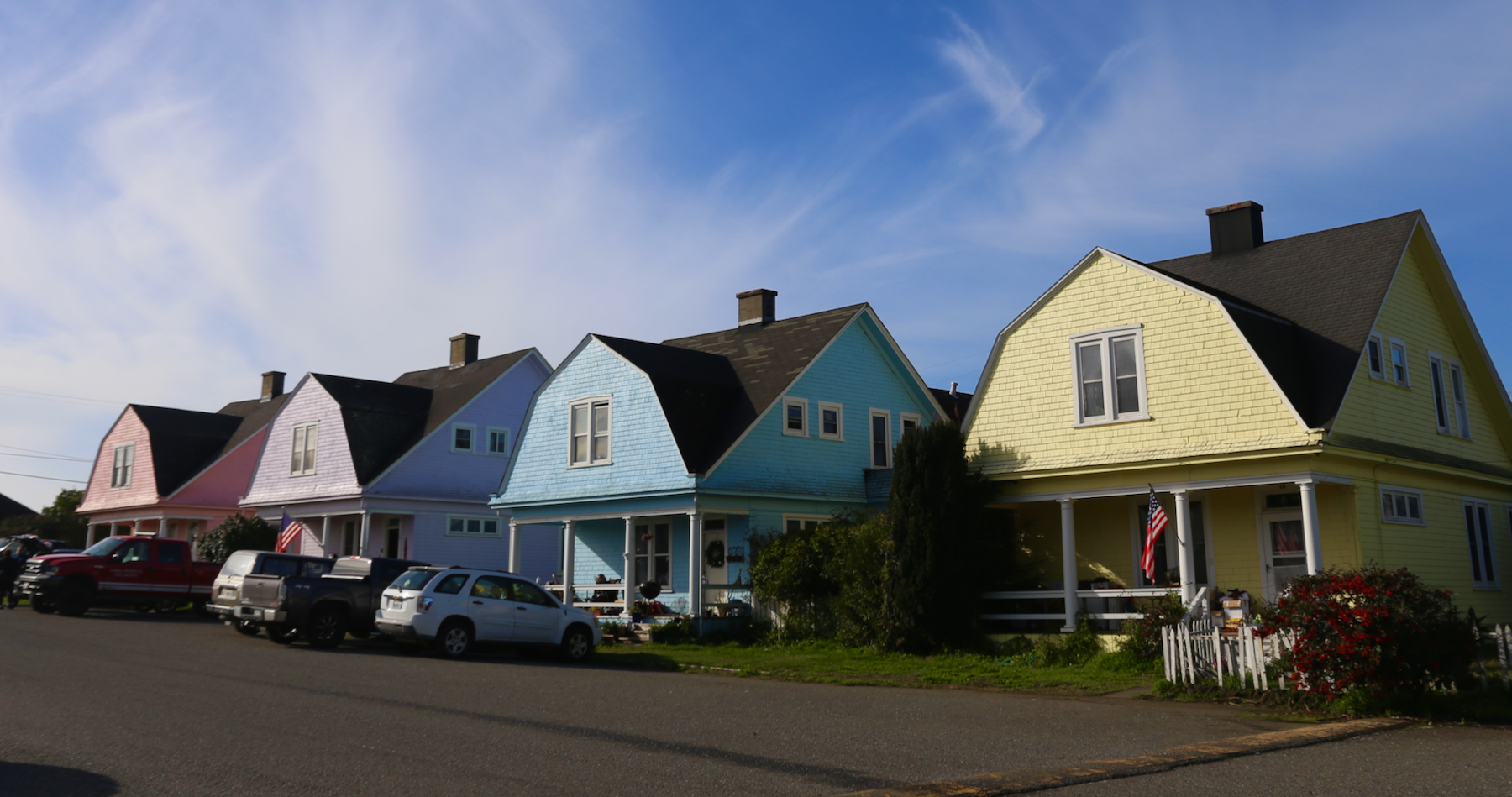 Bass stepped in. "Actually," she wrote to Johnson, "I think the group was expecting you to go down to one day as you had initially suggested. … Then again if whoever has been shooting off the Tanarite [sic] stops for sure, maybe community members would be more accepting of additional days?"
Again, Johnson did not respond — at least not via email, according to records turned over by the county. With the law on Johnson's side, neither Bass nor the PCC had any leverage to convince Johnson to come back to the table.
On November 10, Bass sent him another polite and beseeching email. "Dan, I hope you are enjoying the weekend," it began. "I don't think I heard back from you regarding whether you would be OK going down to one day a week. … When you and I first spoke you suggested that going down to one day could work and you even said that you could just stop the shooting all together. I am really hoping that you will consider [that] one day."
Finally, Johnson acquiesced. "Hi one day is fine for now," he emailed back.
And that's the extent of the "resolution" Johnson made. Peninsula residents who spoke with the Outpost were unaware that such a deal had been reached, though they said the shooting has been less frequent lately.
But they still find it unnerving, obnoxious and potentially dangerous.
In its recent press release the PCC noted that "the low-lying dunes around Samoa and elsewhere on the Peninsula are areas where many people recreate, trails and public lands are not always clearly defined, and stray bullets are a considerable concern."
John St. Marie, a Manila resident and former board president of the nonprofit Friends of the Dunes, agreed. "I don't think it's appropriate so close to houses, especially with it being just a private thing," he told the Outpost. "It [the shooting range] can attract other folks who think, 'I can shoot there too.'"
The PCC has begun advocating for a change to the county's shooting ordinance to prohibit shooting on the entire Samoa Peninsula, except at the Redwood Gun Club.
Sinkhorn said Supervisor Wilson reached out last week to schedule a meeting for later this month to discuss the issue once again — "and we hope also the steps towards a potential for a no-shooting ordinance," she said.
In her text to the Outpost, Bass said, "Most people should realize that people should be able to live in their homes with a semblance of peace, and having gunshots going off frequently does not make for a safe-feeling environment and that's a problem that needs to be addressed."
Johnson, meanwhile, is more focused on his redevelopment project for Samoa. Eighty units of low-income housing are currently being constructed just south of town.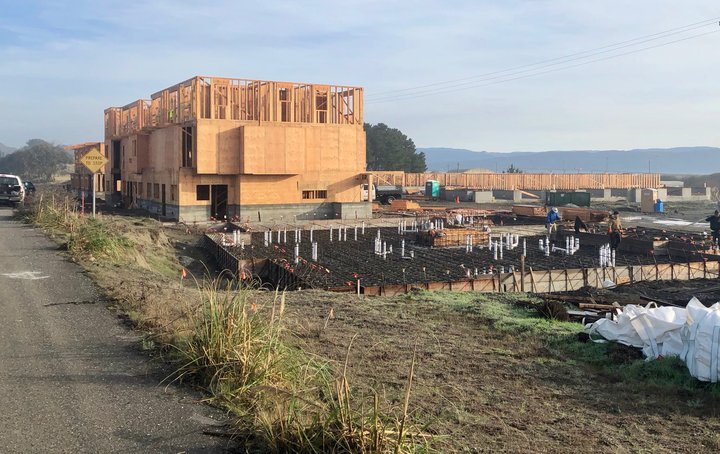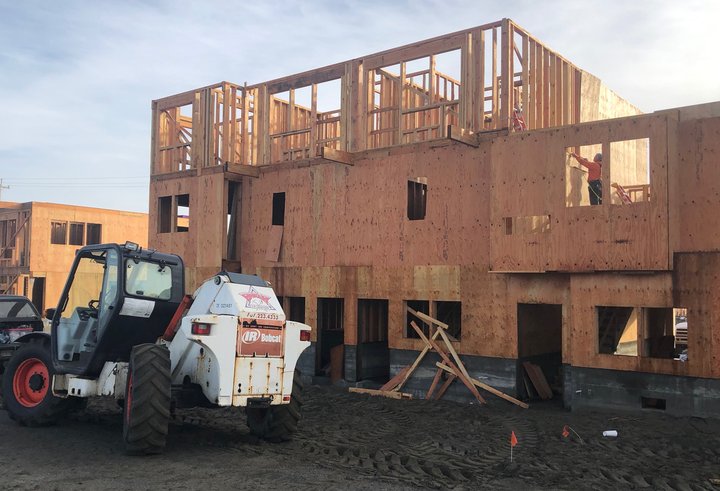 "Three-story buildings with views second to none," he boasted. "It's probably gonna be the nicest affordable housing location in the state in terms of location."
And there's an added bonus for the development's aggrieved neighbors: As part of Samoa-Pacific Group's redevelopment project, the town will be subdivided into smaller parcels on which new houses will be built. The shooting range will be replaced by a neighborhood.
That could still be years away, though. And residents on the peninsula are tired of waiting.