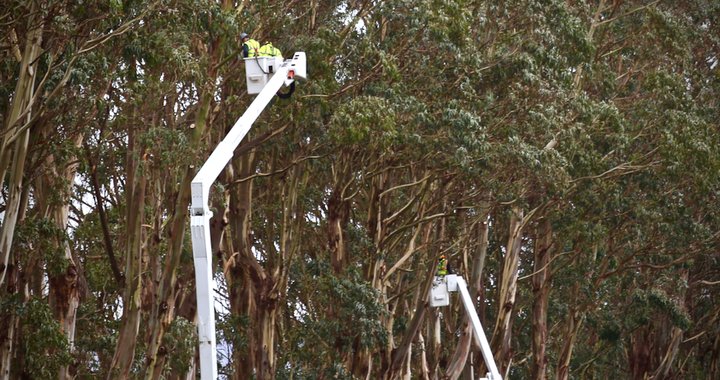 ###
Some allegedly sickly eucalyptus trees along the Eureka-Arcata Safety Corridor won a temporary stay of execution thanks to the California Coastal commission, but Caltrans — true to its word — is now back on the scene.
The Outpost wrote to Caltrans District One spokesperson Myles Cochrane this afternoon to ask if the crews working the controversial stand of eucs along Highway 101 were, in fact, removing trees, rather than just limbing them.
He wrote:
Caltrans has continued planned hazardous tree removal along the U.S. 101 corridor between Arcata and Eureka, removing 38 eucalyptus trees that have been deemed unhealthy or unsafe by a third-party arborist. For perspective, there are over 500 eucalyptus trees along the corridor. We're also continuing to prune a number of trees as planned. We look forward to enhancing safety for motorists, cyclists, and pedestrians along the corridor and would like to thank our crews and contractors for their continued hard work keeping North Coast travelers safe. Southbound travelers along U.S. 101 between Arcata and Eureka should continue to anticipate slowdowns and minor delays through the middle of the month, weather permitting. Please proceed with caution through the work zone.
You'll recall that when Caltrans first started this work a couple of weeks ago, the local office of the California Coastal Commission stepped in to wonder why they were performing without going through that regulatory agency's channels — that is, without either by acquiring a regular coastal development permit or an emergency permit for the work.
The two state agencies sat down and had a meeting, the upshot of which was that Caltrans agreed to voluntarily halt removing any of the eucs for 10 days. Those 10 days have now passed, and it's back on.
Has the Coastal Commission signed off on this work, or has Caltrans moved forward unilaterally? We're not sure at the moment. We have a call in to the commission's regional manager, and we'll update when we know more.
###
PREVIOUSLY: