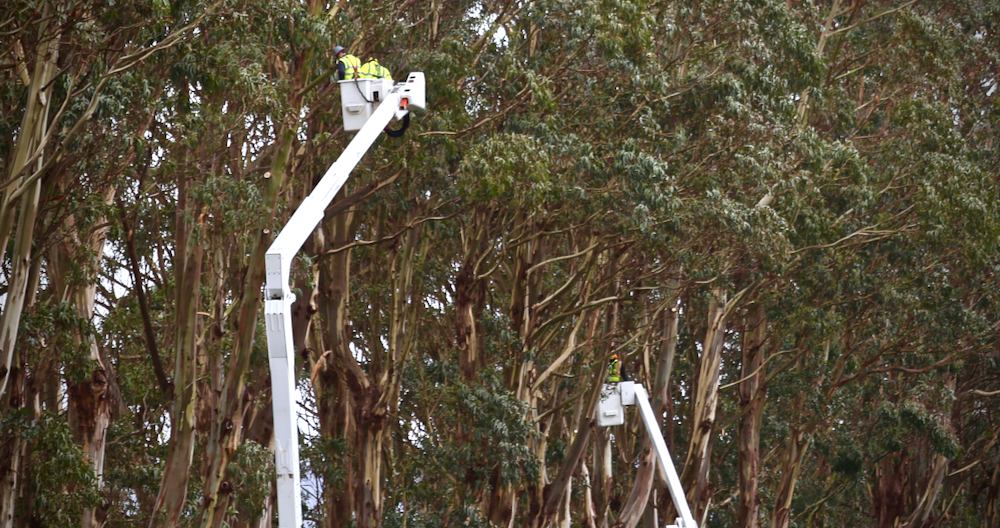 Be extra cautious driving southbound through the Highway 101 safety corridor this week. Caltrans has begun the removal of 38 eucalyptus trees which line the highway and the pruning of 179 others.
The right southbound lane of the highway will be closed while the work takes place which, according to the Caltrans District 1 Facebook page, will be weekdays from 9 a.m to 2 p.m and weekends from 7 a.m. to 5 p.m.
Caltrans public information officer Myles Cochrane told the Outpost that the goal is to finish the work by the end of this week within 30 days. But the weather may cause things to take longer.
Cochrane also said that the that tree removal will be sporadic, with 20 trees being cut from the northern section and 18 cut from southern section of the trees.
"It's not going to be the dramatic change most would immediately think," Cochrane said.
While planning for the completion of the Humboldt Bay Trail the county hired an arborist last year to look at the northern section of the trees. He determined that many of the trees were decaying and dying and were likely to drop limbs, presenting a safety hazard.

The county determined that the trees would likely need to be removed, which prompted Caltrans to look at its portion of the eucalyptus. The arborist hired by Caltrans also determined that some of the trees presented a safety risk.
Some community members have spoken out against the trees' removal, citing their beauty and historical significance as reasons to keep them. Cochrane said that he understands people's concerns. But, ultimately, the safety of those traveling on the highway, especially cyclists and pedestrians, is paramount.
"We understand that while eucalyptus aren't native to this area and have a hard time thriving here, they have been here a long time," Cochrane told the Outpost. Whatever we're doing there, we're absolutely trying to improve safety."