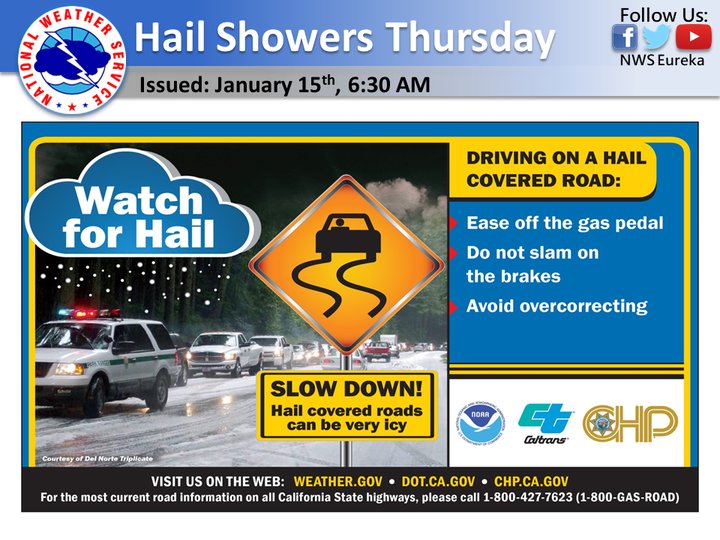 ###
Get ready for weather!
Our friends at the National Weather Service office on Woodley Island have an eye on a system that looks to bring us strong, cold winds and heavy precipitation over the next couple of days, culminating in possible hailstorms tomorrow.
Lightning and thunder is definitely a possibility, also!
Driving tips courtesy of the NWS Facebook page, which is definitely a quality follow: "Your best course of action is to slow down before you encounter small hail. Small hail can quickly collect on the road resulting in very slick conditions. If you find yourself driving on a hail covered road, remember to slow down by easing off the gas pedal. Do NOT slam on the brakes and try to avoid over-correcting as you could lose control of your vehicle."
Here's the full hazardous weather outlook from the National Weather Service:
This hazardous weather outlook is for northwest California.

DAY ONE…Today and tonight. Gusty south winds will develop this afternoon and evening along the Redwood Coast and inland ridgetops. Small stream and localized urban flooding is possible with heavy rain tonight.

DAYS TWO THROUGH SEVEN…Thursday through Tuesday. There is potential for small hail and thunderstorms on Thursday.

SPOTTER INFORMATION STATEMENT… Spotters are encouraged to report significant weather to the National Weather Service in Eureka.

For further details please refer to NOAA Weather Radio or weather.gov/eureka.