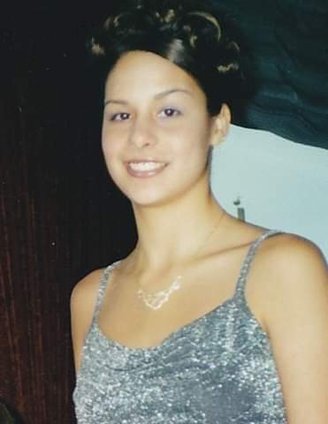 Ashley Deona Madonia
Nov. 30,1983-Dec. 15, 2019
Ashley Deona Madonia went to join the Lord on December 15, 2019, after being tragically killed by two hit-and-run drivers on Broadway in Eureka. She was just 36 years old at the time of her death and has left an enormous hole in the hearts of those who loved her. Born to a wheelchair-bound mother, she was a miracle baby who defied impossible odds in order to make it into this world. She was the light of her mother's eyes, was her pride and joy, and she brought much happiness to many others during her too-short time here on earth.
Growing up in the small town of Mad River, Ashley attended Van Duzen Elementary School and then went on to graduate from Southern Trinity High School, where she played volleyball and basketball. This tiny town out in the mountains where she was raised was filled with her close friends that were like family to her, and her childhood was packed with horseback riding, swimming, camping and making wonderful and hilarious memories with all of her best friends. She earned enough scholarships during her high school days to pay for her first year at a university.
Ashley's tribe that she grew up with included her most dearest companions Adrian Carpenter (Trine), Raina Parrott and Brittney Bates, with whom they formed the group "ARAB". They were very close friends with a special bond that were rarely seen without each other. Some of her other precious friends who are feeling this tremendous loss are Gabrielle Boyer (Yarbrough), Nicole (Faulknor) and Jeni Hetrick (Boak), Cori Carpenter (Brito), John and Richie Lewis, and Marshall Boucher. It would be impossible to attempt to name all the friends she made and lives she has touched, for it is so many. Some of the childhood memories that will forever stick are the long nights in the barn at Janet Griffin's Bangtail Farm waiting for a baby horse to be born, eating dry Top Ramen and taking it on camping trips with her friends, treasure hunts – especially the one where Adrian and her found a skeleton wearing pants and when they called police, it turned out to be a mountain lion carcass with pants on it! — to making hilarious videos, and laughing at them for hours. One of their favorite past-times was leaving a purse on the side of Van Duzen Road and then hiding in the Manzanita bushes to see who the sucker was that was going to stop and pick it up. These cherished memories of her are plenteous, as Ashley was full of life and love, and she had a humorous way of looking at things that just made her incredibly fun to be around. Anyone who has been fortunate enough to have her for a friend knows how lucky they were.
One of Ashley's first friendships was with Jeni Hetrick (Boak). From the time Ashley was little, Ashley's mother would go to great lengths to convince Jennifer's parents to let her stay over so that Jennifer was there to play with her and to keep her company. Jeni and Ashley loved to go to church together and on trips to town with Ashley's mother. The trips to town were a multi-day event, first shopping Canned Foods and leaving with two overflowing shopping carts, and then spending time visiting with family. There were the overnights at Grandma Mae's house, visits with her cousins Shalico and Angelina, and lots of errands. Jennifer taught Ashley how to ride a horse and they rode all over the place, exploring everywhere they could go on horseback. The days at Ashley's house with her friend Jennifer were spent visiting the river, exploring the woods, and playing in the playhouse with all her toys, nourished by the "real butter" Mac and Cheese that Ashley's mother would affectionately make for them. As time passed, Jennifer and Ashley spent less time together, but this special friendship always remained.
Ashley's Lord and Savior was Jesus Christ and Ashley's blessed soul was saved by the Blood of the Lamb of God at a very young age. She had been going to church since before she was born, beginning with Low Gap Church in Mad River, and could be seen there dancing in the aisles with her mother or playing her tambourine, just praising the Lord God with all she had. Her first Sunday School teacher was the lovely Jean German, who watched Ashley grow up from a baby. After Low Gap Church, she attended Lamb Creek Church with her family, going to children's church until she was old enough for grown-up church. She was a part of the teen program at the church as well and was always a faithful servant to the Lord.
She had a deep love and understanding of children and being with them is what made her the happiest. Ashley's love of children took her to far reaches of the world, and she spent some time in Germany as an Au Pair. She was able to travel to many other countries during her time and especially liked France. After returning from Germany, she spent the year at Humboldt State where she studied Early Childhood Development, then took a job as a receptionist at a chiropractor's office. She eventually returned to what she truly wanted to do and began working at South Bay Elementary school as a teacher's aide for special needs children. She very much enjoyed working there and was well-liked by both the staff and the students.
She loved hard, and one of her most admirable character traits was how she invariably stood up for the underdog; she would give to the less fortunate and make sure that there was nobody being treated unfairly. She was known to bring clothes to school and give them to schoolmates that needed them and was always looking out for others. She was a strong follower of Jesus and knew in her heart the difference between right and wrong.
On September 27, 2011, Ashley gave birth to the joy of her life, Clara Jane Schuessler. Ashley absolutely adored being a mother and gave to her daughter as much as she could. Clara Jane is young, and the pain of losing a parent will be with her forever.
Ashley was preceded in death by her paternal grandmother Mae Madonia, her maternal grandmother Dolores Arruda, her aunt Gloria, her cousin Alvin, and her beloved sister Michelle Roberts. Michelle was 14 years older than Ashley and was quite happy when Ash was born. Michelle was so much older than Ashley that she was sort of like a second mother to her. They were very close sisters and did everything together, sharing so much of their lives with each other. Michelle died April 21, 2015, from complications of influenza and her death truly devastated Ashley. They had a sibling relationship that was full of love and rivalry, as many are, and the sudden loss of Michelle affected her deeply.
Ashley is survived by her devoted and heartbroken mother, Bernadette Madonia. She is also survived by her father John Madonia, her older brother Adam Adorni, her niece Alissia and her nephew Hunter. She leaves behind her beautiful, precious daughter, 8 year old Clara Jane, as well, along with numerous aunts, uncles, and cousins on both sides of her family.
Ashley's passing has left a great void in the lives of those who loved her so dearly. Her mother never gave up hope for Ashley and unceasingly prayed for her. Her friends and family are comforted by the knowledge that she is at peace and completely free of pain, being held in the arms of her maker, our precious Lord God Almighty, and is now safe with her sister Michelle and other loved ones. Through our unwavering faith we know we will all be with her someday soon, to hug and to laugh again, and that this earthly pain will be gone for good.
A memorial service will be held in honor of Ashley's life with our memories and goodbyes at 1 p.m. on February 8, 2020 at the Calvary Baptist Church, 3400 F St., Eureka. The service will be performed by Pastor Don Reed and the speaker will be Pastor Jean Nichols. All who knew and loved her are invited to attend to pay respect to a wonderful friend and an amazing person.
In memory of Ashley, let us all unconditionally spread love and kindness to others, especially to the ones who need it the most.
###
The obituary above was submitted on behalf of Ashley Madonia's loved ones. The Lost Coast Outpost runs obituaries of Humboldt County residents at no charge. See guidelines here.