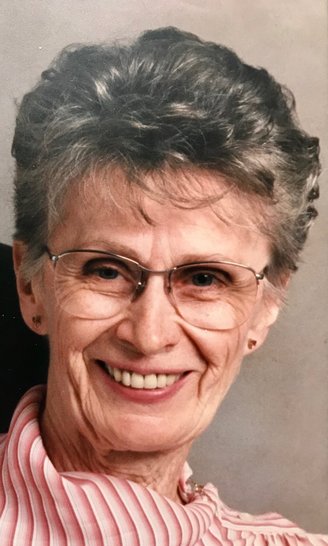 Mim was born on August 6, 1929 in Eureka to Ellery and Lillian Marsh, and passed away on January 16, 2020 at the age of 90 years in Eureka, California. Mim, the oldest of five siblings, grew up in Eureka and Scotia amongst many family and friends. She used to say that you couldn't get away with anything because everyone knew everyone, and you never knew who was a cousin. She was proud of her family's long heritage in Humboldt County, and had fond memories of her grandparents' home, Green Point Ranch, an old stagecoach stop and boarding house, as well as memories of life in Humboldt County in the 1930s and 1940s. Her great-uncle, William A. Preston, donated much of the land that established Humboldt State Normal School, now Humboldt State University.

Mim's life was rich with family and friends, and to know Mim, was to love her. On June 29, 1950, Mim married the love of her life, Richard "Dick" McGregor, at the Lutheran Church parsonage on Henderson Street in Eureka. Mim and Dick were married for over 60 years, during which time they raised their children - two sons, Ray and Bruce, and their granddaughter, Jeni. In the summers, Mim raised "her four boys", which included her sons and her stepsons, Randy and Rick. Mim was a loved "Mom" to her boys and their spouses, an adored "Gram" to her grandchildren and great-grandchildren, a special "Aunt Mim" to her nieces and nephews, and a very loved and loving sister to her siblings and their spouses.
Mim and Dick moved from Eureka to Sacramento in 1957, and then to Stanton, California in 1960 where they lived for nearly 30 years before retiring in Eureka. Wherever Mim was, she made lasting friendships and welcomed all into her home with a radiant smile and warm hug. Sharing stories while enjoying a cup of tea at Mim's kitchen table was a joy and cherished memory by many. Mim had a love for animals, especially cats, and always shared her home with a loving pet or two.
Mim worked hard at everything she did, and made it look effortless. She started in banking as a young woman in the late-1940s in Eureka, and continued to work in banking as a teller and eventually in commercial loans until she retired from Wells Fargo in Newport Beach, California, in 1986. After her first retirement and upon returning to Eureka, she worked for 20 years in the Eureka City Schools' lunch program, where she found much pleasure in cooking and serving lunches to students and working with her friends at Washington Elementary School. Her hard work didn't begin or end at the start or close of the workday – through the two generations of kids that she raised, she was up early to get them ready for the day, and made sure there was always a home-cooked meal to share around the table at the end of the day.
Mim was a talented crafter and the original do-it-yourselfer. She sewed countless clothes, dolls, bags, wallets, slipcovers, one-of-a-kind pillow cases, and quilts, beautifully tole painted or stenciled anything she could get her hands on, and crocheted many a baby blanket. After retirement, Mim and Dick moved into her childhood home in Eureka's Henderson Center, where Mim spearheaded renovations and home improvements projects – completing the wallpapering, painting, and decorating herself. She shared her love of crafting and home projects with some of her closest family and friends, and loved getting to work on these projects together. Mim's flower gardens were a site to behold in the spring, and her many indoor plants thrived under her care.
Mim will be missed by all who knew her. She is survived by her children and step-children, Ray McGregor (Debi), Jeni McGregor-Sullivan (Skye), Randy McGregor (Elaine), and Rick McGregor, granddaughter Kristie (McGregor) Mann, grandson Michael Swenson, step-grandchildren, Brian McGregor, Darren McGregor, and Dawn McGregor, her sister Carol Huber (Ralph), sisters-in-law, Carolyn Marsh and Shari Marsh, and many great-grandchildren, nieces, nephews, great-nieces and great-nephews, and cousins. Mim was preceded in her death by her husband, Dick, her son, Bruce McGregor, and her brothers, Ellery Marsh, Jr., LeRoy Marsh, and Tim Marsh. Her old cat, Fella, will also miss her, and will continue to have a pampered life with family.
Mim's family thanks the wonderful staff at Alder Bay Assisted Living for providing loving care for Mim over the past year, the incredibly compassionate staff and volunteers at Hospice of Humboldt for the care and support they provided to Mim and to her family, and the staff, volunteers, and friends of Hospice of Humboldt's Saturday Morning Slipper Club, all of whom Mim held near and dear.
A memorial service, open to all friends and family, will be held in the spring and announced at a later date. In lieu of flowers, please consider donating in the Memory of Miriam McGregor to Hospice of Humboldt (3327 Timber Fall Court, Eureka, CA 95503). Cards for the family can be sent to the Family of Miriam McGregor, 512 San Carlos Avenue, Albany, California 94706.
###
The obituary above was submitted on behalf of Miriam McGregor's loved ones. The Lost Coast Outpost runs obituaries of Humboldt County residents at no charge. See guidelines here.