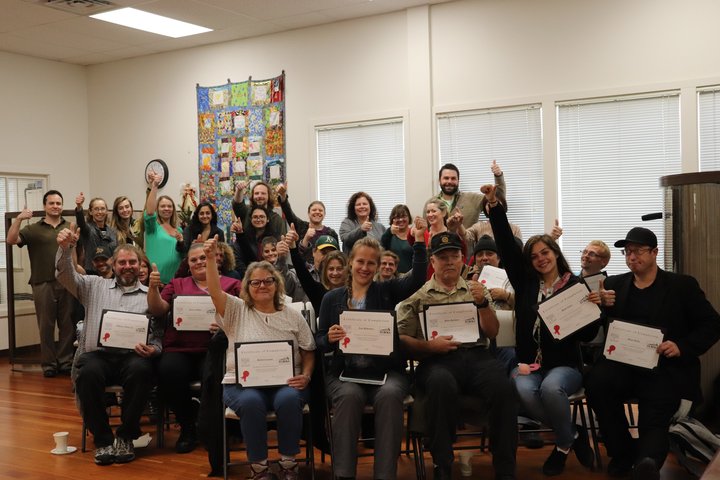 For someone experiencing homelessness, it can be difficult to find a way out. Landlords don't want to rent to someone with no income and employers usually don't want to hire someone without an address. This is where UPLIFT — a program established by the City of Eureka to address and prevent homelessness — comes in.
Formed in 2018 as a part of the Community Access Project for Eureka (CAPE), and partnering with the Eureka Police Department's Community Safety Engagement Team (CSET), the Betty Kwan Chin Day Center, Waterfront Recovery Services and the Eureka Rescue Mission, UPLIFT has found permanent housing for 38 people, 27 of them since October 2019.
Eureka Community Services Supervisor Jeff Davis said the program operates under "housing first" principles, which emphasize securing long-term housing for individuals before addressing their other needs.

"It's much easier to help folks out when they're in a house and able to stabilize," Davis told the Outpost. "It is much harder to gain employment when someone lives on the street or in their car."

Many factors make it difficult for people to find housing, Davis said. Many landlords require a tenant to prove their income is three times the rent, something difficult for many people. A lot of places won't take pets, or require a lot of references or rental history. UPLIFT is able to help secure housing for those in need by working with property owners and management companies that are willing to take on people who might not normally qualify, Davis said.

Often the biggest issue for someone trying to find housing is money, especially coming up with a deposit. With funding from Measure Z and a Homeless Emergency Aid Program (HEAP) grant, UPLIFT provides some financial assistance as well, Davis said. Sometimes the program helps cover the deposit. For some people, who do not yet have any steady source of income, the program may cover a couple months of rent.

Once an individual is placed in a home, UPLIFT also provides continued housing support. A housing support specialist can help someone with anything from budgeting, to education on tenants rights and responsibilities, to learning how to maintain a property.

This is an important part of the process, Davis said and "can help prevent them from sliding back into homelessness."

UPLIFT's other services include a 12-week job skills training program — which helps participants gain experience through a variety of classes and workshops and the Pathway to Payday program — a four-day workshop, which helps connect individuals gain employment through resume assistance, mock interviews and real interviews with prospective employers.

Pathway to Payday has been incredibly successful, Davis said, with over 120 people gaining employment through the program. Initially offered once a year, the program has now grown to be offered every other month and offers interviews with over 40 local businesses.

Another service UPLIFT offers is the Co-Pilot Program, which pairs participants with a trained mentor. These "co-pilots" meet with participants weekly to identify their specific needs and objectives and help connect them with the services they need. This could mean helping with job or housing placement or providing emotional support.

"Sometimes they're just there to listen," Davis told the Outpost. "So these people know that someone does care."

For those interested in UPLIFT's services, Davis encourages you to stop by their weekly participation meetings which are held Mondays at 1 p.m. at the Betty Chinn Day Center — 133 Seventh Street, Eureka — and Mondays at 2 p.m and Wednesdays at 1 p.m at the Eureka Rescue Mission — 110 Second Street, Eureka.
You can also attend the next Pathway to Payday which will be held Feb. 10 through 13. For more information or to enroll, contact Katelyn "Mo" Merrell at (707) 268-1844.