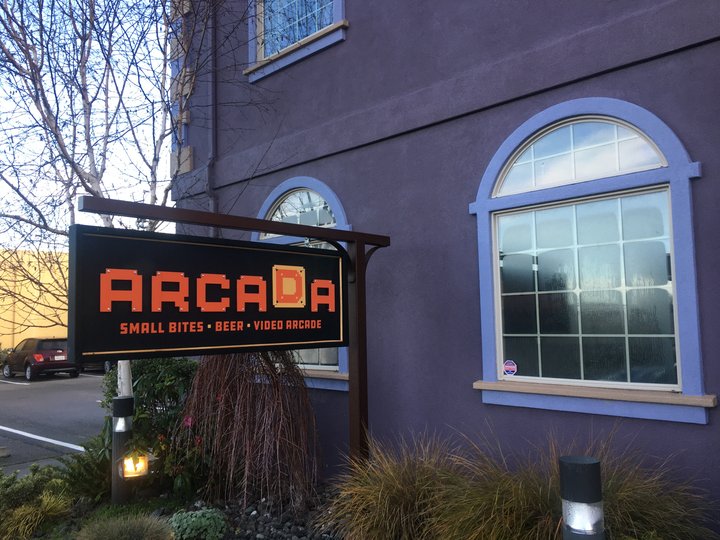 For a small town, Arcata has quite a few places to eat and drink. But what is it severely lacking? A place to play vintage arcade games, of course!
Amber Saba and Kristen "P-Nut" Thompson — owners of Slice of Humboldt Pie — aim to solve that with ARCADA. The not-yet-open business, on the corner of K and Sixth Streets, the old home of The Other Place, is planned to be exactly what the clever name implies — a video arcade.
"We're trying to have that fun thing, especially in a super inclement area during the winters," Saba told the Outpost today. "It's a nice thing you can come do, without having to drink also. You can come have fun."
But before you parents get too excited about a place to let the kiddos run around, you should know this will be an arcade for grownups and is planned to be 21 and up.
Saba and Thompson want this to be a place for the older folks to go and play some of the games they remember from their childhoods. The owners didn't want to give too much away, so LoCO doesn't have any specific game names yet. But the owners don't think you'll be disappointed. For those who grew up in the area, this spot may help to fill the void left in your hearts by the closure of Tiffany's — a popular video arcade near the Arcata Plaza, which closed in the '90s.

In addition to the games, ARCADA will serve beer and small bites (which is a fancy way of saying upscale snacks.) Again, the owners didn't want to give any details yet, but did want to say that food will be different than that offered at Slice of Humboldt Pie.

Before they can open, the owners still need a business license and to pass health inspection. So, they didn't have a prospective opening date yet. But Saba and Thompson have promised to give LoCO more information sometime in the next couple of weeks.
In the meantime, you can keep looking longingly at the sign posted out front and dream of an arcade game filled future.