UPDATE, July 2, 11:12 a.m.:
The Fortuna Theater will not be reopening in the near future. James Howard, executive director of Petaluma-based theater chain Cinema West, told the Outpost this morning that given Gov. Newsom's order halting reopening in 19 counties (including L.A. County, the center of the movie universe), the company is waiting to see how things play out before reopening any of its theaters.
"God knows what's going to happen," Howard said. "We've tried to pick target dates and reopen three times already."

###
Original post: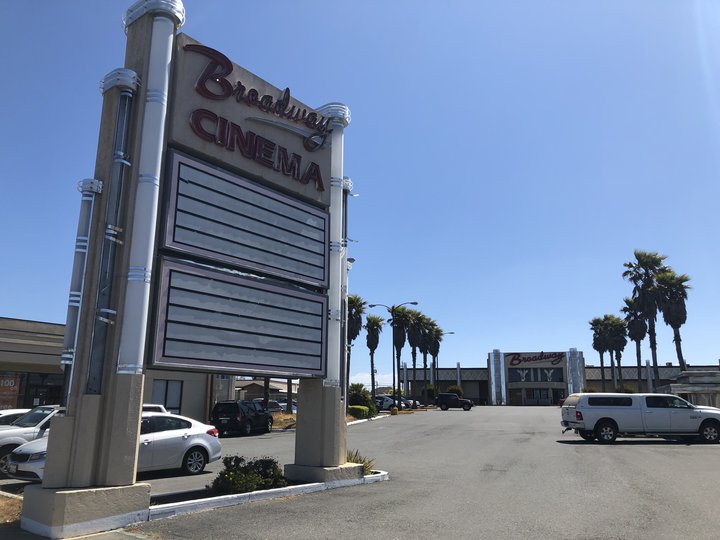 ###
Earlier today, Gov. Gavin Newsom pumped the brakes and shifted California's reopening process into reverse, ordering 19 counties with resurgent COVID-19 infections to halt service at indoor restaurants, wineries and tasting rooms, zoos, museums and movie theaters.
Humboldt, however, is not among those 19 counties, which means Eureka's Broadway Cinema and McKinleyville's Mill Creek Cinema are cleared to reopen this Friday. And that's exactly what Ashland-based theater chain Coming Attractions plans to do.
Mark Murin, the company's director of operations, told the Outpost this morning that attendance will be limited to 50 percent capacity in each theater, though he doesn't expect audiences to reach even that size.
"Right now we're playing older films since there aren't any new movies available until August," he said. "So we're not really close to any capacities in theaters we've opened in Oregon." (Note: There are a few films, including the live-action remake of Mulan and Christopher Nolan's Tenet, still scheduled to open in late July.)
In addition to the attendance limits, Murin said each theater will have an employee assigned to the lobby, making sure people are socially distanced and wearing face coverings. And every party will be asked for a name and phone number, plus the number of people in their group.
"We're not asking for a lot of information, but we want to be able to turn it over to the [county] health department" in case an infection gets traced back to one of the theaters, Murin said.

After months of Netflix on the couch, many locals are likely missing the immersive experience of watching movies on a big screen in a darkened theater. But is it safe to share a confined space with strangers?
Experts have differing opinions on the level of risk, though all seem to agree that there is risk involved. Last week, a pair of infectious disease specialists warned against returning to cinemas.
"Right now it's too soon to go to a movie theater," Dr. Ravina Kullar, a Los Angeles-based epidemiologist and spokeswoman for the Infectious Diseases Society of America, told CNBC. She noted that there's no way for theater employees to enforce face coverings in a darkened theater.
"Not wearing a mask is like Russian roulette," Kullar said.
Murin said Coming Attractions theaters will only enforce the use of facial coverings while customers are in the lobby. The company plans to sell concessions, and you can't very well eat popcorn or slurp a cherry Icee with a mask on.
"Yeah, yes, yes," Murin said. "Otherwise it would be a little tricky."
Natascha Tuznik, an associate professor of infectious disease at U.C. Davis, recently said that a movie theater "should pose less risk of person-to-person transmission than many other places people are going now."
She cited gyms and bars as riskier venues and said theaters have a few advantages: People are (hopefully) not talking; social distancing can be pretty easily implemented; and everyone is facing in the same direction, which is known to reduce transmission risk.
She offered some safety suggestions:
Avoid eating and drinking during the movie, which would require frequent mask removal. "I know popcorn is part of the fun of going to the movies, but it adds to your risk," she said.
Don't sit near others who are eating or drinking.
Especially avoid self-serve concession stands.
Bring your own wipes or cleaner to wipe down the armrests – hand sanitizer on a paper towel is one way to do it.
If possible, don't use the restrooms. If you must, don't go in if they are crowded.
Dr. Robert Lahita, professor of medicine at New York Medical College, recently issued a more urgent warning about eating at the movies. "I think it's extraordinarily dangerous," he told Vulture. "I understand that everybody wants to be entertained and come out of their homes and all of that. But a drive-in theater would probably be a lot safer."
Alas, Humboldt no longer has any of those.
Local theater owners are taking a more cautious approach than Coming Attractions. Merrick McKinlay, co-owner of Acata's 106-year-old Minor Theatre, said he's using the community as a barometer of sorts, observing public attitudes as pandemic conditions change.
"As anyone who's paying attention knows, it's in constant flux," McKinlay said. Thanks to a deal with some of their favorite distributors, the Minor has been offering movies to stream via its website. This hasn't exactly been a moneymaker, but McKinlay said the offerings are intended as a goodwill gesture toward local patrons.
"That's what we do; we like to show movies to the community," he said. His biggest concerns about reopening center on the theater's bar, which offers hot local food along with beer and cider on tap.
"I'm excited but not in a rush," McKinlay said. "We'll know when the time is right."
Aimee Hennessy, co-owner of Richard's Goat and the Miniplex in Arcata, said they don't plan to reopen the theater just yet, either. Like the Minor, the Miniplex is offering independent movies to rent and stream via its website. "[A]nd we're excited to get back to in-person cinema when the time is right for it," Hennessy said in a message to the Outpost.
"We do have an industrial fan in the theatre that can pull air in from outside and replace the air inside, which we used for live events and is a nice thing to have these days," she said. "We just want to open with the full confidence we're doing it safely. Right now we're focused on a new takeout menu and outdoor seating for the restaurant side of the business. But we do plan to reopen the Miniplex eventually."
The Outpost left messages for Cinema West, the Petaluma-based theater chain that owns the Fortuna Theater, to ask about reopening plans but did not hear back before this post was published. A message posted online says the theater will reopen July 24.
Murin said the pandemic hit his company hard. "We were on our way to having a pretty good year, and going from that to zero, like every other business, has been challenging," he said. "The idea now is to hopefully show that we are safe for staff and for guests, and hopefully they will be comfortable coming back to the movies soon."
The Mill Creek and Broadway will be open only on Fridays, Saturdays and Sundays. This weekend's fare will include 1984's Ghostbusters, 1975's Jaws and 1993's Jurassic Park, a cautionary tale about American hubris in the face of scientific unknowns.