UPDATE/CORRECTION, July 14:
Wolfgang Rain, chief of operations for Sea Risk Solutions LLC and the fisheries liaison officer contracted to the fiber-optic project described below, emphatically disputes pretty much all of the assertions Ken Bates made yesterday on behalf of the Humboldt Fishermen's Marketing Association (HFMA).
"First of all, there was no 'cease and desist order' for the cable route survey," Rain told the Outpost via email.
While Bates did sent a letter to the State Lands Commission requesting a halt to survey work, Rain said the work was fully permitted and a Notice to Mariners was filed in advance with the United States Coast Guard, detailing the work to be done and its timing.
"The State Lands Commission did not see fit to intervene, nor did any other Agency," Rain said.
The Outpost reached out to the State Lands Commission on Tuesday for clarification. Sheri Pemberton, the agency's external affairs officer, said, "Last week we let Ken [Bates] know that EGS America was going to be ceasing activities, but we didn't actually issue a stop-work order."
Rain said the crew simply finished its work and left the area, and he noted that their schedule was affected by the coronavirus pandemic.
"This early schedule was not originally intended, but crewing issues related to COVID-19 quarantine timing, and other schedule difficulties resulted in a surprisingly early schedule," he said. He added that the survey crew took extensive measures to avoid crab fishing areas and individual gear sets, and they did not tow sonar gear through such areas, as Bates claimed.
The survey ship, named the Bold Explorer, is operated by EGS Americas, not by Sea Risk Solutions LLC, Rain said, adding that the latter is not a subcontractor to EGS Americas, Inc., as was falsely stated.
"The second phase of the survey will also proceed as planned, will occur closer to shore including inside State waters, and is scheduled to commence during the last week of July utilizing a smaller vessel to conduct the operations," Rain said. "The two-vessel work plan and the time window of operations are reflected in the published Coast Guard Local Notice to Mariners. Further notices to fishermen will also be sent out in the coming days detailing the inshore survey operations."
The Outpost regrets the errors in the original post.
###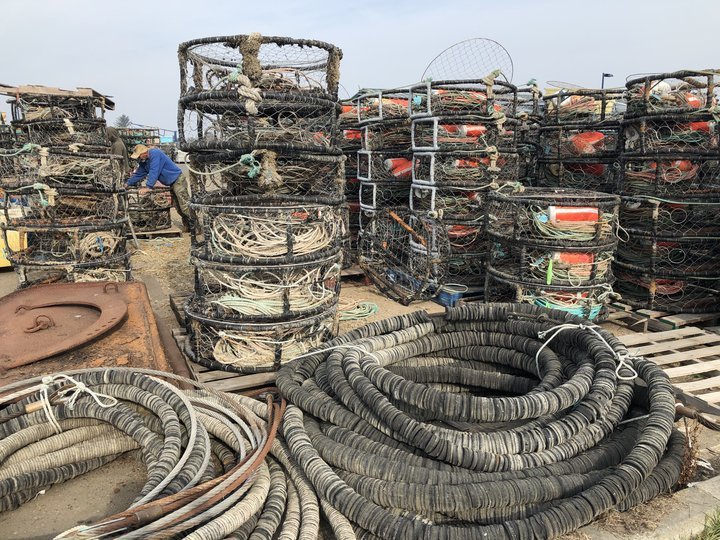 ###
After successfully requesting a cease-and-desist order from the California State Lands Commission, local crab fishermen will be able to finish out the last few days of the season without worrying about conflicts with a ship that was conducting surveys off the North Coast.
The survey work appears to be connected with proposals for high-speed, transpacific fiber-optic cables linking Southeast Asia to the United States. Cable companies have expressed interest in landing a trunk line stateside via the Harbor District's wastewater discharge pipe, which runs from the Redwood Marine Terminal II (site of the old pulp mill) out to sea.
Ken Bates, vice-president of the Humboldt Fishermen's Marketing Association (HFMA), told the Outpost this morning that local crab fishermen noticed a survey ship traversing their fishing grounds in recent days and grew concerned that it might interfere with their gear. The ship, operated by Sea Risk Solutions, was commissioned operated by survey firm EGS Americas Inc. to install sub-surface acoustic equipment, according to Bates.
"That subcontractor, they knew that the Dungeness crab season was finishing up, but [crab fishermen] are still fishing," he said.
Elsewhere in California, cable companies have good relationships with local fishing communities, often hiring fishermen to pick up gear in the path of their operations or even come aboard their ships as observers, Bates said. That didn't happen here. "Basically, there was no outreach," he said. "They just kind of showed up."
Thanks to the Whale Protection & Crab Gear Retrieval Act, authored by state Senator Mike McGuire and signed into law in 2016, crab fishermen can face serious consequences, such as fines and license suspensions, for lost or abandoned crab gear.
"The problem with a cable ship, they can hook onto that stuff and not even know it, then drag [the gear] for miles," Bates said.
The HFMA has a gear retrieval program and aims to leave no gear behind after each season. This year's season will wrap up on Wednesday, July 15, and Bates said the fishermen just wanted the work to stop until after that date. A few of them managed to contact EGS but were unable to convince the company to halt its operations, Bates said.
So the HFMA requested an immediate "cease and desist" order from the California State Lands Commission, and according to a statement issued earlier today, the agency came through, ordering a halt to the survey work until after July 15.
A message left for EGS Americas Inc. was not returned by the time this post was published. Bates said McGuire was instrumental in getting the survey company's attention.
"Our goal is to get the gear out of the water," Bates said. "It's not about stopping the cable company."
For now, the details of any local undersea fiber-optic project(s) remain a mystery. Back in May, the board of the Humboldt Bay Harbor, Recreation and Conservation District met in closed session to discuss a "potential lease of real property on the Samoa Peninsula" with two industry companies. However, no lease was signed, and no action was reported out of the meeting.
Larry Oetker, the district's executive director, confirmed today that there's no news to announce publicly just yet, and he declined to say who's behind the current survey work.
Below is a statement from the Humboldt Fishermen's Marketing Association's board of directors:

During the period between June 29 and July 8, a cable survey ship, the 310-foot Bold Explorer, was observed by Humboldt County fishermen towing acoustical survey cables through fishermen's legally set Dungeness crab gear.

Fishermen contacted EGS Americas, Inc. and reported the damage and asked that the survey work be discontinued until July 15th, which is the end of crab season. EGS Americas, Inc. and their subcontractor Sea Risk Solutions decided to "forge ahead," essentially ignoring crab fishermen's request.

Humboldt Fishermen's Marketing Association (HFMA) on behalf of all fishermen requested an immediate "Cease and Desist" order from the California State Lands Commission. HFMA and local fishermen received vital assistance from Senator Mike McGuire, Tom Weseloh, California State Lands Commission staff, California Coastal Commission, California Fish and Wildlife staff and Mr. William Walter, legal counsel for the Morro Bay and Avila Bay Fishermen's Associations.

The State Lands Commission determined that EGS Americas, Inc., was operating in violation of State Land's permit #9215 and terminated the survey work taking place on Humboldt County crab grounds until after July 15, 2020.

The Humboldt Fishermen's Marketing Association Board of Directors wishes to extend our deep thanks and appreciation for the continued support of California's fishing communities by the above listed representatives, state agency staff and private legal counsel.

Again, our sincere thanks for everyone's help and concern.

For the Humboldt Fishermen's Marketing Association Board of Directors,

Ken Bates,
Vice-President