UPDATE, THURSDAY MORNING:
###
Humboldt County may be about to get a fat new fiber-optic connection that taps directly into undersea trunk lines running off our coast.
At its regular meeting tomorrow night, the Humboldt Bay Harbor, Recreation and Conservation District will consider entering into an agreement with a Rancho Cucamonga-based company called Inyo Networks that seems likely to culminate in some sort of blisteringly fast data connection to the outside world.
The full details of the proposed deal are still sketchy, but in short: Inyo Networks proposes to pay the Harbor District around $1.75 million to run four fiber optic cables up the wastewater discharge pipe that runs from the old Samoa pulp mill — now known as Redwood Marine Terminal II — out to sea.
Harbor District Commissioner Richard Marks, who said that he has met with company officials, told the Outpost this morning that he was not at liberty to say much about the deal at the moment, but affirmed that it would be discussed in some depth at tomorrow night's meeting.
"If it all comes to fruition, it will be a great thing for community," Marks said.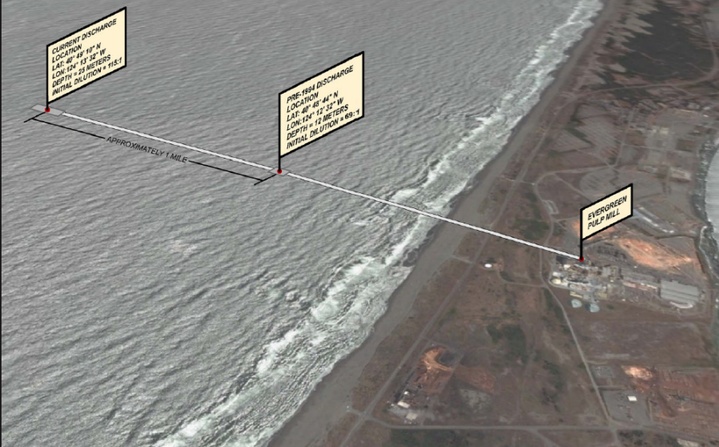 Transpacific fiber optic cables land in several small cities along the Oregon and California coast — in Bandon and in Point Arena to name a couple. Presumably, the former pulp mill would be a desirable spot to land another such cable — or a branch off some undersea trunk line — because no additional infrastructure would be required to get the cable between the ocean and terra firma. The mill's so-called "outfall pipe" — a three-foot-wide tunnel — runs directly from the Redwood Marine Terminal to a spot in the ocean a mile and a half from shore, and about 80 feet deep. The four fiber optic cables proposed by Inyo Networks would be threaded up that pipe and into the terminal, which the Harbor District acquired — along with the outfall pipe — in 2013.
Currently, the pipe discharges about 60,000 gallons of wastewater per day from the DG Fairhaven power plant, located down the peninsula. Marks said that running Inyo Networks proposal would not interfere with current or future use of the outfall pipe to discharge wastewater.
What would Inyo Networks do with its Humboldt Bay fiber hookup, should it be built? Not much is public at the moment, and it's not clear whether anything substantive will be released at tomorrow night's meeting. However, the terms of the "exclusive right to negotiate" contract, which will be discussed and/or signed at the meeting, provide that the company will release a "narrative description of the development proposed," along with sources of funding and a timeline for construction. (The Outpost left a message for Inyo Networks general manager Nick Keeler yesterday; it was not returned as of this writing).
The company's website shows that it offers a number of digital services. It is a major partner in the "Digital 395" project, which runs a fiber line between Barstow and Carson City, Nev., along the eastern Sierras. They run an ISP offering 1 gigabyte-per-second service to homes and businesses around the city of Ontario, Calif. They also seem to offer colocation in server farms they operate in California and Nevada. The latter service seems plausible for the Redwood Terminal, which has space for lease, is supplied with an abundance of industrial water and is located in a (famously) cool climate.
The public portion of the Harbor District meeting begins tomorrow (Jan. 26) at 7 p.m., at the district headquarters on Woodley Island (601 Startare Drive, Eureka.)
###
DOCUMENTS: