On Wednesday, Humboldt County got an additional tool for combating the opioid epidemic in the area. After a nearly 30-month journey that included a change of location, the Aegis Treatment Center opened its doors at 2107 First Street in Eureka.
The clinic is already helping those with opioid addictions, treating four patients already with another nine expected to start any day. Sarah Vogel, the clinic manager for Aegis, has been in Humboldt for about 12 years. She previously worked for Partnership Health Plan and Smile Humboldt, a program designed to increase oral health awareness.

"All of my work in Humboldt has been community health based," Vogel told the Outpost.
Vogel began developing the Aegis Treatment Center with funding from Hub and Spoke, a grant program enacted during the Obama administration to help establish a system of care for people struggling with opioid addiction. Funding from this program helped the Open Door Clinic's Suboxone program and paid for some of the Naloxone (aka Narcan, an opioid overdose-reversal drug) provided to the county and local law enforcement agencies.
Aegis currently has a wait list of about 100 people, who the clinic is hoping to serve within the next two weeks. Vogel said she hopes the temporary backup doesn't discourage people from seeking treatment. Once Aegis gets through the wait list, people should be able to access treatment within a day or two, she said.
"Our goal is to get to a place where we can provide immediate help, because that window can be very small in terms of when people are interested in treatment," Vogel said, adding that Aegis should be able to see about 40 patients per week.
Aegis offers treatment solely for opioid addiction and will be the only spot in Humboldt where people can access Methadone, a medication that reduces the cravings for opioids and blunts the body's opioid receptors. When asked how long these treatments last for patients, Vogel said it varies with each person, and treatment can be a process.
"Studies show that people who are engaged in treatment for two or more years are more likely to not go back to using substances," Vogel said. "It will really depend on the patient, their history with the substance, the support they have in their life — all of that contributes to the length of time they need to be in treatment."
When it comes to paying for the treatment, Aegis patients will be able to use their health insurance, as well as MediCal and MediCare. Aegis also has access to funds to help pay for the uninsured and the underinsured.
For example, if you have a full-time job but either don't have insurance or the insurance you have is junk, you will be able to access treatment at Aegis through funding from the Hub and Spoke grant.
"It is really meant to catch those people who are in between," Vogel said. "A lot of people who have private insurance are underinsured, and there are a lot of unmet costs that keep people from going into treatment. So the grant was designed to alleviate those barriers."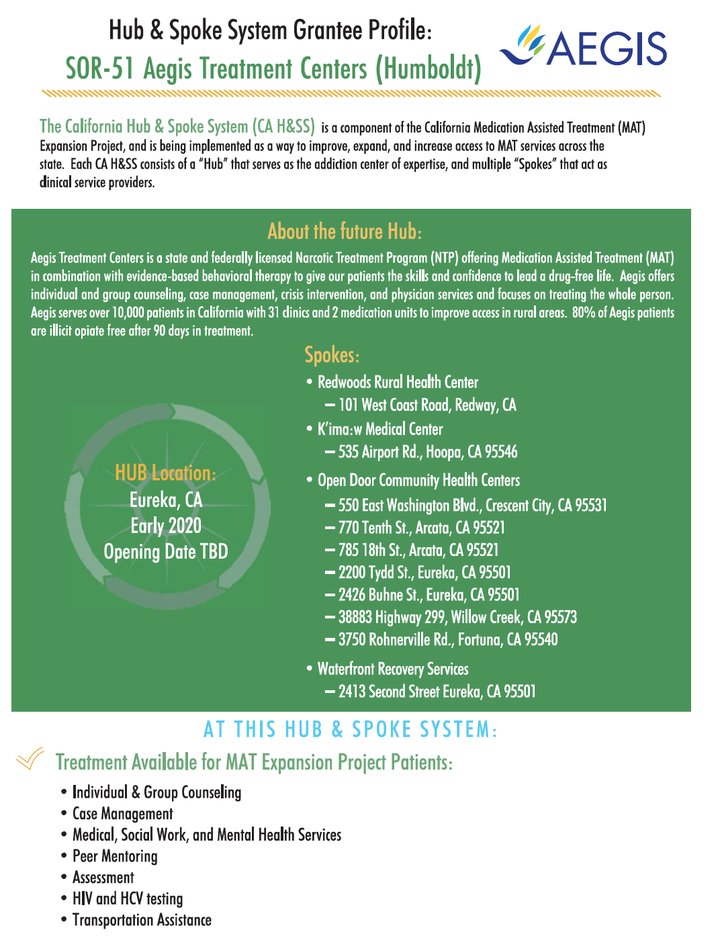 Some of Aegis's other services will include access to Suboxone and Narcan as well as counseling via teleconference. Once the pandemic permits in-person meetings, there will also be group therapy.
"Most of our patients come in daily for their medication because, with Methadone, it is necessary for them to come in until they find a therapeutic dose that takes care of their cravings," Vogel said. Once patients are able to reach stability in life and dosages, Aegis will allow them to take home prescriptions, she added.
Sgt. Leonard Lafrance with Eureka Police Department's Community Safety Enhancement Team (CSET) said he's not worried about any Methadone leaking out into the streets and personally toured the facility before it opened with Eureka Mayor Susan Seaman, Chief Steve Watson and a few other city officials.
"It is a very good facility and a professional organization," Lafrance told the Outpost. "Their security measures are very high and very impressive. And so, for me, I have no real concerns."
Lafrance's role with CSET allows him to see what is really happening on the streets, making him one of the local officers on the frontline of combating addictions of all sorts. Recently he gave a presentation at a Eureka City Council meeting highlighting some of the ailments the homeless population faces.
"Many people assume that heroin is the No. 1 issue we have in Eureka, and that is absolutely not true. It's methamphetamines," La France said during the presentation, pointing out that roughly 40 percent of the homeless population in Eureka uses methamphetamines.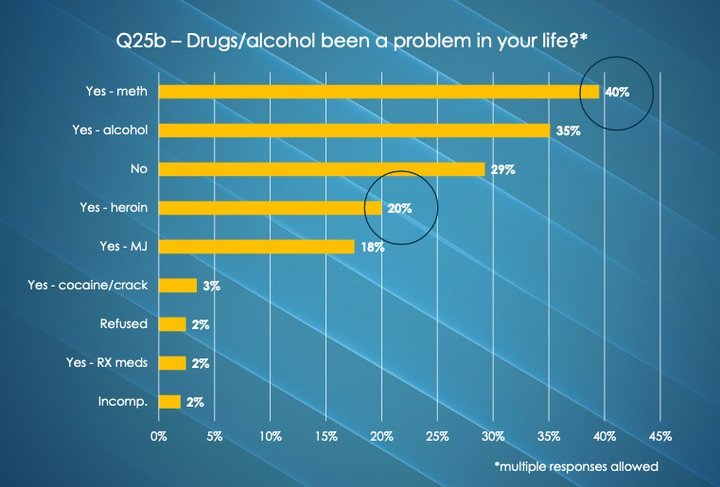 Lafrance chalked up the focus on opioid addiction to its tendency to affect a wide range of the socioeconomic ladder — everyone from the homeless to the affluent — as well as the number of deaths opioids have left behind. Nonetheless, Lafrance said the Aegis opening is a step forward in addressing the opioid crisis and another tool in the continuum of care for the community.
Working alongside and, at times, hand-in-hand with Aegis is Waterfront Recovery Center, which offers a mix of long-term and short-term recovery from a wide range of drugs. The two will be able to refer patients back and forth in order to find what works best. For example, if a patient at Waterfront is not responding to Suboxone treatment, they may be able to access Methadone at the Aegis clinic.
Waterfront Executive Director John McManus said he's thrilled about the opening of Aegis and believes his organization can help patients establish a foundation to work from once they go to outpatient treatment at Aegis.
McManus feels this cooperative model will help build the continuum of care in Humboldt County. "It is a much more successful plan for reintegration into society," he said.