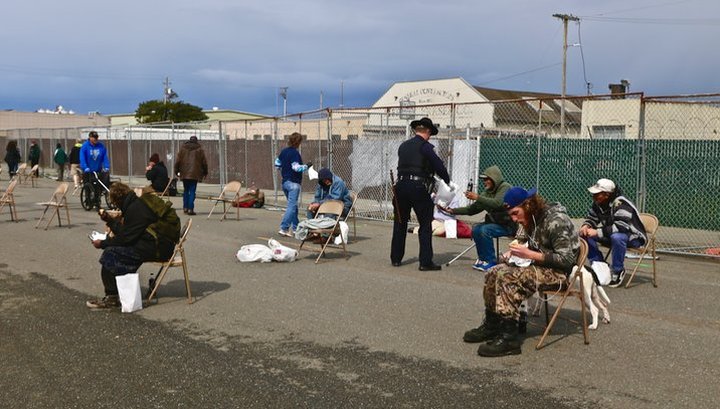 More of Eureka's homeless population are sleeping in shelters than they were two years ago, according to a recent survey of over 200 homeless individuals in Eureka performed by the city's Community Safety and Engagement Team (CSET) and presented to the Eureka City Council during Tuesday night's meeting.

The survey was conducted between March 8 and April 4, Eureka Police Sgt. Leonard La France said during his Zoom presentation to the Council, and consisted of 38 questions to help guide the city on what additional support and services are needed for the homeless. CSET performed a similar survey two years ago, the data of which was compared alongside this year's results.

When asked the survey question "where did you sleep last night," 18 percent of the individuals reported that they had slept in a shelter, compared to only four percent reporting they had slept in a shelter in 2018. There was also a large drop in the percentage of individuals who had slept in a vehicle or in a greenbelt or park.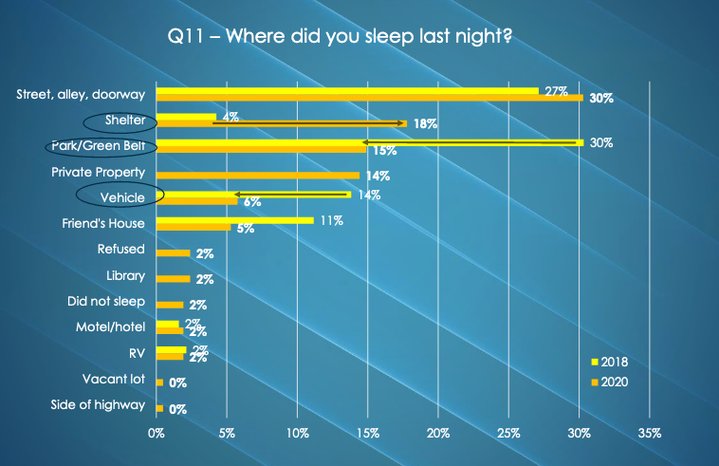 La France acknowledged that there are several variables that could have affected this change, including the time of year (the 2018 survey was conducted between August and December) and the COVID-19 pandemic increasing placement of homeless in local shelters.

The survey also asked participants how they became homeless, how satisfied they are with their life, and questions about mental health, physical health and drug use. The survey showed that more than half of the participants have a physical disability. Mental health problems are also a prevalent issue within the homeless community, as well as substance use.

One thing La France wanted to draw attention to, is that the largest reported substance used was methamphetamines, with 40 percent of participants reporting they regularly use meth. The second most reported substance use was alcohol at 35 percent, and 20 percent reported using heroin.

"Many people assume that heroin is the number one issue we have in Eureka and that is absolutely not true," La France said. "It's methamphetamines."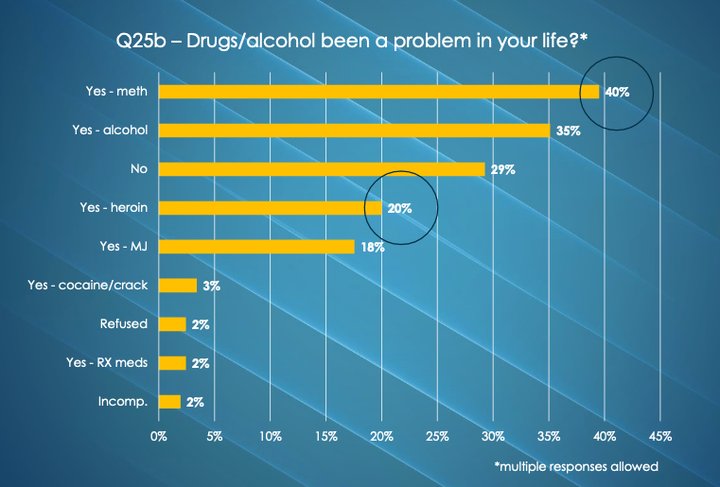 Although a large percentage of individuals reported substances as a problem in their life, only 14 percent said they needed help with substance use. It was unclear to La France if this means that there are already enough resources available, or if people do not want the help.

Survey participants were also asked about the services they do utilize, with nearly 70 percent reporting they use food stamps and nearly 20 percent reporting they receive Supplemental Security Benefits (SSI). Nearly 20 percent of individuals reported that they receive no services at all.

When asked what is preventing them from utilizing these services, many said it was a lack of motivation, or they did not have transportation. Some people also said that they did not know where or how to apply, which La France said showed a need for more education and support to those in need of these services.

"That's definitely a gap that can be filled," La France said during the presentation. "I'm not sure if that's our responsibility or DHHS. Either way that's definitely a category we can address."

One area where La France said the homeless population is receiving a lot of support is with access to food. As far as local resources being used, nearly 70 percent of those surveyed reported utilizing free meals. In addition to the daily free meal served by the St. Vincent de Paul Dining Center — for which members of the CSET team help provide support — the Betty Kwan Chinn Day Center provides meals, as well as the Eureka Salvation Army.

Councilmember Natalie Arroyo asked La France about what area of work with the homeless he feels needs the most improvement. "Since you are out there first-hand working with people, if there was one thing that you would take action on to improve matters for homeless folks in Eureka, what would it be?" Arroyo asked.

La France said that he believes more could be done to work specifically with the female homeless and native homeless populations. When asked if they were satisfied with their lives, an overwhelming number of women reported that they were not, compared to the men, which Arroyo and La France found troubling.

Also concerning, La France said, is the disproportionate number of homeless people who are Native American. Eleven percent of those questioned identified as Native, while Native Americans make up 2.5 percent of the population, according to the city's most recent census information. La France feels that the CSET team needs to do more outreach and dig further into the reasons for this.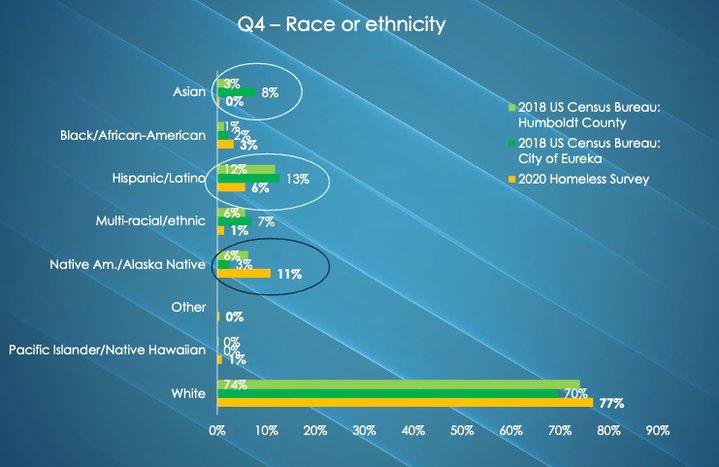 Though the data from this survey is very important for helping shape the services the city provides, La France said, it is important to consider more than the collective data only provides part of the information and it is important to consider each individual's story when working with the homeless population.

"[The data] does give us a giant picture of our homeless," La France said. "But we also need to think that each individual survey is a person, so each individual needs to have a different approach."
Eureka Police Chief Steve Watson added that the data will also be shared with the Department of Health and Human Services (DHHS) for use in its service development. You can find more information in the 2020 Homeless Survey results on the City of Eureka's website.

###
In other business, the Eureka City Council unanimously approved placing a measure on the November ballot asking voters if they would like to approve a ranked-choice voting system.

The citywide measure will ask citizens if they would like to implement ranked-choice voting for electing city officials. Under this system, rather than voting for a single candidate, citizens rank candidates in their order of preference. If a candidate does not receive a majority of first-choice votes, then voters' second choices come into play, then their third, etc.
You can watch the full city council meeting video here.