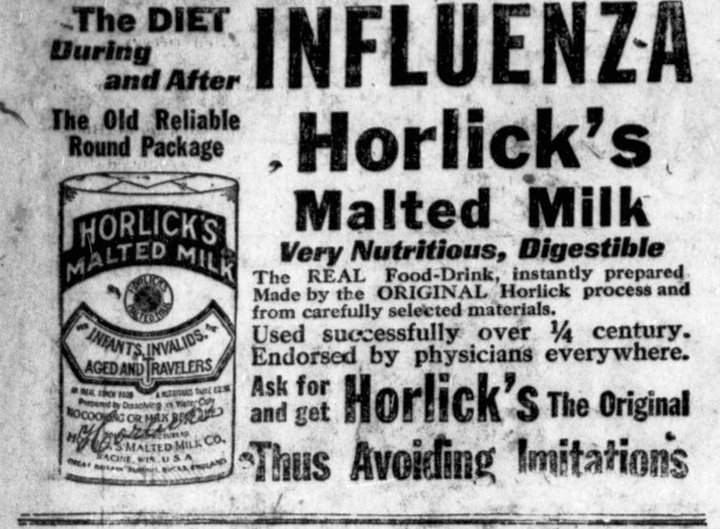 ###
PREVIOUSLY:
###
In the fall of 1918, as World War I was winding down, Humboldt County joined the rest of the country in the battle against the Spanish Flu, rallying medical personnel, isolating and treating cases in temporary hospitals and reporting the status of those afflicted — including names, health status and home address (perhaps so friends would stay away?). Throughout October, officials also began to encourage and then to mandate the use of "anti-influenza" masks, and on October 25 the county defense board closed non-essential businesses, including ice cream parlors and card rooms, mandated extended hours for drug stores, and required that hotels and restaurants "keep patrons and customers separated." Saloons (apparently considered "essential") were ordered to close from 4 p.m. to 8 a.m. weekdays and all day on Sunday and officials asked households to order goods over the telephone and have them delivered whenever possible.
During the closures, organizations like the city library took the opportunity to "scrub" their facilities and conduct other cleaning otherwise "inconvenient to accomplish," and at least one local newspaper took a light approach to the new mandates. An October 22 editorial acknowledged the efficacy of anti-flu masks, but described their use as "disconcerting," as shoppers could no longer tell if "Ladies Who Wait On the Public" were smiling with them, at them, or not at all. Despite the discomfort, the writer insisted that masks were becoming popular and would be the "proper thing for street wear" before the end of the week.
Schools
Early in the epidemic, medical experts believed that Spanish Influenza was "not a children's disease" and in mid-October the local boards of Health and Education followed the State Board of Health's advice to keep schools open, reasoning that students were less likely to become infected there than "running free on the streets," as long as teachers sent all ill children home immediately. Up until then, there had been no local flu-related fatalities and many doctors still minimized the dangers.
At this time, Eureka School Superintendent Albee also warned that closed schools meant lost revenue that would need to be made up through taxes later, pointing out that every child absent cost the city 40 cents a day.
Just days later, Eureka reported 187 high school pupils absent and 216 out in the grammar schools. At that time, Eureka's officials went beyond State Board of Health's recommendation to close only adult gathering spots and ordered schools shut as well. Other communities soon followed, and it was the right call. By the end of October and into November, the paper was regularly announcing the influenza-related deaths of children like 14-year-old Anna McLaren from Eureka, four-year-old Vesta Dudal from Arcata, "little four-year-old Irene Pitera" of Rio Dell and more.
These fatalities likely prompted officials to keep regular and Sunday schools closed in early November, even as case counts diminished and business districts reopened. The institutions would have struggled to open anyway, the newspaper pointed out, because so many teachers were ill with the flu.
As November progressed and communities continued to ease restrictions, local schools eventually followed suit, though notices of ill students and absences continued. On December 12, the country's Surgeon General recommended that communities close schools "at the first sign of the reappearance of the epidemic," noting that the disease apparently now tended to recur more frequently among school children and on December 13, when 60 of Arcata High's 170 students were absent, the city's Health Officer ordered the city's high school, grammar school and schools in Blue Lake, which shared the district, closed until at least January 6. When the students returned on January 8, the city council ordered that all students wear gauze masks, expanding an initial city-wide order that only adults do so.
Cases counts and student attendance continued to fluctuate over the next few months and schools extended hours and sometimes hired extra teachers to make up for lost time and over the next few years schools closed periodically to protect local children. In February of 1920, Blue Like closed schools "owing to the influenza scare" and in March of 1922, Ferndale schools were closed "indefinitely" because of the flu.
Church
As Spanish Influenza swept through the community, officials imposed strict measures against crowds and by mid-October, churches were asked to shut their doors. Even though congregations in Washington, D.C. were continuing to meet outdoors, local faith leaders were asked not to do the same.
In response, the local Ministerial Union encouraged families of all faiths to gather and pray together for the "needs of the world, the nation and the community." They also suggested asked that this be done during the regular hour of church service to create "more united prayer, even though not in one place, certainly of one accord, and of one spirit." The ministers asked their members to pray for the end of the flu, so that the epidemic might soon be over.
When congregants were allowed to gather toward the end of November, they wore masks. Over the next few years, the flu resurfaced periodically and in February of 1920, the Presbyterian Church in Blue Lake canceled services because of the flu. Instead, families were encouraged to focus on religious activity and supplies were delivered to the church's Sunday school students so they could continue their studies.
Jail/Law Enforcement/ Legal Response
As the virus spread locally in the fall of 1918 and officials called for enforcement, local police officers found themselves at the forefront — and vulnerable. Many fell ill with the virus and by October 20, even Eureka's chief of police was confined to his home with the flu. The County sheriff was called to "act as the family nurse" when his wife and children fell ill, Eureka's city attorney suffered a "temporary breakdown" while attending patients and a local Judge and eight members of his family were stricken with the virus.
While frustrated by citizens who ignored the orders, Eureka officials were pleased with the revenue generated from fines imposed against violators. Within a span of one November weekend, 68 arrests of unmasked Eurekans celebrating the end of the war "enriched" the city's coffers by $280.
In January, a resurgence of the illness again made masks mandatory and made it unlawful any two people to gather in public (inside or outside) without a mask. Violators could be fined up to $20 and sentenced to the county jail for "not less than five days nor more than 10," but after prisoner Lewis A. Simon died of flu following his transfer from the Eureka jail to the county facility, the sheriff declared that the county facility closed to jail transfers for "fear of further infection."
Election
As election day approached in early November of 1918, the president of the State Board of Health announced that voting, even done in small election booths, was safe as long as masks were worn, but some residents remained unconvinced. That year, Blocksburg recorded the "smallest vote ever case in any important election, despite a bright and sunny election day and no recorded illness in the community." The town of Orleans, on the other hand, recorded a "very full" turnout, with men working out of the area even coming home to cast their vote for constable. Unfortunately, the final election results were delayed when the county clerk fell ill with the flu.
Tribal response
On November 7, 1918, the community of Requa, within the Yurok tribal territory, set up a rigid quarantine "against Humboldt travelers" to prevent infection in that community. Anyone wanting to cross the Klamath River from the Humboldt side without a mask would be turned away and even those wearing a mask would not be allowed to stop in town. Requa's business owners took the rule seriously, with it said that the proprietor of the Klamath Inn refused to receive anyone from the Humboldt side of the river and one night turned away a couple who had crossed the river in a small boat, compelling them to return to the Humboldt side and "make camp for the night."
According to Matina Kilkenny in her story MISSING FACES: The impact of the Spanish influenza pandemic of 1918–1919 in Humboldt County, of the eleven Native Americans whose deaths are on record at the County Courthouse, five were from Table Bluff, two from Hoopa, one from Miranda, one from Orleans, one from Requa, and one was a laborer at Korbel. The actual death toll was likely much higher.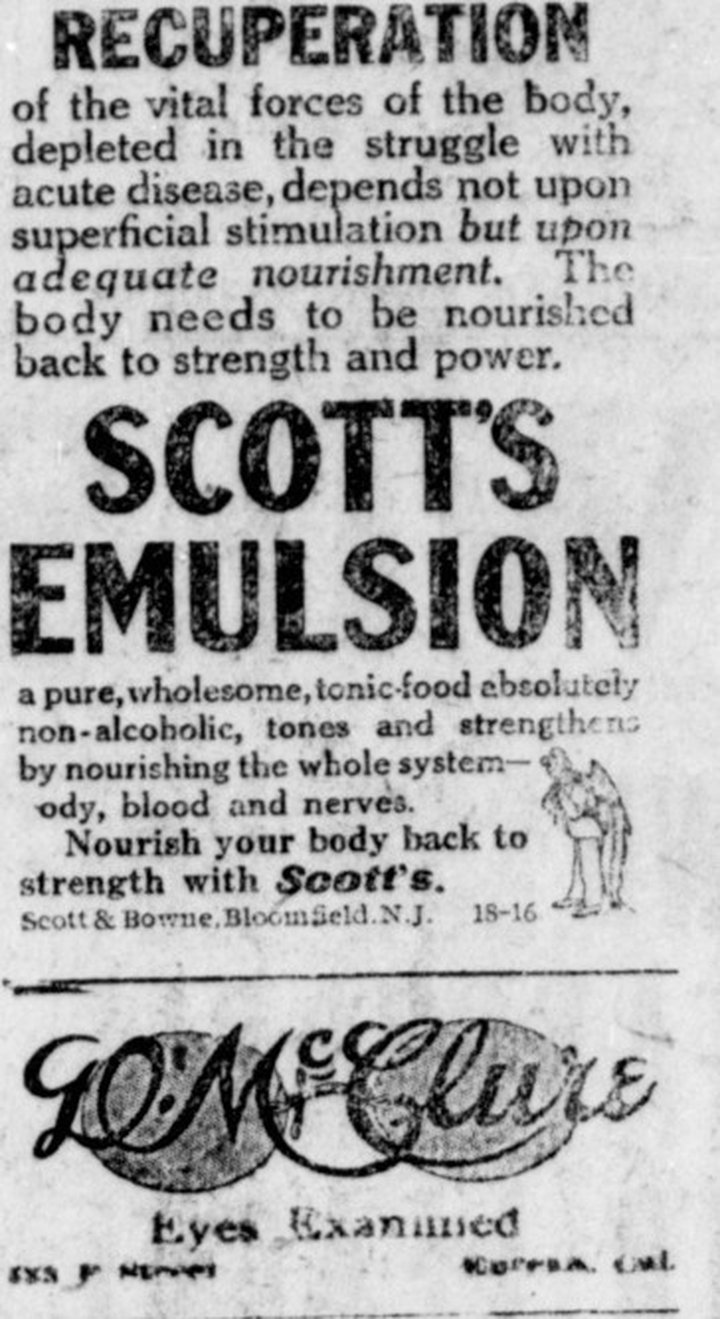 Medical cures
At its onset, there was no cure for the flu, but newspapers carried many advertisements for products claiming to prevent and cure the disease. The "Famous Hyomei Inhaling Outfit" was heavily promoted in an article format that advised people to stay healthy, prevent infection and kill germs before they spread by using the system, which consisted of hyomei oil and a small inhaler, promising to deliver air "charged with an antiseptic, germ killing balsam that will absolutely destroy the germs of Influenza" (later analysis has shown "Hyomei" to contain eucalyptus oil, alcohol and other ingredients).
S. Siljian, located in the First National Bank Building in downtown Eureka, offered a Light Bath that would "rid the body of poisons" and prevent "debility and disease." According to the ad, also formatted like an article, radiant energy & heat from the light penetrated body tissue, treating the "grippe" (flu), nervousness, bronchial or lung trouble, indigestion, kidney and liver disorders. With treatment, the patient could also anticipate immediate relief from skin blemishes, headache, backaches, constipation and depression.
Medical professionals, on the other hand, offered more staid advice, which included avoiding public transportation, avoiding people that cough and sneeze (as well as covering one's own coughs and sneezes); washing hands before meals, avoiding common cups and towels, crowds and sick people, and taking other steps to stay healthy. Those that fell ill were advised to go to bed and get treatment, eat nourishing foods, and take "medicine to open the bowels freely." They were also instructed to stay home until a doctor gave the green light to go out again.
In December, the Navy Public Health Hospital released information on "experiments" focused on better understanding how the flu was spread. One hundred volunteers had "serum" (influenza germs) placed in their nostrils and throats and ingested the germs with food, but none appeared to get ill with the virus. Instead, the report said, the volunteers demonstrated "increased appetites and more vigorous health" as the only noticeable results of the experiment.
Unfortunately, as the epidemic raged on, experience showed that an attack of influenza offered no immunity to a second battle with the illness, but advertisements included quotes from "experts" like the Chief Medical Adviser at Swift Laboratory in Atlanta, who promised that S.S.S. (it is unclear what this stood for) restored "strength and vitality" after a bout of the flu, purifying the blood, "removing all disease germs" and building up the "entire system."
Whiskey, on the other hand, was a recognized treatment but the federal prohibition against alcohol started on January 17, 1920, made it difficult for physicians to access. On Feb. 7, 1920, after a conference with State Prohibition Enforcement, it was announced that physicians could legally possess whiskey and "carry it on their persons and in their automobiles." The federal government also established a dispensary in the city of Oakland (and likely elsewhere) so that physicians could obtain the liquor at $1.50 a gallon, which was much less than the standard $4 to $25 a quart.
Conclusion
While there would always be some resistance to masks and other measures designed to stop the spread of the flu, over time community sentiment shifted. After a story ran in the Humboldt Times about Alderpoint residents' refusal to wear masks, the newspaper received an indignant reply emphatically stating that every man woman and child in Alderpoint wore a mask. "Alderpoint Is not lacking in its patriotism nor its cooperation with the officials in any way," the letter concluded, and it was signed by over 25 residents.
According to Matina Kilkenny, on November 1, 1918 the Ferndale Enterprise declared in bold letters above the masthead: "Wear a gauze mask and thus show your true Humboldt spirit. The mask is not a sign of fear — it is a badge of honor that you are helping your city and county stamp out an epidemic. So wear one today."
Over the next few years, communities also proved themselves ready to re-establish isolation hospitals, close schools and invoke other strategies at the first sign of a major infection. Over time, prevalence of the deadly Spanish flu diminished, but grief and memories of the people who lost their lives around the world and in Humboldt County remained much longer.
###
That America will never experience another influenza epidemic that will take a toll as heavy as 1918-1919 epidemic, was the opinion of many physicians gathered today for the meeting of the American Congress of Internal Medicine. The fight against the disease was not won alone by medical science, it was said, but through cooperation of the public.
— Blue Lake Advocate, 28 February 1920
###
Lynette Mullen writes about Humboldt County history at Lynette's NorCal History Blog.
###