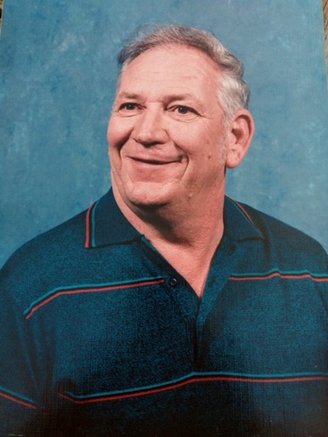 Louis G. Adams Jr. went home to the Lord peacefully on the morning of Sunday, June 14, 2020 at Timber Ridge in Eureka with his loving wife of 58 years holding his hand and telling him, "l'll look for you when I get up there."

Born at the old General Hospital in Eureka on September 29, 1931 to his parents Dollie (Hermling) & Louis Garfield Adams Sr, he was the youngest of 5 children. He spent his younger years living in Holmes. Then the family moved to Third Street in Eureka (where the Clarion Motel is now).
Mr. Adams attended Eureka schools — Franklin Elementary on Myrtle Avenue, Freshwater School and Eureka High School. He drove beautiful fast cars and like to race around. He worked at local companies such as the Barrell Factory and delivering telegrams. He enlisted in the United States Navy. He did his basic training in San Diego before boarding the USS Princeton, where he was a flight recorder — recording the aircraft landing and leaving the ship.
He is a Korean War Veteran. (Thank you for your service.)
After the Korean War he took and passed the civil service exam and for the next 30 years was a letter carrier for the United States Postal Service in Eureka. He delivered the mail during the 1964 flood. Until the very end of his life he could recite people and addresses.
He was a bartender at the Powder Horn, where he met the love of his life, Alice Maria Vaughn. He told her he was going to marry her and two months after they met they were married at the Lutheran Church on South Street in Eureka on December 31, 1963 — New Year's Eve. He always joked that he had to borrow the $2 from his bride to pay for the marriage license. He was very close to his wife's family. Louie and Alice made their family home at 3870 Wellington Street In Eureka, raising their three children — two daughters, Theresa Marie and Alta May, and son Michael Lee Adams. There where were always kids and animals. He built his three-car, two-story garage with no trusses. You could hear Mel Tillis, The Platters or The Ray Conniff Singers playing in the garage. He would later have the Humboldt County Chapter of the Korean War Veterans meetings there.
He liked to fish, cut wood, pour cement, read Louis L'Amour books and watch John Wayne movies. He attended his children's and grand- and great-grandchildren's school, sport, music functions. Mom called him the gossiper — when she could not find him, she knew he was out talking to somebody. He was a giving man and helped everybody. He was the "go to guy." He could make the white laundry so crisp and bright. Dad was smart and handsome. He worked and provided for his family and helped many a kid as well as adults in his lifetime.
He liked to restore cars — VW's, his favorite being his rag top he named "Hitler's Revenge," as well as Mustangs and his Bronco and his much cherished 1970 one-ton Ford truck with the wooden side racks. He drove his truck with the Korean War Veterans and often a couple of grandkids and their friends on board in the Rhododendron Parades for years. Every summer he would pack the truck and extra kids and go camping at Junction City Campground and tubing down the Trinity River. On one trip he caught a huge salmon with his bare hands while his kids and others on the beach cheered him on. He ended up with the salmon after a struggle and a band aid. He is affectionately known as "Mr. A" and later on everyone would call him "Grampa." If he liked, you he would tease you.
He is survived by his loving wife Alice, his daughter Theresa Marie Adams of Rio Dell California, his son Michael Lee Adams, daughter-in-law Lian Darrow of the Bay Area, his sister Dolores Bastian of Fortuna, his grandson and best friend David Louis Adams (Theresa's son) of Fortuna, his grandchildren Lee Anthony, Haley Maria (Tyler Bisette) and Michaela Rebecca Adams all from the bay area, Christina Lee McGraw of Eureka and Hannah Rose Jenkins of Fort Collins, his great-grandchildren Ava & Steven McGraw Owens, Devin Williams, Brooklyn Bisette, Kahala, Neveah and Alia Adams and many nieces and nephews.
On a personal note:
Thank you for all the fun times growing up, Dad, and the time you made for all of us and our friends as well. I now have yet another blessed angel on my side — Love, your son, Michael Lee Adams
Playing in the field, Easter Egg hunts and meals around the dining room table are the fond memories of his grandchildren Lee Anthony and Michaela Rebecca Adams
My grandfather was a serious man, serious about his cars, about his western movies, his plum trees and most serious about his family. I am going to miss him very much. He was the strong and silent type. — Love, your granddaughter, Haley Maria Adams.
He was preceded in death by his daughter, Alta May Adams (4/26/69-6/27/08), his granddaughter Lyndsay Marie Barrera (4/21/94-5/25/08), his parents, his brothers and sisters-in-law Clarence Drapich, Barney (Ruth) Drapich, Sam (Audrey) Drapich, his brother in law Al Bastian, members of his wife's family, friends and relatives.
The family would like to thank Timber Ridge, Ayers and Ocean View Cemetery. Thank you all for your thoughts and prayers.
Correspondence may be sent to 945 Webb Ln; Rio Dell, California, 95562.
There will be a graveside service at Ocean View with military honors. Due to the Covid virus the celebration of life will be announced at a later date. He will be interned with his wife.
Dad you're my hero! I learned a lot from you, I love you. Thank you for EVERYTHING! — Theresa Marie.
###
The obituary above was submitted on behalf of Louis Adams' family. The Lost Coast Outpost runs obituaries of Humboldt County residents at no charge. See guidelines here.