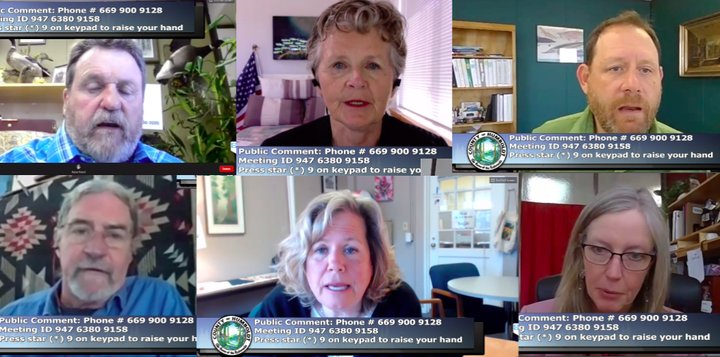 ###
Tuesday's virtual meeting of the Humboldt County Board of Supervisors was, like pretty much everything else these days, dominated by concerns about the disturbingly resurgent COVID-19 pandemic, but the board did find time to address a range of other matters, including affordable housing, syringe exchange and illegal cannabis cultivation.
In her regular COVID-19 update, Humboldt County Health Officer Dr. Teresa Frankovich said the county's recent surge in confirmed positive cases — 37 over the past 14 days — will probably get worse in the coming days. (And sure enough, another five positive cases were announced Tuesday afternoon.)
By and large, the locals diagnosed most recently contracted the virus while traveling or attending large family gatherings, Frankovich said. Some had as many as 40 or 50 contacts with others while they were infectious. The county's public health staff is currently monitoring more than 100 people who've been ordered to self-quarantine for 14 days due to exposure to a known case, and Frankovich expects the case count to continue climbing.
On July 1, Governor Gavin Newsom issued new restrictions on 19 counties due to increasing case rates, hospitalizations and intensive care admissions. Frankovich said Humboldt County's increasing case counts could land us in the same category, forcing local officials to either close down bars, wineries, dine-in restaurants and museums and more — or risk losing state funding.
Meanwhile, the turnaround time for testing has grown longer, particularly at the OptumServe site at Redwood Acres. Frankovich explained that specimens collected there must be sent to a national lab, which has been experiencing periodic supply shortages, so the results are taking as long as six to eight days to come back.
"This is problematic because people need to know if they're positive for their own lives, but also, we need to be doing contact investigations," Frankovich said. "The faster we are the more effective [we'll be] in containing spread."
Fourth District Supervisor Virginia Bass pointed out that people who are experiencing symptoms probably shouldn't turn to the Optum site, which is intended more for surveillance testing. Frankovich agreed, suggesting that such folks reach out to their care provider or call the county's Joint Information Center (at 441-5000). "We can link up with someone to get testing done in a quicker fashion," she said.
First District Supervisor Rex Bohn, in an effort to "put a little positives out there," noted that Humboldt's active case count is relatively low — 13 as of yesterday. But Frankovich threw cold water on that observation, saying the low active case count is likely a sign that the cases weren't identified until later in the infection period — meaning those people may have had the virus for a week or more before their cases were identified.
"In general, it's more concerning if we're identifying cases later in the course of infection," Frankovich said. "It means [each person has had] more contacts. I would rather have the active case number higher. It would suggest that we're catching them earlier."
Second District Supervisor and Board Chair Estelle Fennell said a lot of people have been asking for a more detailed geographical breakdown of positive cases. (The county currently divides them into three regions — northern Humboldt, Humboldt bay area and southern Humboldt.)
Frankovich said that may well be doable at this point, though she questioned the value of that information. "My only concern, again, at this point we're seeing cases across Humboldt," she said. "There really is no safe area of the county any more than there's a safe area of the state. … There is no safe spot."
Humboldt County Sheriff Billy Honsal added that the case counts on the map reflect where each person lives, not necessarily where he or she contracted COVID-19. "Someone could be exposed in Southern Humboldt but reside in Eureka or Arcata or McKinleyville," he said. In other words, a low case count in SoHum (or anywhere else) shouldn't convince people that it's okay to lower their guard.
Honsal also said his office received complaints over the Fourth of July weekend about businesses that were not complying with public health guidance regarding face coverings and social distancing. "We're looking into that, and we're coming up with a plan with [the county's] Emergency Operations Center to work with them to provide education and citations if necessary."
Honsal has repeatedly expressed reluctance to crack down on businesses and individuals who aren't complying with public health orders, saying he prefers education to enforcement for all but the most egregious violations. Today he said the governor has convened a task force that includes Cal/OSHA, the Department of Alcoholic Beverage Control (ABC) and the California Highway Patrol (CHP). If enough complaints reach state authorities, Honsal said, this task force may bring the hammer down here in Humboldt.
Third District Supervisor Mike Wilson questioned how the state would hear about our local issues, and Honsal replied that "a lot of people reach directly out to the state." But regardless, he said the county is looking at creating its own task force involving code enforcement, developing a formalized process that moves from verbal warnings to citations. People who are flagrantly violating public health orders can have consequences, he said.
Frankovich said Humboldt County is still seeing fallout from social activity on Memorial Day weekend, and we may not see the full impacts from July Fourth celebrations for six to 10 weeks as infected people unknowingly spread the virus to others.
Syringe services program
Public Health Director Michelle Stephens presented the latest report on the county's controversial syringe services program, which includes an exchange component to provide drug users with access to clean needles. Stephens reiterated the program's public health benefits, which include prevention of disease, injury and death, along with improved access to treatment.
"We know syringe exchanges improve access to care for people who use drugs," Stephens said.
The county's syringe program, which was established in 2012, has recently focused on addressing hepatitis C infections, and Stephens said the department's work on treating both cases and underlying substance use issues "have been big wins for us."
Her department's report notes that access to hepatitis C medication treatment in Humboldt County has improved over the past two years, in part because it is now covered by Medi-Cal and most other insurances.
Bohn brought up a suggestion he's made before — namely, having the county use syringes that are a different color than those used by the Humboldt Area Center for Harm Reduction (HACHR) so that the public can trace needle litter back to its source. He also reiterated his preference for syringe exchange to be conducted on a one-for-one basis.
Stephens said that if the county wanted to use differently colored needles it would have to purchase them itself, rather than acquiring them through a program funded by the California Department of Public Health, and that would cost "hundreds of thousands" of dollars. And she said the state and other agencies have found that needs-based distribution works better than one-for-one exchanges.
Affordable housing ballot measure
Later in the meeting, the board agreed to put a measure on the November election ballot that would, if approved by voters, allow the county to pursue state and federal funding for low-income housing.
Back in May, the board directed staff to conduct a public survey to see how residents in the county's unincorporated areas feel about the issue, and as Planning and Building Director John Ford explained to the board, the results were "very positive."
The research firm FM3 conducted the survey, interviewing more than 500 locals who are likely to vote in November. Miranda Everett, a senior researcher with the firm, noted that 68 percent of respondents see the cost of housing as an "extremely" or "very serious problem" while a whopping 85 percent support the county government having a role in developing affordable housing.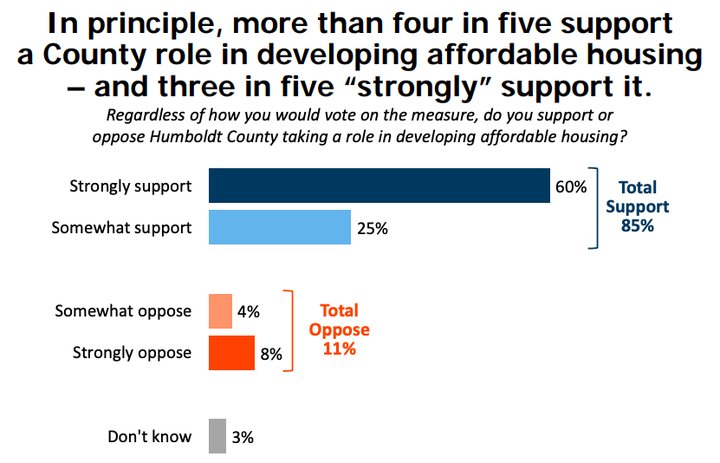 ###
People were especially supportive after being told that taxes would not be increased if the measure were to pass. Four out of five people surveyed said they would support the county pursuing state and federal funds to develop low-income housing as a small percentage of total housing units — either 1.5 percent or 2.5 percent.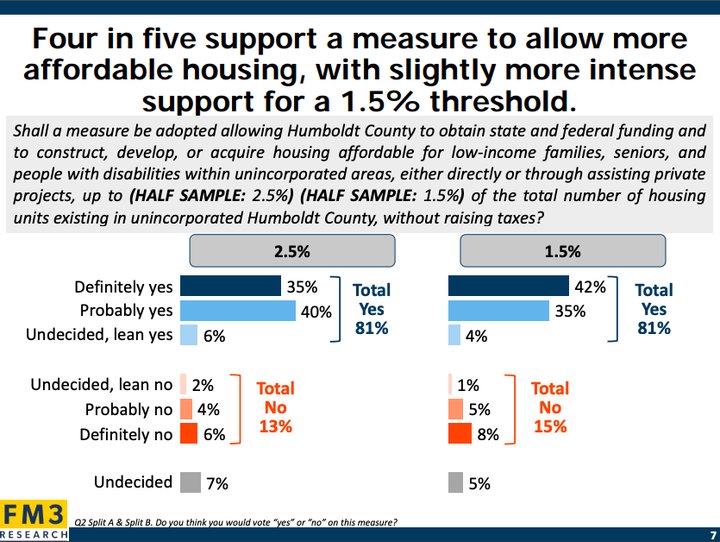 With such a clear indication of public support, the board voted unanimously to place the measure on this year's ballots.
You can download the full report on the public opinion survey by clicking here.
Code enforcement on cannabis grows
Lastly, before adjourning to closed session to deal with litigation matters, the board heard Planning and Building staff about an ordinance to amend county code as it pertains to code enforcement matters.
Karen Quenell Meynell, the county's code enforcement manager, said the ordinance contained four changes that were designed "to clarify the lines," making the rules more clear and consistent with state law.
The most controversial of the changes, according to staff, involves a state provision that allows fines and penalties to start accruing as soon as the county issues a Notice of Violation for cannabis related activities. For example, if someone has illegally graded a hillside, diverted a waterway or been cultivating without a permit, they could be fined $6,000 to $10,000 per day for each violation, starting immediately upon being informed of the infraction.
Ford said the county has made a practice of giving more leeway, particularly to small-scale cultivators. In crafting the ordinance, he said, staff wanted to maintain the ability to give small growers who haven't made major modifications to the property a grace period of 10 days to fix the violations without incurring fines.
"A high percentage [of such cases] are resolved without any fines or penalties," Ford said. "So we differ from state law in this proposal by not starting fines on Day One unless there are subsequent violations."

The ordinance also proposed to amend the definition of a "Category Four violation" — those infractions that incur fines of $6,000 to $10,000 per day per the county's cannabis rules — to include not just cultivation itself but also any grading, illegal structures or water diversions done in association with the illegal growing.
Ford explained that this change in definition doesn't reflect a change in county practices; it merely reflects current procedures.
Nevertheless, this agenda item generated some concerned feedback during the public comment period. A grower named Shakti said that "in these times" when people are reflecting on systemic injustices, we should consider the small-scale cannabis farmers who were first victimized by the drug war and then disenfranchised by legalization.
"Now the county is cracking down on small farmers," she said.
SoHum resident Bonnie Blackberry questioned the decision to categorize ancillary activities as Category Four violations, suggesting it was done "solely for the purpose of being able to fine people $6,000 to $10,000 a day."
Ford responded by noting that when the county was crafting its marijuana land use ordinance there was "a significant amount of illegal cultivation going on" and staff was trying to facilitate growth in the legal side of the industry while cracking down on illicit growers.
"To a certain extent we continue to struggle [with that]," Ford said. "We're not seeing as many large, egregious sites anymore, but there's still a significant amount of un-permitted cultivation going on out there."
The dollar amounts of the fines "are not about the county trying to generate money," Ford said. "It really is to declare the concern, the desire to see illegal activity cease. I believe that a high percentage of cases, particularly smaller [grow sites], have not resulted in any fines or penalties. We do work with people."
The board approved the ordinance amendments unanimously.