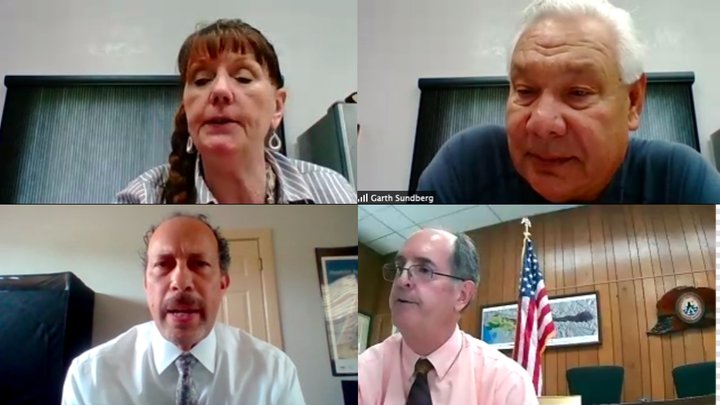 # # #
PREVIOUSLY:
# # #
Having hit a roadblock in negotiations with the City of Trinidad, the Trinidad Rancheria has turned a beseeching eye toward the county's largest water supplier — the Humboldt Bay Municipal Water District (HBMWD) — in hopes of securing a reliable water source for future development, including a controversial five-story, 100-room hotel near Cher-Ae Heights Casino.
On June 4, Tribal Chairman Garth Sundberg sent a letter on behalf of the Rancheria to HBMWD General Manager John Friedenbach formally requesting government-to-government consultation on the matter. The Rancheria, a sovereign tribal government, has plans to construct not just a hotel but also an RV park, a gas station/convenience store, tribal housing and more, but its development efforts have been stymied by insufficient water.
"Water is an integral and basic necessity for all peoples and in order to reach our goals and objectives we must find alternative water sources," Sundberg wrote in his letter to the water district.
Yesterday, the HBMWD board of directors met via Zoom to consider the request. All involved seemed to regard the meeting as just the first step in what could be a very long process involving fact-finding, negotiations, technical studies and public review.
Friedenbach began the discussion by pointing out that many questions remain unanswered, including the quantity of water being requested, the Rancheria's development timeline, potential sources of funding for the project and the feasibility of using existing water lines belonging to the McKinleyville Community Service District as a leg to access tribal property.
Chairman Sundberg said the request is about long-term development plans. "As you know, our hotel has been very controversial," he said. "However, our request today is not about the hotel. It's about securing water for the future of our people … to protect our tribal sovereignty and realize our goals."
Hostler-Carmesin agreed that the matter at hand was not about the hotel. "While we have found alternative water resources for the hotel, we must invest in the tribe's future," she said.
Reached by phone on Friday, Hostler-Carmesin clarified those statements. She said that if the Rancheria succeeds in acquiring water from the HBMWD, it might well use that water to supply the hotel.
"I'm not saying it won't ever be used [for that]," she said. "I'm saying that, overall, the Rancheria needs water."
She said the City of Trinidad, its residents and the people in surrounding communities are "extremely fearful" of development. "But overall, this is the tribe's right to develop." Hostler-Carmesin said economic development is a matter of both self-determination and social justice.
As for the "alternative water resources" she mentioned during Thursday's meeting, Hoster-Carmesin said the tribe hasn't nailed down the specific sources for supplying the hotel but rather has identified a range of possibilities, which are spelled out in the environmental assessment. The tribe plans to continue pursuing negotiations with the City of Trinidad while developing its existing wells and possibly drilling new ones. "The last resort is we could truck in water," she said.
Despite tribal assertions that the request was not about the hotel, the public comment period was very much about the hotel. Thirty-seven written comments had been submitted, all but four of which were opposed to the request. The concerns in these comments, which were read aloud into the record, were primarily focused on the hotel and the potential of future development to ruin the rural character of the greater Trinidad region.
Area resident Elaine Weinreb also expressed concerns about the implications of entering into government-to-government negotiations with a sovereign nation. She suggested that tribes cannot be sued and said they don't have to follow open meeting laws such as the Brown Act or comply with state and federal county environmental regulations.
Later in the meeting, Board Member Neal Latt, who is an attorney, said Weinreb was mistaken about liability: Tribes can be sued when they enter into agreements with public utilities.
[Note: Latt later provided the Outpost with this follow-up: "What I said was that it is common for non-tribal entities to insist on the insertion of a limited waiver of sovereign immunity into proposed contracts with tribal entities. These limited waivers are intended to provide for specified dispute resolution by the parties as to the subject of the contract, whether in court or via binding arbitration. I personally would insist on a limited waiver as a term of any proposed contact between HBMWD and a tribal entity, for reasons that are probably obvious."]
Dennis Mayo, a board member with the McKinleyville Community Services District, said, "We think expansion is generally a good idea." Extending a pipeline north, using MCSD infrastructure along the way, would almost certainly benefit both the public and the environment, Mayo said. He just asked that MCSD personnel be included in the negotiations.
Paul Rosenblatt, general manager of the Westhaven Community Services District, also requested inclusion in the process. He said his agency is "pretty much neutral" on the proposal, though he noted that the community is "very sensitive to growth," so it will be important to understand potential impacts of the project.
When the issue came back to the board, member Bruce Rupp wondered aloud whether the district has an obligation to provide the Rancheria with water now that the request has been made. He suggested moving forward carefully and pursuing more information.
Fellow board member Michelle Fuller said, "We've talked about expanding our service area to regions experiencing water scarcity for as long as I've been involved with the water district." She suggested assigning the board's sales committee — comprised of Rupp and Latt — to further fact-finding.
Latt reiterated that the discussion was still preliminary. "This is not a request to make a decision to build a pipeline," he said. "It's an inquiry about getting together facts by which we would consider such a request. … I'm always in favor of making informed decisions, gathering facts and then presenting [that information] in a public forum."
The board wound up directing staff to do just that: gather more facts to be presented at a future meeting. Staff was asked to summarize a series of engineering reports and to look into such matters as the volume of water being requested, the project's timeline, which other agencies should be included in deliberations and potential funding sources.
Earlier in the meeting, Hostler-Carmesin addressed that last question, saying the project is bound to be "extremely costly" but the tribe can apply for grants from the state and federal government.
Community opposition will no doubt continue as negotiations move forward. Don Allen, a member of the community group HARP, or Humboldt Alliance for Responsible Planning, told the Outpost on Friday, "The implications of extending that water line go way beyond just that hotel."
He said local residents are protective of the "sleepy, rural atmosphere" of the greater Trinidad region, and they're concerned that providing access to ample water would remove an important constraint on "unbridled development" — not just from the tribe but from other interests as well.
"I think there's this whole can of worms that gets opened up," Allen said.
Hostler-Carmesin, meanwhile, reiterated that from the tribe's perspective, this is a matter of self-determination. "My hope is that people can understand the tribe has rights to develop regardless of whether the community is supportive," she said.