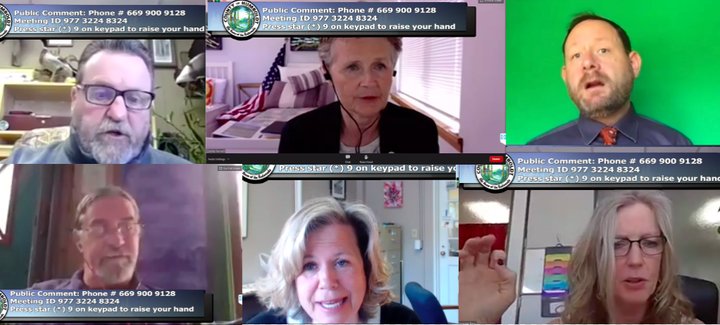 # # #
Judging by the evidence at today's (virtual) Humboldt County Board of Supervisors meeting, not enough locals are getting tested, but some are getting testy.
A largely partisan divide has emerged in attitudes about protective health orders nationwide, and today's meeting showed that tensions may be mounting locally. Callers voiced frustration and offered unfounded scientific claims as public health officials said they're acting to protect the community.
Humboldt County Health Officer Dr. Teresa Frankovich began today's meeting as she has every supes' meeting since the COVID-19 pandemic hit: by providing an update on local conditions, including epidemiological markers such as the virus's doubling time, our testing positivity rate, local hospital capacity and public health's infection tracking capacity. All signs are looking good, Frankovich said, except: "One indicator we're struggling with is getting enough testing done," she said.
Frankovich encouraged the local public to get tested regularly to provide a more accurate picture of our infection level and to catch infections early. She also said that as hotels and campgrounds open up and tourists start arriving in greater numbers, protective health measures such as mask-wearing, hand-washing, social distancing "all will become more important rather than less."
First District Supervisor Rex Bohn, who has regularly peppered Frankovich with questions during these briefings, did so again this morning, saying that while he personally supports her, he felt compelled to relay questions "probably from 185 phone calls in the last two days."
Regarding the pace at which the county is opening up — allowing new sectors of the economy to resume business bit by bit — Bohn said, "The people who think we're going too fast have a recourse." Namely, they can stay inside and avoid people. "The people who think we're going too slow have no recourse," he argued.
Frankovich said that while our local indicators look good, "it allows us to keep moving forward," but it's "not a ticket to do everything at once." Since we're a small community, she said, it wouldn't take much of an outbreak to overwhelm local resources.
Fourth District Supervisor Virginia Bass also pushed back on Bohn's argument a bit, saying she personally doesn't mind wearing a mask and wishes people would look at the issue a little differently so we "don't just relegate the people with compromised immune systems to stay home."
Frankovich approvingly quoted Canadian Health Minister Patty Hajdu who recently encouraged the public to be kind. "I get it," she said. "I would prefer not to wear a mask on a daily period, but it is not a hard thing to do." She described facial coverings as "a small thing that we can do to help protect each other and the community."
But some who called in during the public comment period disagreed. Linda Hatch, for example, invoked the U.S. Constitution to argue that businesses requiring masks are in fact practicing discrimination and possibly endangering the health of people who may have health issues such as asthma.
Caller Sam Ellers said masks offer nothing more than symbolic protection against coronavirus and may actually contribute to a "reduction of our immune systems." (This is false.)
Dianna Hardwick told county officials, "Your job is to protect our rights, not our health." She said the county should be more concerned about local businesses and warned officials to be prepared for lawsuits challenging the "oppressive orders." Hardwick said face masks have been proven harmful and unhealthy (again, not true) and urged the county to "Free the smile."
One caller, who didn't give his name, called in to express support for Frankovich and urged the board to do the same. "I'm not aware of anyone on the board who has a background in science or health," he said, and he pointed out that health officers in other parts of the state have been forced to quit and/or threatened.
The county's public health director, Michele Stephens, addressed the discontent.
"Everybody's frustrated," she said, adding, "It's reasonable to feel your civil liberties have been violated because you've been asked to mask." On the other hand, she said, there are "lot of folks who do worry we're opening too fast" and who support the public health measures being taken. "There's a reason why we're doing this," she said. "We're trying to protect folks."
The board also addressed recent county guidance to hotel owners, saying they should be prepared to provide 14 days of housing to any guests who test positive while staying on the premises. Second District Supervisor and Board Chair Estelle Fennell said she'd been contacted by a lot of people regarding this measure.
Bohn expressed skepticism about the efficacy of that order, wondering aloud how many people would travel here from Ohio, get tested, wait four days for results and then report to the owner that they have COVID-19.
Frankovich said a far more likely scenario would be for a hotel guest to develop a fever. "The hotel needs to be prepared for that possibility," she said.
Fifth District Supervisor Steve Madrone suggested that would put an "incredible burden" on hotels. He said that in another kind of emergency, the county might set up evacuation centers. "It would seem to me," he said, "if someone tested positive we might want to put those people in an evacuation center that the county would run."
Sheriff Billy Honsal, who was present for the COVID-19 briefing, rejected that idea. "One thing we're not going to do is round up everyone who's positive and put them in a camp," he said, and he added that there may be avenues to help finance a sick person's prolonged hotel stay if necessary.
One other bone of contention was youth sports. The state has yet to issue guidance for resuming such activities as little league and youth soccer, and Bohn has been stressing the importance of kids playing outside.
Third District Supervisor Mike Wilson suggested that parents should get creative rather than waiting for the resumption of organized sports. "Clinging to traditional ways of doing things may not be what's best for kids," he said.
During the public comment period, SoHum cannabis business owner Thomas Mulder criticized Frankovich for "allowing outsiders in" while not trusting kids to play on a playground. He called this stance "really, really disrespectful of the future generation of our community."
At the end of today's COVID-19 discussion, Bohn said he's on record as supporting Dr. Frankovich, "but that's not gonna stop me from asking questions [that are] asked of me."
# # #
In other business, the board discussed whether or not to give local cannabis cultivators a tax break by issuing a stay on inflation, as reflected by a scheduled increase in the consumer price index (CPI).
Back on March 3, before the COVID-19 pandemic hobbled the economy, the board engaged in a conversation about the burden of local taxes on the weed industry. Placing a stay on a CPI increase was proposed as one possible relief measure for local ganja-preneurs struggling to establish their businessesl.
The CPI, a widely used measure of inflation, represents changes in the prices of goods and services such as food, housing, transportation, medical care and education.
During the public comment period on this item, Ross Gordon, policy director with the Humboldt County Growers Association, a cannabis business association, urged the board to issue a credit for the CPI increase growers paid last year and to grant a stay on a CPI for this year. Ross argued that the economy is seeing deflation rather than inflation currently, and he said that while local growers have optimism about their long-term prospects, they're currently facing cash flow problems.
After a lengthy back-and-forth discussion, Bohn made a motion to refund the 2019 CPI but continue applying one moving forward. Bass seconded the motion, but Wilson argued that the county couldn't afford it. Refunding the 2019 CPI would reduce revenues by an about $730,000, according to a staff report.
In the end, the board wound up taking no action on the matter, which means that the CPI increase from last year will stand and another — of 1.1 percent — will be applied to the 2020 tax bills, due next year.
###
CORRECTION: This story originally misstated Michele Stephens' title. It has been corrected.