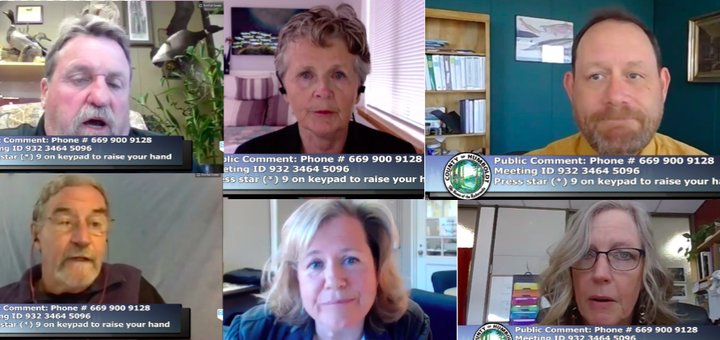 # # #
Humboldt County is about to move in a new direction in our approach to dealing with COVID-19.
"The reality on the ground is it's time to shift to a harm-reduction strategy," Humboldt County Health Officer Dr. Teresa Frankovich said at Tuesday's Board of Supervisors meeting. In other words, now that the county has established some mitigation measures and built up our local health care capacity, it's time to stop hiding from the virus and start living with it among us.
Despite the fact that many states, including California, are now seeing record increases in the number of new infections, Frankovich said our local numbers look good — not just our active cases (of which there were seven as of Monday), but also our rate of positive tests, our case count per 100,000 population, our case doubling time and our capacity for hospitalizations and contact tracing.
Frankovich expressed gratitude to local businesses that have cooperated with county staff and submitted reopening plans, though she also noted that a few local businesses have reopened without any guidance or approval, including some gyms and bars, which haven't even received clearance from the state.
"My concern is I have no way of knowing whether those who've opened have a plan in place" or whether they're taking appropriate safety measures, she said.
Frankovich asked local law enforcement to work with health officials to "hold businesses accountable" for operating without a safety plan. And she encouraged people who are older and/or who have underlying health conditions to stay home as much as possible.
But ultimately, Frankovich said it's time to take a leap of faith.
"From a public health standpoint, we're at a crossroads here," she said. The county government has worked to build up the necessary infrastructure, including an alternate care facility, expanded testing and a team of contact tracers to limit spread of the novel coronavirus. Now it's time to depend on personal responsibility.
"[F]rankly, at this point, how this plays out is in the hands of our business owners and community members," Frankovich said.

Third District Supervisor Mike Wilson voiced concern about youth baseball games played last week in apparent violation of county health orders. He said it's especially worrisome if people are traveling to and from other counties, perhaps in buses or vans, and then having direct contact with other players. If an infection were to spread at one of these events, the contact tracing would be especially challenging, Wilson said.
Fourth District Supervisor Virginia Bass said that when she recently spoke to a group of locals via Zoom and encouraged them to get tested at the Optum testing site at Redwood Acres she got "a lot of blowback." People were more interested in getting a serology test to see whether they have antibodies that may protect them from reinfection.
Frankovich said she's happy for people to get such tests, but she cautioned that the results might not mean what folks think. A positive result doesn't necessarily mean the person is immune from the virus, and current data suggest that people who contract the virus but remain asymptomatic don't retain detectable antibodies for very long, she explained.
"I've heard people say they think they might have had it," Second District Supervisor Estelle Fennell said. "And everybody is a scientist in today's world. … They think that if a lot of people have had it then we're immune, as a community."
Frankovich said data suggests that only about 1.5 percent of the county has been infected, and even those people could be at risk of getting reinfected.
Shortly after her presentation to the board, the county's Joint Information Center (JIC) issued a press release announcing that nearly all sectors of the economy can now reopen once they've received approval of their reopening plans from the county's Emergency Operations Center (EOC).
Fifth District Supervisor Steve Madrone spoke urgently about an inundation of tourists in his district. "We're being overrun in Trinidad, literally," he said, "by hundreds and hundreds if not thousands" of people he described as "arrogant" and defiant, refusing to wear face coverings even when asked.
"So we're gonna see a major outbreak out of Trinidad — that's my prediction," Madrone said. He asked the sheriff's office to get involved. "Frankly, we need help in Trinidad right now. It is out of control, literally. … Please, give us some daily patrols that are highly visible."
Honsal said much of the responsibility lies with the City of Trinidad. While that municipality does contract with the sheriff's office for 40 hours of deputy patrols per week, the city also relies on tourism and should probably erect signage instructing visitors to wear masks, he said.
During the public comment period, several people expressed frustration, skepticism and outright defiance toward public health measures.
A caller who gave the name Cory insisted that there haven't been any studies showing that masks are effective in virus prevention. (Here's a meta-analysis of studies that do just that.) And he suggested that that government overreach is part of the fourth industrial revolution and the "great reset."
"If we can't see that we're being pulled into this, I really question what's going on here," Cory said. He called the public health safety measures for protecting against COVID-19 "anti-human" and said they border on child abuse.
Another caller, Dena McCullough, agreed that kids should be allowed to play sports and that preventing such play "borderlines on abuse."
SoHum resident Thomas Mulder agreed. "I want the health officer to think [about] what she's doing to the mental health of children," he said. "Think about the mental health of the future generations, what you've done to them."
However, Caroline Conner, a local physician with a master's degree in public health, commended Dr. Frankovich and the rest of the county's public health team, saying they're responsible for preventing massive infections in Humboldt County.
When the matter came back to the board, Fennell said she supports the resumption of youth sports if it can be done safely, but the state has yet to issue guidance on the matter. She also reflected on the matter of children's physical and mental health.
"There have been other challenges in other generations where children live happy lives in very, very difficult situations," Fennell said. "It's not helpful to children to be telling them there's a big boogeyman out there." She called on everyone in the community to "step up," be creative and make kids feel safe. "We are facing something that's hopefully once in generation, but we don't know," she said.
Use of force
In other business, a number of people called in to the meeting to demand that the Humboldt County Sheriff's Office (HCSO) change its policies and procedures in light of the recent protests over systemic racism and police brutality.
Caroline Griffith of Eureka pointed out that the HCSO's policy manual, including its use-of-force policy, is written by Lexipol, a private company whose goal, she said, "is to shield law enforcement from liability when it should be protecting public safety." She said the county's priority should be to "demilitarize" local law enforcement, and she mentioned the sheriff's office's use of helicopters, a Bearcat and a vast inventory of weaponry and crowd control devices.
Half a dozen other members of the public voiced their objections to the HCSO's use of Lexipol software and policies. Several said the company's policies are incompatible with Assembly Bill 392, a police use-of-force bill, signed into law last year by Gov. Gavin Newsom, that redefined the circumstances under which the use of lethal force by a peace officer is considered justifiable.
Mario Fernandez, vice-chair of the Humboldt County Democratic Central Committee, noted that the ACLU has said Lexipol policies violate both California law and the Fourth Amendment by allowing officers to discriminate against immigrants.
Honsal defended his office's use of Lexipol, describing it as a framework that provides policies and uses up-to-date case law. It gives his department "a way we can have uniformity based upon the laws but also the ability of us to shape it for how we run things … [and] interpret things," he said.
One more thing
Later in the meeting, the county approved the purchase of 197 acres of forestland from Green Diamond Resource Co. The land will expand the existing McKay Community Forest, which hugs Eureka's eastern flank and extends south past the Ridgewood Heights community. Read all about the acquisition and future plans here.