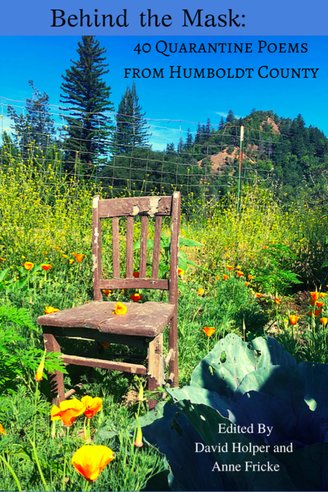 The last few months have been rough. But witnessing how people creatively deal with their quarantine blues — donating time and resources to those need, holding virtual events or even writing positive messages in the sky — can often be inspiring.

When Eureka's Poet Laureate David Holper and local writer Anne Fricke realized many people were pouring their emotions into pandemic poetry, they decided to put a collection together with the short book Behind the Mask: 40 Quarantine Poems from Humboldt County.

"Life shouldn't stop because the pandemic came along," Holper told the Outpost in a phone interview Wednesday. " I think it's cool that people are adapting. We knew poets were still writing and we wanted to share it with the community."

Looking to provide a space for local poets to share their words amid COVID-19, Holper started the Facebook group "Poetry on the Edge." Three months later, when the group had over 100 members and many great poems had been posted, Hopler said that he thought it would be great to compile some of the works into a collection. He talked to Fricke and they came up with the idea for the book and called out for submissions.

The book is now complete and available for free for anyone to download and enjoy. Holper also submitted the book to the HSU Library's COVID-19 Community Archive Project, which aims to create a sort of time capsule of what life in Humboldt looks like during the pandemic.

Holper said he thinks this book is perfect for the project, because he feels that it captures the range of emotions that many people are feeling during this time.

"I think this is a weird and troubling time in our nation's history," Holper said. "It's frightening — the virus, the economics — some people are depressed by it. I think you'll see that in some of the poems. But some are also whimsical. We tried to include a range."

So if you're looking for some new content, go ahead and take a little break from Netflix and treat your brain to some poetry. Behind the Mask is available at this link.
And if you are a poet looking for an outlet, you can join the Poetry on the Edge Facebook group. Or you can read your poetry during the monthly slam on the first Thursday of every month. Previously held at Siren's Song Tavern, the show is now taking place on Zoom. You can find the information to join on the Humboldt Poetry Slam Facebook page.