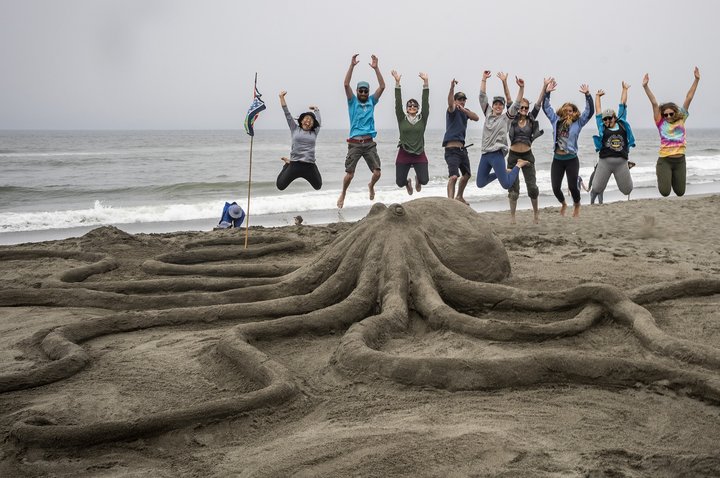 ###
Press release from Friends of the Dunes:
Friends of the Dunes is excited to announce that a physically-distanced version of the 25th Annual Sand Sculpture Festival will be taking place during the entire month of July! During the Dispersed Sand Sculpture Festival, household groups are invited to create sandy masterpieces on local beaches, post creations on social media, vote for their favorite sand sculptures, and be entered to win exciting prizes.

Humboldt beaches are open and have an ample supply of sand and plenty of space to make all of your sand-sculpting dreams come true! Rather than taking place at a designated beach on a designated day, the Sand Sculpture Festival will take place throughout the entire month of July at any beach the sculptors choose to sculpt. For the health and safety of participants and interested spectators, Friends of the Dunes is asking sand sculpting teams to practice physical distancing, which means teams should only consist of households or people that are sheltering together. Before households start sculpting, it is important to check the tides and always keep an eye out for dangerous sneaker waves.

To be entered into the competition, teams should email images of their sculptures to info@friendsofthedunes.org along with the location of the sculpture, the date it was created, the team name, the name of the sculpture, and if applicable, the name of the business partner that your team is representing. Make sure that the images are in color, are not blurry, or taken from too far away. Teams will be entered for a chance to win the following prizes:

People's Choice: $100 cash prize for the sculpture with the most votes from you!

Golden Shovel: Only available to teams representing a business partner.

Teams can also win bragging rights and a free Friends of the Dunes membership when competing for the titles of:

Best of Show

Most Dedicated Diggers

Most Photogenic

Most Imaginative

Staff Pick

Don't forget to post your sculptures on social media! Although it is optional, households that post their sculptures and the location of their sculptures on social media with the hashtags #SandSculptureFestival2020 and #FriendsoftheDunes, as well as tagging @humboldtbaysocialclub and @friendsofthedunes, will receive $5 off of a food purchase from our generous partners at the Humboldt Bay Social Club. After a long day of sculpting, you can reward your team with fresh oysters and a cold drink around the fire pit. Posting hashtags and locations is encouraged so that interested beachgoers can admire the sculptures in person before the tides wash them away. Those seeking out sculptures can search for the hashtags online, and are encouraged to maintain safe physical distancing.

Friends of the Dunes will post emailed images of the sculptures on their website as soon as possible, which means that spectators can start voting for the People's Choice award right away! Proceeds raised from vote purchases will support free dune education and stewardship programs.

Playing in the sand at our local beaches is a great way to kick off the summer season, so grab your buckets, pack a picnic, and start sculpting! For full details on how to participate in the Dispersed Sand Sculpture Festival and how to vote for your favorite sculptures, please visit our website.