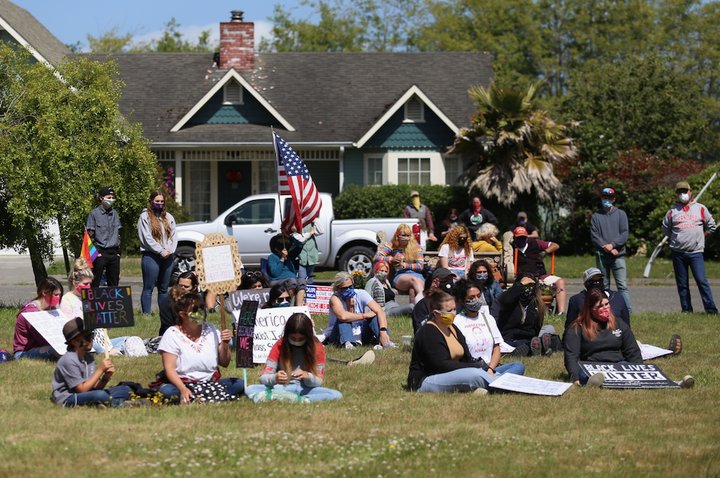 You can now add Ferndale to the list of Humboldt communities that are seriously wrestling with long-unchecked racism in ways that might have seemed impossible mere weeks ago. Yes, on Sunday the Cream City hosted a "Black Lives Matter"-affirming event.
In recent years, Ferndale has been the site of several high-profile racist incidents, which have been followed by contrite statements from local officials. (See here, here and here.) Even in the lead up to Sunday's entirely peaceful event, tension caused by misconceptions over the event's purpose spilled out onto various local Facebook groups.
Ultimately all the hand-wringing proved unnecessary. Sunday's event, held next to Ferndale City Hall and attended by roughly 100 community members, was a subdued, socially distanced affair, an opportunity for locals to share their experiences and for others to listen.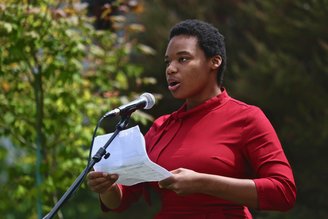 Event organizer and 2011 Ferndale High School graduate Adrianne Tait Wohlfeil kicked off proceedings by thanking those in attendance for showing up and expressing her love for the city — she self-identified as a "proud Wildcat." But after listing some of Ferndale's past racial problems she shared some of her own experiences growing up there.
"My first day at Ferndale High School a classmate told me I was brave for being here," she said. "I was completely clueless. Throughout my two years of school, I was called an ugly freak. They would make fun of my hair. Whenever into stores in town they would call me a man and 'sir.' To this day society considers black women too masculine and unattractive. I couldn't ignore all of the negative things they would say about me and I'd come home and rub bleach on my skin."
Despite her negative experiences, Wohlfeil told the crowd that "we can mutually agree that these incidents do not speak for, or represent all the wonderful people of Ferndale" and voiced hope that hearts and minds are now changing at a more rapid pace subsequent to the horrific killing of George Floyd.
"Let us now celebrate the success of the movement," she said. "Let's praise the voices who are no longer beaten into silence, of you standing up for justice, for always choosing what's right, and being good human beings, we need more of them in the world. You all made a difference."
Watch more of Wohlfeil's speech and excerpts from other speakers in the clip below.