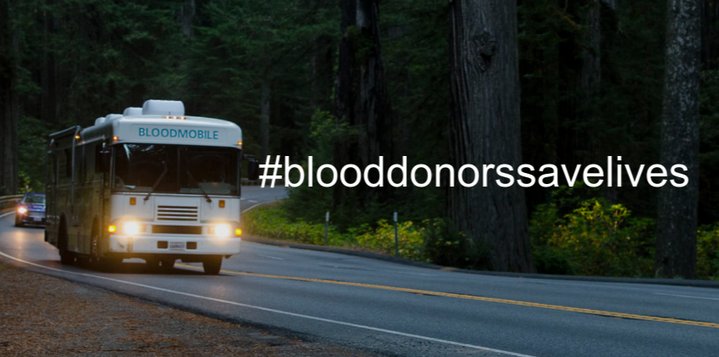 ###
One of the most critical components of the health care system is also one of the most threatened by the social-distancing measures being used to slow the spread of the COVID-19 virus. Having a healthy and well-stocked community blood bank means that volunteers need to keep showing up to give blood – even at a time when people are being urged to stay at home, except when engaging in "essential" activities.
All around the country, people are starting to worry about declining blood reserves during the pandemic. But donating blood is an essential activity, and it's recognized as such in the county's shelter-in-place order. The Northern California Community Blood Bank is open for business at its headquarters (2524 Harrison, Eureka) with some new protocols in place, and you can drop by there and give a pint of red to them six days a week.
Kate Witthaus, the blood bank's CEO, told the Outpost this afternoon that supplies aren't terribly low yet, but that since there's a great deal of uncertainty about what the next few weeks or months might look like, it would be great if people could give now.
Blood banks have always taken hygiene and patients safety seriously – especially since the AIDS crisis – and Witthaus says they've incorporated social distancing best practices into the workflow at the NCCBB. Only four donors are allowed in the building at a time. If you show up and all four slots are full, they'll ask you to wait in your car for a bit. You can also call in advance – 443-8004 – if you'd like to check on the size of the queue.
The Northern California Community Blood Bank is open Monday through Saturday. (See the website for precise hours). Their Bloodmobile will also be out on the road, doing its regular collections around the county. Again: Check the blood bank's website for a schedule.
Giving blood takes about an hour. It helps your community immensely in an uncertain time, and it's at least as safe as shopping for groceries. Give blood if you can.
The Northern California Community Blood Bank is here: