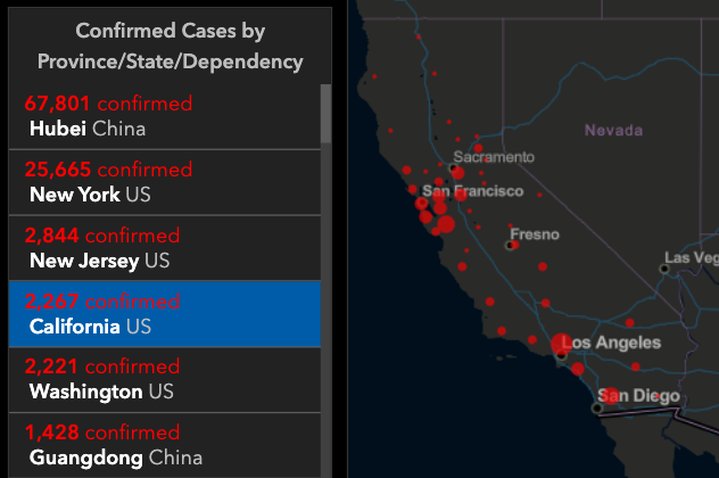 # # #
This past Saturday, March 21, a bus chartered by Humboldt State University picked up 31 students in Los Angeles and San Francisco and brought them back to campus in Arcata.
Both of those metropolitan areas have seen alarming outbreaks of COVID-19 in recent weeks, with more than 500 confirmed cases and eight deaths in Los Angeles County and more than 900 cases and 16 deaths in the Bay Area.
Health officials in both regions — and indeed across the country — say the actual number of cases is almost certainly much higher; the limited number of tests available in the United States has prevented more comprehensive detection. (That's a problem in Humboldt County, too.)
These bus trips were part of the university's Homeward Bound program, which offers students discounted round-trip tickets each year during breaks in the spring, fall and winter.
According to HSU Communications Specialist Grant Scott-Goforth, two buses carrying 89 students left for San Francisco and Los Angeles back on March 14, two days after administrators suspended face-to-face instruction and three days before President Tom Jackson closed the campus to the public and encouraged students living in the dorms to return to their off-campus homes. [Disclosure: Scott-Goforth is a former coworker and personal friend of mine.]
While many of those students chose to remain in either San Francisco or L.A., more than a third of them returned on Saturday's bus ride back to Humboldt.
While they were gone, the state of the coronavirus outbreak in California changed dramatically. Shelter-in-place orders were implemented in a number of individual counties, including Humboldt, before Gov. Gavin Newsom announced a statewide order on Thursday.
With new local cases of COVID-19 being confirmed amid the exponential spread around the globe, the public is on edge. At least one HSU employee was scared when he heard that students were being brought back to campus from COVID-19 hotspots.
"Are they trying to infect us up here? I mean really?" the employee said in a message to the Outpost. "Our tiny health system can't handle this if one student were to come back and infect the local area." [This person asked to remain anonymous to avoid repercussions at work.]
In an email to the Outpost, Scott-Goforth said government and community responses to the COVID-19 outbreak have evolved quickly, and these students were offered rides before state and local health agencies implemented stricter guidelines.
"So we had a responsibility to offer them return trips — though we encouraged them, as we have all students, to stay out of the area/off campus if possible," Scott-Goforth said. "For many students, Humboldt County is their home. We cannot simply evict them from the county or the campus."
On Monday, the university posted a list of health and travel-related guidelines based on information from the Centers for Disease Control and Prevention (CDC). The guidelines say, in part, that any student returning from an area with community-level spread of COVID-19 should stay off-campus for 14 days and self-isolate at home.
Students returning to the dorms are encouraged to contact the university's housing office before they get back to campus so staff can provide separate housing for their roommates.
But the guidelines are just advisory; the university isn't enforcing them, according to Scott-Goforth: "UPD [the University Police Department] could potentially enforce social distancing guidelines in public spaces per the county order. But most of our students are adults who we are expecting to follow state and local guidelines."
He added that the university is prepared to accommodate students who request separate housing. Due to privacy issues, he said, the university can't say whether any of the students on the bus returned to the dorms, or whether any have requested separate housing.
The university is still encouraging students to return home and stay there, if possible. Three more buses left for San Francisco or L.A. this morning, and this time the tickets were one-way, Scott-Goforth said. Twenty-eight students were aboard.