UPDATE, 3/10: Sadly, Everett passed away at 5:30 p.m. Monday, according to an update to his GoFundMe campaign page. From GoFundMe:
"Everett's family would like to thank family, friends, and the community, for the overwhelming outpouring of support, well-wishes, and prayer during this incredibly difficult time. It means so much to Everett's entire family that so many people cared about him and rallied for him, continuing to pray for a miracle."
Parents of Arcata High School students received a robocall this morning alerting them that counseling would be available all week on campus.
# # #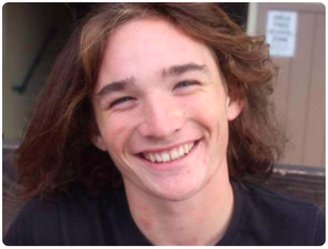 Last week, Arcata High junior Everett Halikas was rushed to Benioff Children's Hospital at UCSF with severe inflammation in his brain. Over the weekend, Humboldt County public health officials were informed that Halikas had been diagnosed with bacterial meningitis, a rare and very serious infection that affects the membranes surrounding the brain and spinal cord.

Doctors determined that Halikas's meningitis was caused by a bacterium called Neisseria meningitidis, also known as meningococcus. But it may be impossible to pinpoint exactly why this bacterium caused a severe infection in Halikas.

"For most cases of this that I've dealt with, there hasn't been any known source of the infection," Humboldt County Public Health Officer Dr. Teresa Frankovich told the Outpost in a phone interview today. About 10 percent of adults carry Neisseria meningitidis in their respiratory system, and while the bacteria can lead to upper respiratory infections, it's rare for them to enter the bloodstream and cause bacterial meningitis.
"They're not usually invasive, but they can become more aggressive," Frankovich said. The resulting infection affects mainly teenagers and young adults, according to the Mayo Clinic.
In a press release issued Monday morning, the county's Public Health division explained that the chances of another student contracting the infection are "extremely low." The bacteria are spread through saliva and other respiratory secretions. Out of "an abundance of caution," Public Health is recommending that close contacts consider taking preventive antibiotics, which can be as simple swallowing a single pill, Frankovich said.
The county defines close contacts in this case as "those living in the same household or those who had shared oral secretions, as by kissing or sharing foods, drinks, water bottles, cigarettes or other smoking materials, lipstick, etc."
"The thing people need to understand is it really is only those who've been in close contact who are even perceived to be at a slightly higher risk [than the general public]," Frankovich said. Those who've had casual contact with Halikas are not being advised to take preventive measures.
In the days since Halikas was rushed to UCSF, there has been an outpouring of concern and support on social media, including a crowdfunding campaign that, as of this writing, has raised more than $36,000 to help with his family's expenses. But there has also been speculation, rumors and misinformation.
This can be attributed in part to the ongoing fears about novel coronavirus, or COVID-19, though Frankovich confirmed to the Outpost that there's no reason to even suspect a connection in this case. She said she could not comment on Halikas's current condition or prognosis.
On Thursday of last week, Frankovich sent a letter to parents of Arcata High students that said, in part, "I want to assure parents that Public Health has investigated and there is no suspected or confirmed case of Neisseria meningitis in a student attending this school."
She said today that county Public Health officials were in contact with the treating physician in San Francisco, who did not suspect Neisseria meningitidis, but more extensive testing suggested that he Halikas might be suffering such an infection after all. "The recent testing has supported this being Neisseria meningitidis," Frankovich said.
She emphasized that the public should not consider itself at risk. Generally, preventive antibiotics are given within seven days of exposure, but the county is using a broader state guideline of 14 days in order to be extra cautious.
"Our thoughts are with his family," Frankovich said. "This has been an extremely difficult time for them." She noted that people may feel compelled to reach out via social media for a variety of reasons but some space may be more appropriate for the time being. "The family is really requesting privacy," she said.
In a statement obtained by North Coast News and published by various people on social media, Halikas's father, Daniel Collom said this:
My life is forever changed.

Everett has suffered from severe inflammation in his brain. This inflammation was most likely caused by an infection of the brain and its surrounding fluid. This condition is called meningitis.

Everett's infection is not contagious, and others around him are not at risk. Unfortunately the inflammation in Everett's brain led to increased pressure, causing the brain to be pushed downward against the base of his skull. This led to a severe stroke involving the base of his brain, brainstem, and upper spinal cord.

The injury to Everett's brain and spinal cord is unfortunately irreversible. As a result, he is no longer able to move his arms or legs, talk, eat, or breathe on his own. He is currently being treated with medicines to maintain his comfort and to prevent pain or anxiety.

Please donate if you can, anything helps in this time of need.
# # #
PREVIOUSLY: Arcata High Student Hospitalized in San Francisco With Rare Bacterial Meningitis