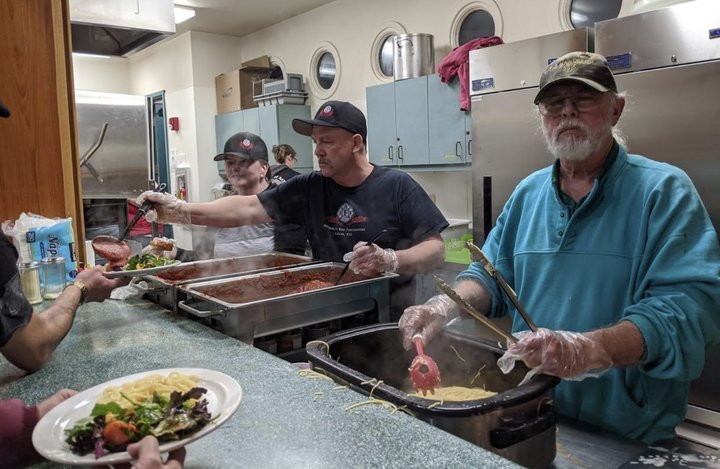 Humboldt Bay Fire press release:
Thank you so much to everyone who contributed to the Fallen Firefighter Memorial Spaghetti Dinner & Auction Fundraiser this past Friday, March 6th.

Due to the overwhelming support and generosity of our community, volunteers, and sponsors, we raised $11,000 towards the cost of the memorial! This places us just over the halfway mark to our goal of $40,000.

We are humbled by the backing of our community and beyond, and we are so excited to continue this momentum to raise the remaining $17,000 needed to bridge the gap and break ground.

Today, Monday, March 9, 2020 we were honored to host the United States Honor Flag, the single American flag that travels the country to honor the heroes killed in the line of duty in law enforcement, fire, and the military.

The Humboldt Bay Fire Honor Guard performed a Memorial Tap of the flag to officially dedicate the future site of the Memorial in Clarke Plaza. Thank you to the Honor Network for your support of our Fallen.

We still need donations to make this memorial a reality: Cash or Check (made out to Humboldt Bay Professional Firefighters Local 652) donations are accepted at Humboldt Bay Fire Station 1 at 533 C Street, Eureka.

HBF would like to thank the community for their continued support in honoring our fallen brothers.
PREVIOUSLY: