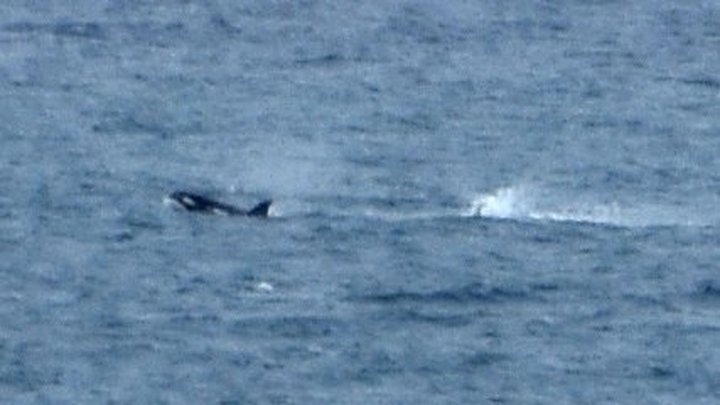 A pod of hungry orcas was spotted far off the coast of Patrick's Point yesterday morning.
Local fish biologist Mike Kelly shared these photos of the orcas with the Outpost, which he says were taken by his wife, College of the Redwoods biology teacher Julie Kelly, while she was out whale watching.
"Julie braved the rain and saw these killer whales apparently feeding a ways off Patrick's Point today," Mike Kelly Tweeted yesterday. "They were splashing around like this for at least an hour. There was definitely food on the neighborhood rock. And I regret sleeping in."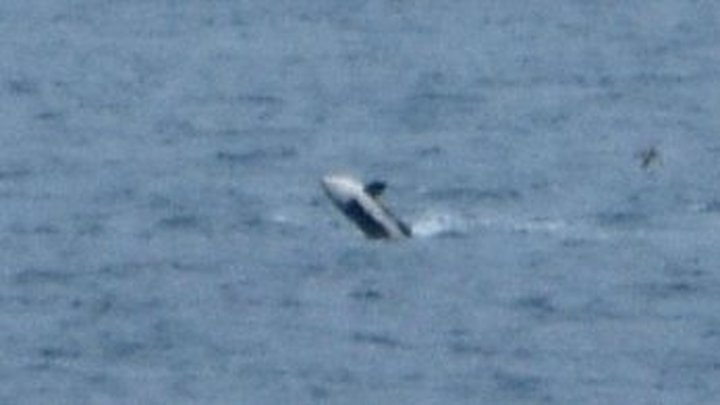 Mike Kelly said that at least four orcas were visible in the area, and after speaking to an orca expert, he suspects that they were feeding on mammals near the rocks.
"I had speculated that they might have been fish-eating orcas, but [I received this message from a killer whale researcher saying that they likely were transient mammal eaters]," Kelly said before quoting the orca expert. "'Most likely transients—they get really rambunctious and surface active while feeding, and are especially bouncy during post-feeding socialization. Fish-eating residents aren't surface active while feeding, they mostly make sharp and sudden turns when chasing fish.'"
Keep an eye out for more orca sightings, beachgoers. And be sure to share your neat photos with the Outpost.