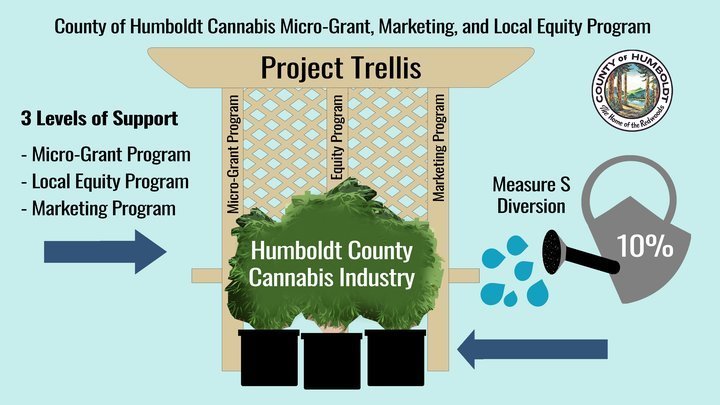 # # #
After an awkward volley of mild recriminations, the Humboldt County Board of Supervisors today handed out the first round of grants through Project Trellis, the county's three-pronged economic stimulus program for the fledgling legal cannabis industry. Fourteen companies received a total of $179,658 with awards ranging from just under $10,000 to $50,000.
Project Trellis is funded through a 10 percent diversion of revenues from Measure S, the county's cannabis cultivation tax, and this initial round of grant funding used up all but $567 of the grant money allocated for the year. (That little remainder will be rolled over to next fiscal year.)
Funding recommendations were developed by an advisory committee comprised of seven volunteers — five appointed by individual county supervisors and two at-large members — who were tasked with reviewing, scoring and ranking each of the 71 applications.
The grants were set to be awarded via the board's consent calendar, but Fifth District Supervisor Steve Madrone pulled the item for discussion. He had some questions about the advisory committee's review process, which, at one point in today's meeting, Deputy County Counsel Jefferson Billingsley described as "complicated and very difficult."
Madrone asked for clarity about the advisory committee's voting process — specifically, how many members were necessary to achieve a quorum (the minimum number needed to make binding decisions). He was confused by some of the published minutes from the committee's meetings, which seemed to say that there was no quorum even when five members were present.
Apparently, the confusion dates back farther than just this morning's discussion. When Fourth District Supervisor Virginia Bass got a chance to weigh in, she said she was "disappointed that one of our supervisors would browbeat the person who took the notes for accurately documenting what was said."
Eventually it became clear that she was referring to Madrone, accusing him of unfairly chastising the person who took the minutes for advisory committee meetings.
The more fundamental point of contention was whether Madrone had inappropriately influenced the committee's review process. There's a passage in the minutes from the committee's Feb. 25 meeting that reads:
Sarah Balster [Madrone's appointee to the committee] noted that Supervisor Steve Madrone had directed her to prioritize and advocate to fund grant applications from already formed road associations.
The minutes then note an objection from another committee member:
Thomas Mulder requested to record his concern that a supervisor had directed a committee member to prioritize certain projects/applications over others, potentially overriding the established and agreed upon committee evaluation, scoring and ranking process.
During today's meeting, Madrone denied trying to unduly influence the process. "In my 17 months on this board I have never once directed one of my appointees [how] to vote on any issue," he said. He suggested that Balster had merely misspoken. "My appointee was confused," he said. "She was simply asking for my advice about how I felt about road association funding. She was free to go and make her own decision."
Madrone added that he didn't appreciate being falsely accused.
Bass conceded that Madrone "probably didn't" tell his appointee how to vote but reiterated that his comments "seemed a little disrespectful of the person who actually took the minutes. I found it unfortunate," she said.
Confusion proved to be a theme on this particular agenda item. Madrone evidently wanted the minutes struck from the record before approving the grant awards, and when it came time to vote, both Bass and First District Supervisor Rex Bohn voted "no."
"Not with the minutes being struck," Bohn said, and Bass immediately followed suit. The measure still passed by a vote of 3-2, and as soon as it did, both Bass and Bohn sought to clarify that they approved of the grant awards themselves, just not Madrone's effort to modify the record.
At any rate, here's a list of today's grant awards:
Ogrannabliss Farms: $10,000
Five Sisters Farm: $50,000
Pure Nature LLC (DBA Moontime Medicinals): $10,000
Sunrise Mountain Farms, LLC: $10,000
Mr. Beans Veganix: $10,000
SoHum Royal Cannabis: $10,000
Hogwash Pharms $10,000
Pacific Roots Cannabis, LLC: $10,000
CJ Redwood, LLC: $10,000
Bridges Academy Farms/Doja Gold: $10,000
Humboldt Synchronicitrees, LLC: $10,000
Woody Ridge Farms, LLC: $9,658
Green Leaf Nurseries, LLC: $10,000
Cache Farms, Inc.: $10,000
TOTAL: $179,658