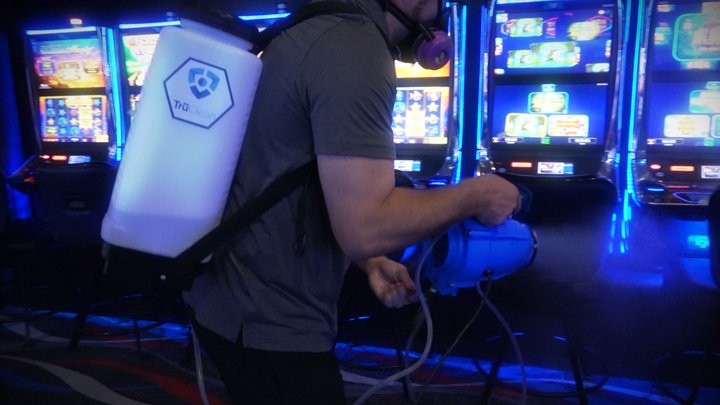 # # #
Bear River Casino Resort plans to reopen on Sunday despite repeated warnings from the county health officer, who has said that casinos — where people gather in confined, common areas for long periods of time — are pretty much the perfect environment for transmission of COVID-19.
Today, in an apparent effort to allay public fears, Bear River issued a press release boasting that all of the "touch points" in the casino have been coated with something called TruClean.
What is TruClean?
Well, according to the press release, it's "an antimicrobial surface protectant that stops the growth of microorganisms for up to a year with a single application." The press release also says TruClean "kills 99.99% of bacteria and viruses and controls the growth of bacteria, mold and mildew on all surfaces for up to a year."
How?
Well, let's turn to the press release again. It claims that this remarkable concoction "contains a unique molecule that is like a microscopic sword." Microorganisms that dare come into contact with a surface that's been sprayed with TruClean will be "pierced and eliminated." Science!
Does this stuff really work? Well, first of all, it should be noted even the most powerful, long-lasting disinfectant ever invented — be it TruClean, rubbing alcohol or formaldehyde — won't protect you from COVID-19. The Centers for Disease Control and Prevention (CDC) explains that the primary risk is being around other people, not touching surfaces.
"It may be possible that a person can get COVID-19 by touching a surface or object that has the virus on it and then touching their own mouth, nose, or possibly their eyes," the CDC website explains. "This is not thought to be the main way the virus spreads, but we are still learning more about this virus."
What is clear, according to the CDC, is this: "The virus spreads easily between people." The tiny droplets we all emit while breathing and talking — and especially when coughing or sneezing — can contain virus particles. For anyone who's been exposed to COVID-19, it can take two to 14 days for symptoms to show up. Plus, the CDC estimates that more than a third of COVID-19 patients show no symptoms at all.
And it only takes one person to start a large outbreak. For example, a single infected employee showed up to work at a call center, and over a period of a week, 94 of their coworkers became infected with COVID-19. The vast majority were sitting more than six feet away from the infected employee.
"It serves to highlight that being in an enclosed space [and] sharing the same air for a prolonged period increases your chances of exposure and infection," Dr. Erin Bromage, an associate professor of biology at the University of Massachusetts Dartmouth, explained in a recent blog post.
But let's circle back to TruClean.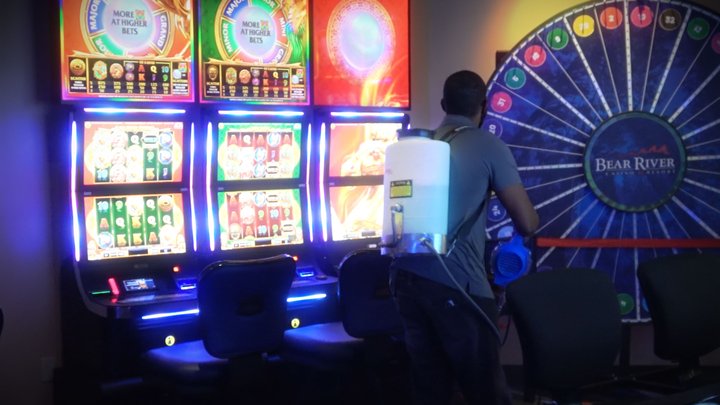 # # #
The product is riding a wave of popularity during this pandemic, particularly among tribal casinos in California. "Sycuan Casino Resort in El Cajon and Cahuilla Casino Resort near San Jacinto have both chosen to go with TruClean," reads a report in Native Business magazine. The Viejas Casino & Resort near Alpine reopened this past Monday, and before doing so boasted of "TruClean's 'sword-like' surface layer."
The product was created by San Diego brothers Ramont Smith and Ray Smith Jr., who have appeared on some local TV news reports boasting of their product's efficacy.
Press releases and recent news coverage for the product invariably suggests that TruClean is an important and effective safety measure during this time of COVID. Sycuan Casino, for example, declared, "TruClean's surface-bonding 'sword-like' coating is registered internationally as long-term disinfectant that destroys bacteria and viruses on contact."
However, the Outpost has learned that the company cannot legally make any claims about TruClean's ability to protect public health.
Toward the bottom of Bear River's press release it notes, "While approved as a long-lasting disinfectant in multiple international markets, TruClean is a Treated Article under U.S. FIFRA regulations."
Here's what that means: According to the Environmental Protection Agency, the term "treated articles" typically refers to items that have been treated with an antimicrobial pesticide to protect the item itself — not the people who touch it. For example, a rocking chair might be sprayed with a pesticide to protect the wood. But the EPA says that such products need to have labels clarifying the facts. The agency offers this example:
This product does not protect users against bacteria, viruses or other disease organisms. Always clean and wash this product thoroughly before and after each use.
Any product intended to prevent or destroy pests must be registered with the EPA. And while there is an exemption for "treated articles," the catch is that companies selling those treated articles "must not make public health claims," the EPA states.

The agency says its policy "is predicated on the fact that no scientific evidence exists that these products prevent the spread of germs and harmful microorganisms in humans."
After receiving Bear River's press release, the Outpost reached out to the casino, whose marketing director, Kayla Corder, gave us a number for TruClean. I called, and after being put on hold briefly, CEO Ramont Smith himself answered.
He acknowledged that the company is not allowed to make any public health claims about TruClean. When I mentioned the numerous press releases and news reports making exactly those kinds of claims, Smith said, "Where we're at is an issue of semantics."
He said TruClean is "registered in international markets" and can make claims in other countries about the product's ability to protect against molds, microorganisms and even coronavirus. "But based on semantics and U.S. EPA FIFRA regulations, we can't make those claims domestically."
Asked about the public health claims in Bear River's press release, Smith said he hasn't seen it. "We're out here doing everything we can to make sure we don't make any public health claims," he said.
I read aloud a section of the press release that appears under the header "About TruClean" and reads like ad copy. There's the bit about the "microscopic sword" that pierces and eliminates microbes and a sentence claiming TruClean "functions as a semi-permanent disinfectant that lasts for up to one year without washing off a surface."
"That must have been some literature from us," Smith said. "We're not actually a disinfectant … ." He reiterated that his product is an antimicrobial surface protectant and said the company's messaging "may have been lost in translation."
The Smith brothers' company, Integral Hygienic Solutions, Inc., is incorporated in Wyoming. It was registered with the California Secretary of State just last month. Smith told the Outpost they're doing business as TruClean.
Asked whether it concerns him that casinos are implying that his product will help protect the public against COVID-19, Smith said, "I mean, coming out of the horse's mouth, we know that our product is effective to neutralize microbes on contact. Owners and tribal casinos are trying to use our services so they can build trust and credibility with their clients and let them know that they're taking a proactive approach, implementing an aggressive health and sanitation program. That's something we're all for."
Is he concerned that the public may get a false sense of security from the health claims being made about his product? Smith said," We've done everything we can" by spraying TruClean to surfaces of the casino. But he also acknowledged that going to casinos is risky.
"Gathering in large groups of people will still subject people to risk, even if the coating has been applied," he said.
In her email to the Outpost, Corder, the casino's marketing director, said TruClean is "intended as an enhancement to our already rigorous cleaning and sanitation protocols, not as a stand-alone solution."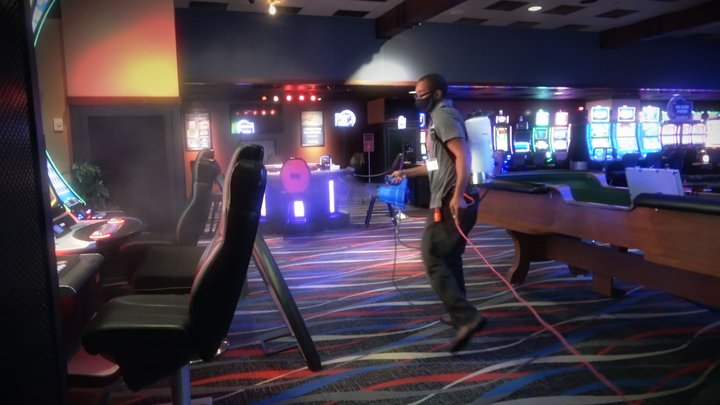 # # #
DOCUMENT: Bear River Casino Resort's TruClean press release
# # #
PREVIOUSLY: Against Public Health Advice, Bear River Casino Plans to Reopen a Week From Sunday