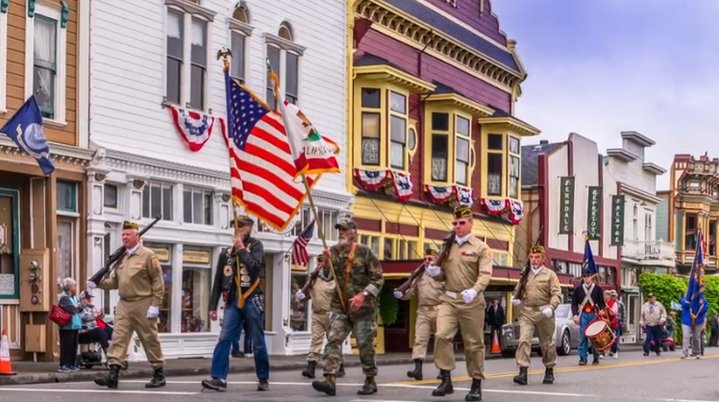 In today's COVID-19-dominated world, people are continuously finding ways to organize public celebrations and uphold community traditions while maintaining social distancing standards. Following this inspiring trend, a group of local veterans and community members have put together a virtual Memorial Day Service and are ensuring that some form of the long-running Ferndale Memorial Day Parade will go on.

Dennis DelBiaggio of Ferndale, who helped organize this year's virtual service and social-distancing-friendly parade, feels that having a way for people to collectively observe this day of remembrance is important to the community and he was saddened at the idea of not being able attend Ferndale's 130-year-long tradition.
"I've been going to [the parade] for my whole life," DelBiaggio told the Outpost Friday. "It's a really good thing and a huge gathering. We can't let every tradition die through this period of time."

So DelBiaggio reached out to the Ferndale Veterans of Foreign Wars (VFW), the Native Sons of the Golden West (NSGW) and other community members interested in helping organize an alternative event.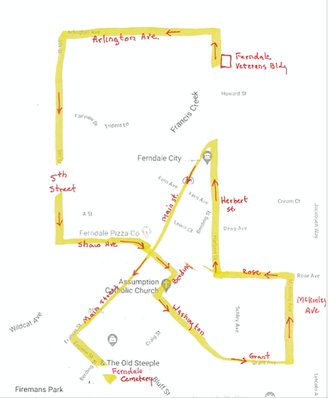 On Monday local veterans will perform the traditional procession of honor, carrying the flag through town from the Ferndale Veterans Hall to the Ferndale Cemetery. Normally, the parade goes down Main Street. But there will be an alternative route this year, which will allow people to view the procession from outside their home or from parked cars along the route.

Like in past years, the procession will end with a service at the cemetery. But this year it will be a private military service and will not be open to the public. The Tomb of the Unknown Soldier will remain open all day and community members can lay flowers on the grave after the military service has ended.

The organizers also put together a Virtual Memorial Day Service video (which you can view below) of speeches from local veterans, community members and even a speech by First District Supervisor Rex Bohn, saying what Memorial Day means to them.
"This is a different celebration but it is a symbol of a community who honors those who have made the ultimate sacrifice so that we can all live in freedom," Bohn says in the video. "Your presence here today, albeit virtual, is a tribute to those lost troops and to their families. It is a way to say 'we remember.'"
The procession will be held on Memorial Day — Monday, May 25 — beginning at the Ferndale Veterans Memorial Hall at 10:15 a.m. The private service at the Ferndale Cemetery will follow at 11 a.m.
Organizers remind those planning to view the procession to follow social distancing requirements.