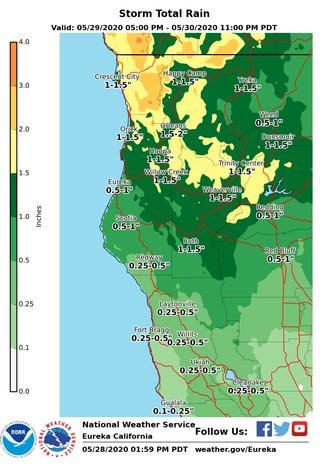 If you have camping or other outdoor plans this weekend, you may want to think twice before heading out. Potentially heavy rains and a drop in inland temperatures are expected for Humboldt late Friday night and Saturday, the National Weather Services (NWS) says.

Because of the recent stretch of dry weather, especially inland, the rainfall brings with it the possibility of rapid flooding and water from creeks and streams may flow onto the roadways.
"Take special care if you have outdoor plans late tonight or this weekend," the NWS posted on its Facebook Page. "Avoid camping near creeks or steep canyons, as water levels may rise quickly in heavy rain!"
If the predicted wet weather isn't enough to keep you home, then be sure to use extra caution while driving. The NWS says that early Saturday morning through early afternoon have the greatest potential for torrential downpours.