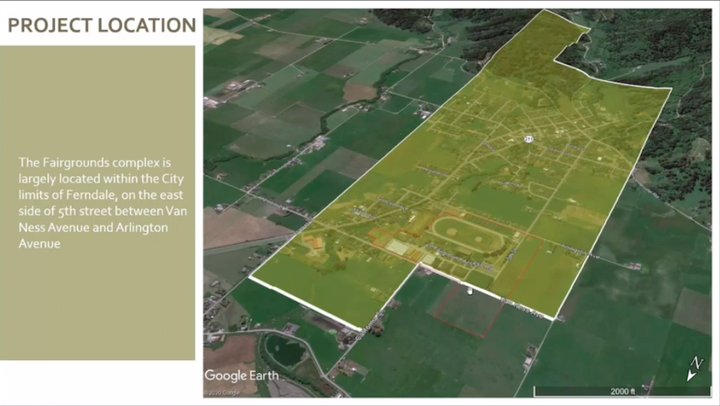 ###
Start your engines and fire up the band: Live concerts and motorcycle races are coming back to the Humboldt County Fairgrounds — that is, once COVID restrictions are eased.
At its Tuesday meeting, the Humboldt County Board of Supervisors gave a green light to the Humboldt County Fair Association, granting the financially struggling nonprofit a conditional use permit to host up to five concerts and two motorcycle-racing events per year at the county-owned fairgrounds in Ferndale.
And at the suggestion of Third District Supervisor Mike Wilson, the board tossed in an incentive for electric motorcycles, adding a provision that will allow event organizers to host a second day of racing per event as long as the bikes used on that day are all electric.
The decision marked a defeat for group called Friends of Ferndale for a Livable Community (FFLC), which was appealing a Sept. 17 ruling from the county Planning Commission granting the permit. FFLC had retained legal representation from L.A.-based firm RWG Law.
Following that Planning Commission decision, which came via a rare unanimous 7-0 vote, an RWG attorney sent a letter to county officials reiterating concerns about noise, traffic, aesthetics, air quality and more. In appealing the Planning Commission ruling, FFLC argued that a full environmental impact report should have been required per the California Environmental Quality Act.
Senior Planner and local history enthusiast Steve Lazar delivered the staff report, which highlighted the 100-plus-year history of often raucous events at the fairgrounds, including auto races, circuses, fireworks and live music from the likes of Willie Nelson, Loverboy and Tim McGraw. Fairs were held onsite as far back as 1870. Such events must be factored into the "baseline" conditions when analyzing environmental impacts, including noise, Lazar said.
He also noted that the two sides in this dispute — the fair association and FFLC — had communicated with one another in an effort to resolve their differences, and while the fair association made some compromises, cutting the proposed number of annual events in half and withdrawing proposals for monster trucks and tractor pulls, the appellants couldn't reach a consensus before today's meeting.
Per the conditions of the permit, concerts must take place between noon and 10 p.m., and noise levels will be monitored, recorded and reported back to the county if they exceed established limits. Motorcycles will be required to include noise-reducing exhaust systems, and a wall of hay bales will be built behind the stadium to dampen the sound.
Fair Board President Andrew Titus urged the supervisors to reject the appeal. "I really feel like we have done our due diligence on this one," he said, adding that the proposed events are "good, clean family fun," like a smaller version of Disnleyland for those who can't afford to take the family to the real deal.
Titus also said these events are a financial necessity for his organization. "I can tell you, the [Humboldt County] Fair can't generate enough revenue in 10 days to foot the bill for 365," he said. "If people want the fair here in Humboldt County … we need to be able to do other events."
Speaking on behalf of the appellants, Ferndale City Councilmember Stephen Avis said the FFLC's objections weren't about the proposed events, per se; rather, they concerned the process that the county undertook in its determination that there would be no significant environmental impacts.
"What's really the common thread here is we don't have sufficient information," Avis said. He argued that a noise study commissioned by the county should have been peer-reviewed, and he suggested that a trial racing event could be held, allowing a "third party engineering firm that specializes in acoustics" to record sound levels and prepare a study for further review.
He also called for a full environmental impact report (EIR). "This is for the protection of the residents who live immediately adjacent to the fairgrounds," Avis said.
Of the 10 people who spoke during the public comment period, nine urged the board to deny the appeal and grant the permit. Johanna Rodoni, who sits on the Fair Association's board of directors, said that a full EIR would cost at least $100,000, which the association can't afford. "We're just trying to remain economically viable so the fair continues," she said.
SoHum resident Michelle Bushnell, who may yet have a shot at unseating Second District Supervisor Estelle Fennell in last week's election, encouraged the board to approve the permit, saying Ferndale residents should be willing to tolerate a bit of noise.
FFLC member Jennifer Raymond, on the other hand, reiterated her group's argument that the proposed mitigation measures are inadequate.
When the matter was brought back to the board for discussion, Wilson broached the electric motorcycle idea, saying such government requirements often drive the development of new technologies. His initial suggestion was to require one heat of electric vehicles per day of each racing event, transitioning to at least 50 percent electric bikes by 2030.
Wilson also made a point of voicing his support for the county fair. He held up a jar that his daughter has used to save up money for the wristband required for certain rides.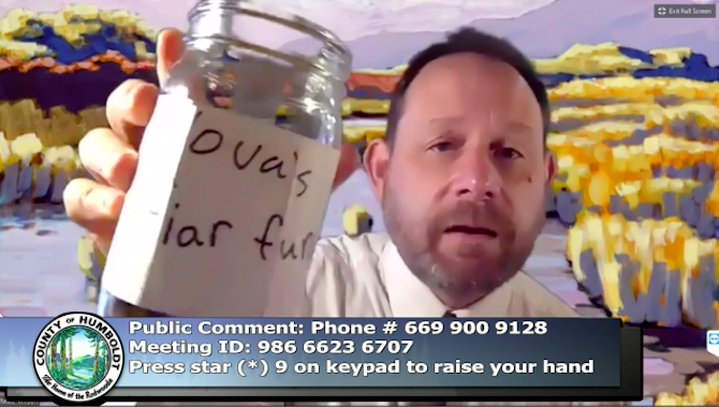 ###
The other supervisors — particularly Fennell and First District rep Rex Bohn — were skeptical about Wilson's electric-bike proposal. Fourth District Supervisor Virginia Bass called it "an interesting concept" but said she'd be uncomfortable adding it as a condition of approval.
Bohn promoted a more market-driven approach, saying that if there's sufficient demand for electric motorcycles then organizers will hold such events. He also called the motives of the opposition into question. "I truly believe this is being driven by another faction," though he didn't elaborate.
Bohn was clear about his support for the permit. "I would move staff's recommendation right now if I could — and I will," he said.
Wilson quickly seconded the motion, but he had a few more questions. For example, he asked whether the permit would allow for multi-day music festivals at the fairgrounds. Planning and Building Director John Ford said it would. Wilson expressed some reticence about that prospect, saying festivals have a "totally different vibe" than single concerts. He suggested requiring a special permit to hold concerts that extend for more than a day.
The board quibbled for a while about both multi-day concerts and electric motorcycle requirements before finally settling on the details of a modified motion. As noted above, the supervisors agreed to allow a second day of racing if the bikes are all electric, though there can be no more than four days of motorcycle races per year, regardless of whether they're gas- or electric-powered.
As for live music, the board settled on a limit of two days per event, with performances still limited to the time window of noon and 10 p.m.. Events longer than that will require a special permit. Both concerts and races will be monitored with acoustic tools to ensure that they don't emit sustained volumes above 65 decibels.
The motion passed unanimously.